Province announces historic changes to nursing during MRU visit
Nurses will play a bigger role in Alberta's health-care system with the province expanding their abilities to prescribe drugs and order X-rays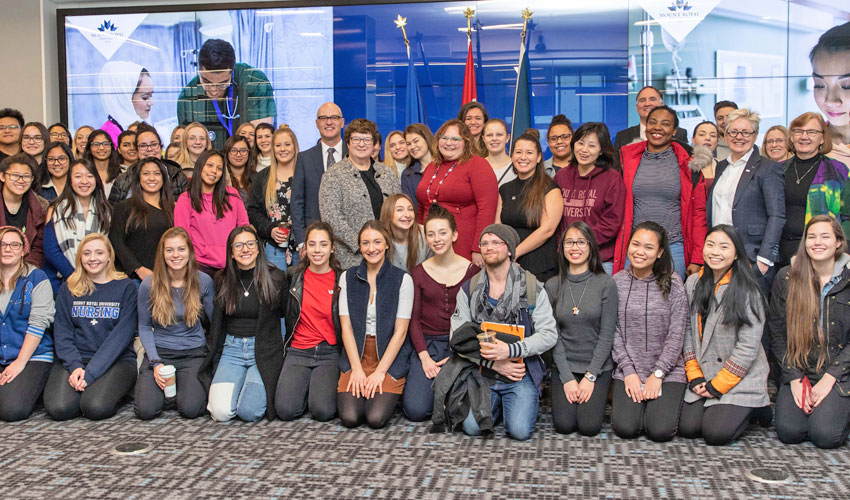 The Government of Alberta chose Mount Royal University to make a historic nursing announcement today. Sara Hoffman, Minister of Health, Deputy Premier and MLA for Edmonton Glenora announced that new regulations will expand the scope of practice for registered nurses and nurse practitioners. These frontline health-care professionals will now be able to prescribe drugs in places like travel clinics, sexually transmitted infection programs and workplace health and safety clinics. RNs will not be prescribing controlled drugs and substances. Nurse practitioners will now be able to set bone fractures.
Hoffman was on campus, joining Provost and Vice-President Academic Affairs Lesley Brown, PhD, faculty staff and two classes of Mount Royal nursing students.
Chair of the School of Nursing and Midwifery, Murray Holtby, PhD, says, "Data shows that nurses spend the most time with patients so this is an efficient way to improve access and timely care for patients. This is exciting news and we will confidently train nurses for these expanded roles."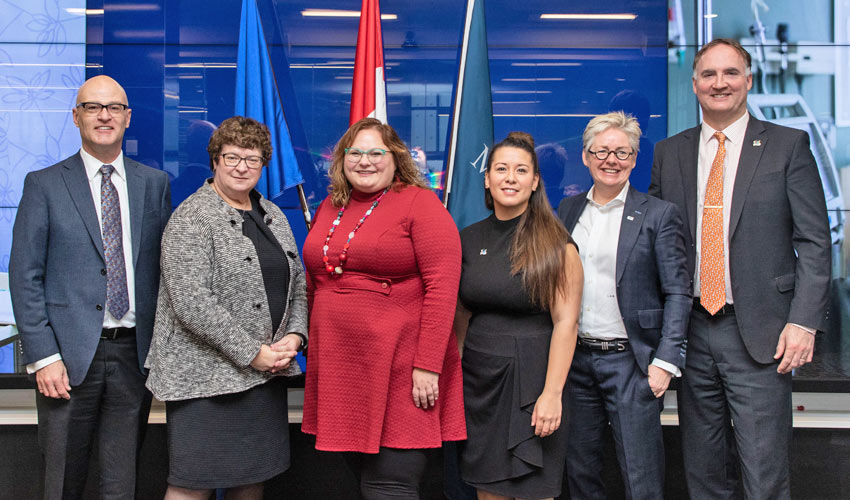 From left to right: Murray Holtby, PhD, Chair of School of Nursing and Midwifery; Dennie Hycha, President of the College and Association of Registered Nurses of Alberta; the Honourable Minister Sarah Hoffman; Nicole Taketa, fourth year nursing student, Lesley Brown, PhD, Provost and Vice-President Academic Affairs and Stephen Price, PhD, Dean of Health, Community and Education.
Holtby explained that Mount Royal's nursing program has existed for more than 50 years, largely due to being able to adapt to the healthcare needs of society.
Nicole Takeda, a Mount Royal student in her fourth year said, " For students like me - the nurses of the future - this is excellent news. We will be part of the solution: expanding how we can care for patients in Alberta."
After making the announcement, Minister Hoffman took part in a simulated ICU nursing scenario in the Library's immersion studio.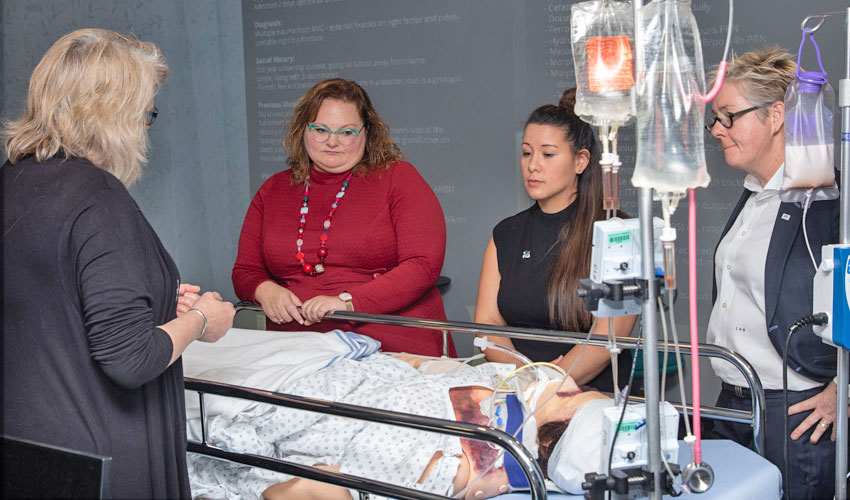 For further information, please contact:

Peter Glenn, Senior Media Relations Officer
Media cell: 403.463.6930
mediarelations@mtroyal.ca