Professor Michael Quinn, PhD, named new vice-provost and associate vice-president, Academic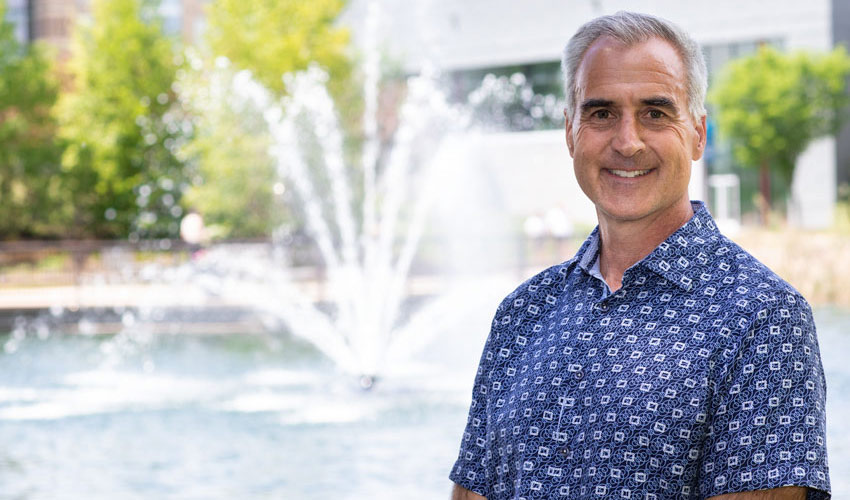 June 17, 2019
Effective July 1, Professor Michael Quinn, PhD, will become Mount Royal's new vice-provost and associate vice-president, Academic.
"I'm grateful to the community for the opportunity to step into this role, and for the support of my peers and colleagues at Mount Royal in becoming the next vice-provost," Quinn said.
In his new role, Quinn will be responsible for continuing to build upon the 36 majors Mount Royal now offers to provide students with even more opportunities to pursue their chosen field of study.
"It's an exciting time for the institution," Quinn said. "This role has a lot to do with helping us develop new programs as well as enhancing our existing programs with a focus on the undergraduate student experience and making Mount Royal the place of choice for students who want work-related learning and research-related experience with access to some of the most dedicated and talented educators I know."
Quinn will also work to further Mount Royal's indigenization and internationalization initiatives while supporting the University's deep strength in teaching and learning. In addition, he will continue to advance Mount Royal's expanding reputation for exceptional research opportunities.
Quinn assumes the role under the leadership of Provost and Vice-President, Academic, Lesley Brown, PhD.
"Dr. Quinn has been a great asset to the university since joining us six years ago," Brown said. "He will most definitely add to our leadership in teaching and learning, community engagement practices, the transformative work of changemaking, and a burgeoning culture of research and scholarship."
After joining Mount Royal in 2013 as the inaugural Talisman Energy chair for Environmental Sustainability and director of the Institute for Environmental Sustainability, Quinn was subsequently appointed associate vice-president of Research, Scholarship and Community Engagement in 2015, where he has been instrumental in furthering research and scholarship at MRU.
While at MRU, Quinn has lent his time and expertise to many internal governance and planning committees as well as external panels and task forces. Upon his appointment he will become a member of the President's Executive Committee, the General Faculties Council and will continue to serve on the Deans' Council.
Quinn played a pivotal part in securing funding for MRU's first Canada Research Chairs, and was also part of the team that led the way towards the campus' successful designation as an Ashoka U Changemaker campus, which made MRU the first Alberta institution to receive this recognition.
With a PhD in environmental studies from York University, Quinn's research activities are interdisciplinary and occur at the interface between the social and natural sciences. He has focused his attention on problems associated with environmental sustainability, protected areas, road ecology, regional ecohydrology, human-wildlife conflict, and transboundary ecosystem management. In 2015, Quinn was awarded the Wilburforce Fellowship in Conservation Science for science leaders who excel in using science to help achieve durable conservation solutions in western North America.