WEKH launches Alberta Regional Hub
July 26, 2019
On June 11, the Alberta Regional Women Entrepreneurship Knowledge Hub (WEKH) officially launched at the Bissett School of Business at Mount Royal University. Hosted by ATB Financial, the event included an interactive informational discussion to create awareness of the purpose of WEKH and assess the entrepreneurial climate in the province for women. It also incorporated breakout sessions designed to begin the mapping of Alberta's ecosystem.
The room was filled with more than 50 people industry, government, non-profit, and post-secondary sectors who are each playing a key role in Alberta's entrepreneurship ecosystem.
The full-day event kicked off with a warm welcome from Elizabeth Evans, dean of the Faculty of Business and Communication Studies at Mount Royal University.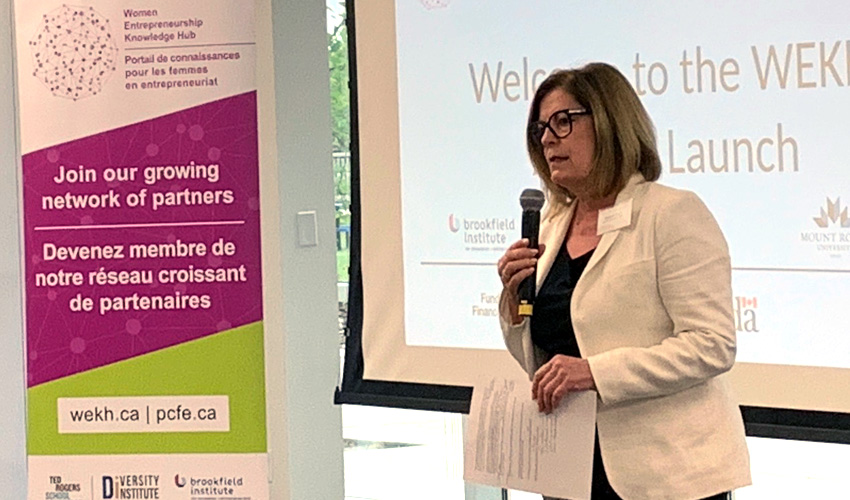 Dean Evans' talk was followed by three presentations providing an overview of the WEKH program, women entrepreneurs in Alberta, and the women entrepreneur ecosystem in Alberta.
The WEKH Program by Erin Roach: executive director, TRSM Diversity Institute at Ryerson University.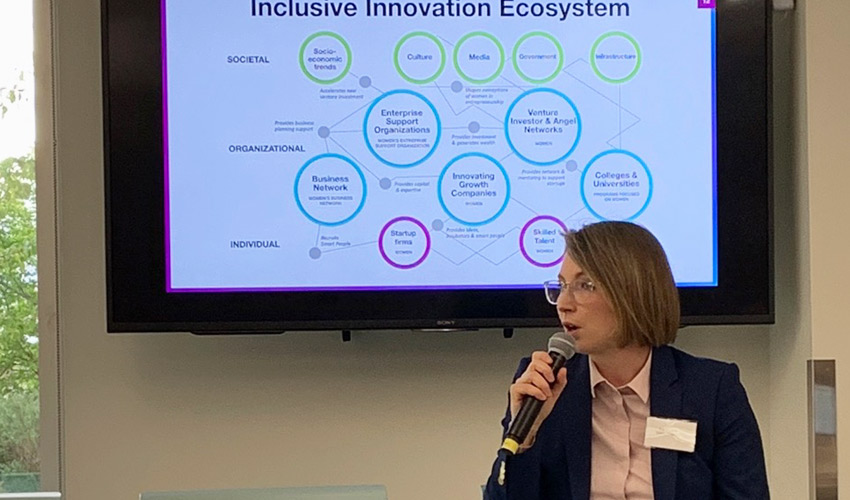 Women Entrepreneurs in Alberta by Shannon Pestun: director, Women Entrepreneurship at ATB Financial.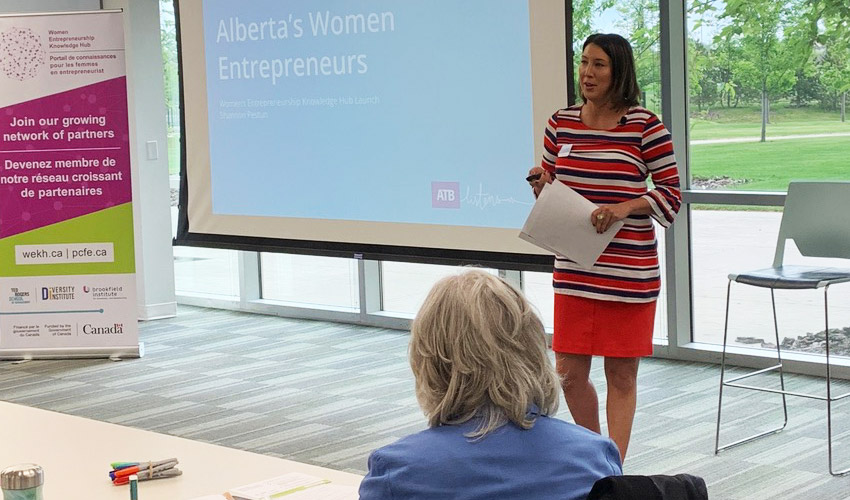 Women Entrepreneur Ecosystem in Alberta by Lori Adams: technology development advisor at Alberta Innovates, and My-Linh Walker: senior advisor, Access to Capital at Economic Development Trade, Tourism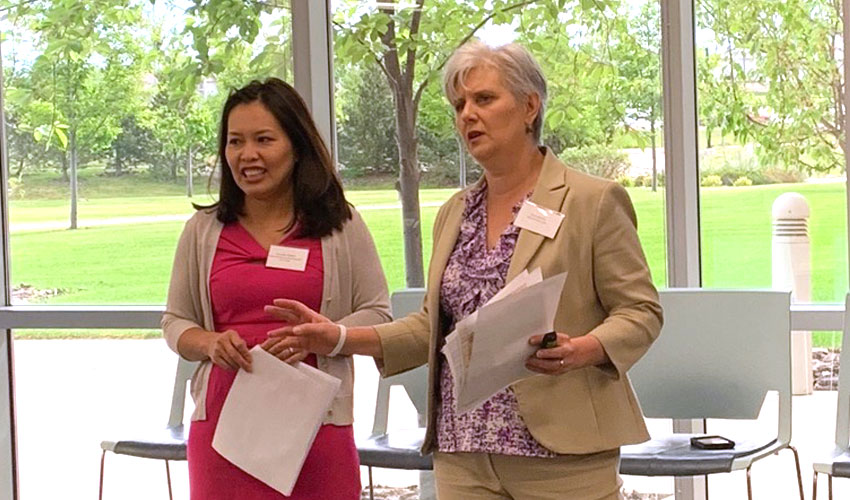 A lively panel Q&A session followed.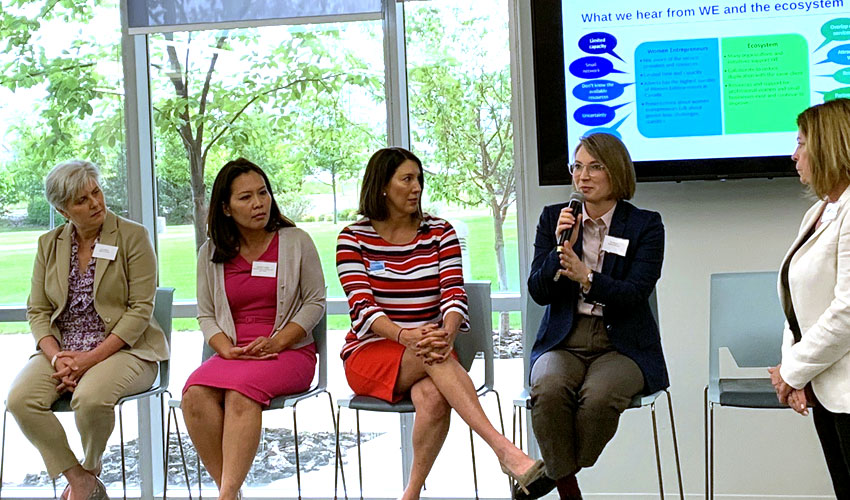 The breakout exercise, facilitated by Anita Kemp (program lead - WEKH Alberta), created a space for data gathering, idea sharing and collaboration.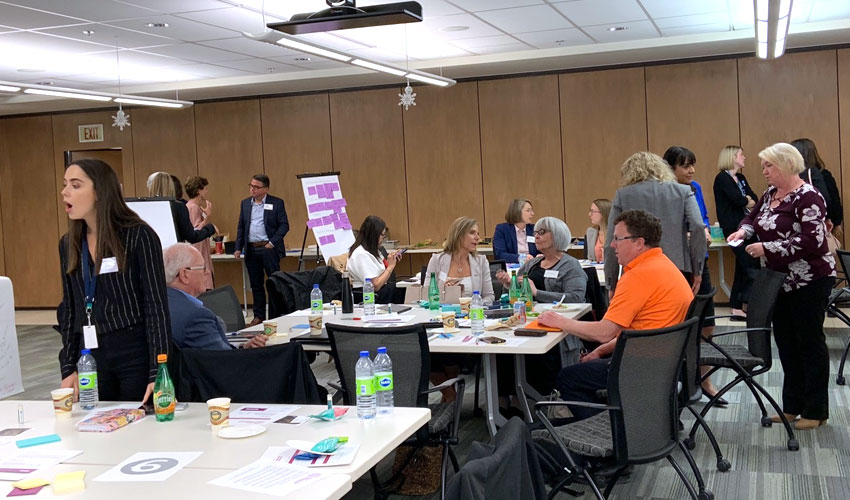 Feedback from the event was overwhelmingly positive, with closing comments including the following:
"It is a great time to be a woman in this province, there are so many opportunities and WEKH is a great start."
"I have been swimming around the ecosystem and want to see what else is going on."
"I am encouraged by the level of commitment in this room."
"I cannot wait to tell my organization about this. It is very exciting."
"I think that women entrepreneurs from the prairies would be proud. Taking that spirit forward, I am excited to see what is next."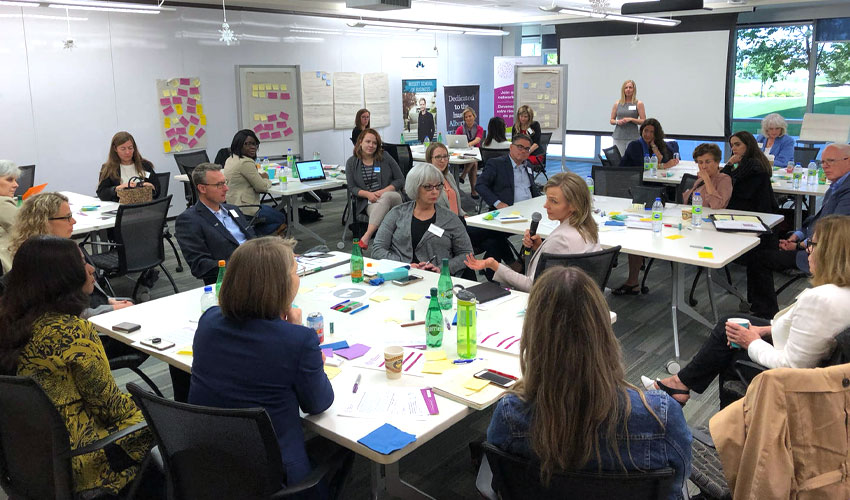 Throughout these discussions, it became clear there is indeed a strong desire to play an active part in supporting MRU to create further collaboration opportunities for Canada's WEKH program.
What is the WEKH?
In 2018, the Government of Canada announced the first Women Entrepreneurship Strategy - a $2 billion investment that aims to double the number of women entrepreneurs by 2025 and break through the barriers that women face as entrepreneurs. One of the key pillars of this strategy is to enhance the data and knowledge of women's entrepreneurship throughout the country. This pillar supported the $9 million fund for the creation of the Women Entrepreneurship Knowledge Hub (WEKH).
Led by Ryerson University's Diversity Institute, in collaboration with the Brookfield Institute for Innovation and Entrepreneurship and the Ted Rogers School of Management, the WEKH is developing a platform to build a more inclusive innovation ecosystem.
The WEKH is a consortium of post-secondary educators across Canada that, along with key partners, will deliver a number of activities intended to support the advancement of women entrepreneurs from diverse backgrounds throughout the innovation ecosystem. These activities include:
A report on the progress of women entrepreneurs in Canada, including a measure or review of the entrepreneurship ecosystem supports for women in Canada.

Collecting, analyzing and disseminating information, and/or advancing research on women's entrepreneurship.

Supporting and sharing best practices and knowledge among women business support organizations.
Mount Royal University is one of nine regional hubs for the WEKH, which also includes VentureLabs at Simon Fraser University, Carleton University, the University of Manitoba, the PARO Centre for Women's Enterprise, Université de Montreal, Yukon College, OCAD University and Dalhousie University.
Why is the WEKH important?
Currently, there is a patchwork of complex interactions and networks (formal and informal) between post-secondary institutions, business support providers (including incubators), financial institutions and government programs. The WEKH will build a coordinated network to foster evidence-based policy decisions and practices. It will identify, develop and translate best practices for supporting women entrepreneurs into tools and resources that are accessible to the entire entrepreneurship ecosystem.
What's next for the WEKH in Alberta?
As the Alberta Regional WEKH, Mount Royal University will continue working with key partners throughout the province to map out the women entrepreneurship ecosystem and create a more inclusive and supportive environment. The primary focus will be on increasing the capacity of women entrepreneurs and supporting the WEKH national initiatives to:
Build a community of practice among organizations supporting women entrepreneurs;

Advance gender and diversity analysis to develop inclusive policies, programs and practices across the innovation ecosystem;

Develop a digital platform to better connect women with available supports and resources reducing fragmentation and duplication;

Share research, knowledge, and 'what works' among organizations supporting women entrepreneurs; and,

Challenge stereotypes and build awareness of women's entrepreneurial success.
If you would like to learn more about the national WEKH program, please visit the website at wekh.ca.