If there's one thing to take away from the past 13 months of Mount Royal centennial celebrations, it's that we have a rich, exciting history and we need to honour it if we are going to establish an equally exciting future.
While the annual Legacy Awards Gala - run and hosted by Alumni and Community Relations - isn't specifically a centennial event, it captures the spirit and ensures we won't lose the essence of our past as we move forward.
On Sept. 22 at the BMO Centre on the Stampede Grounds, four outstanding alumni will be recognized alongside Outstanding Future Alumnus, Collin Semenoff and five deserving student scholarship award-winners.
Lifetime Distinguished Achievement Award
Hon. Raymond Lee, Engineering '58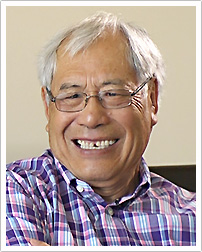 The Hon. Raymond Lee is one of Canada's most admired and respected Chinese Canadian community leaders, devoting more than 50 years to ensuring the community's significant contribution to Canada is recognized and appreciated.
Born the son of a Chinese immigrant, a singular achievement came in 2006 when, after two decades of work, he helped secure a history-making formal apology from the Government of Canada for the wrongs committed as a result of the Chinese Head Tax and Exclusion Act imposed on Chinese immigrants.
Lee was a founder of the Sien Lok Society of Calgary in 1968 and helped preserve Calgary's Chinatown. He was one of the founders of Multi-Cultural Canada in 2005 and in 2006 became the first person of Chinese descent in Alberta to become a Canadian Citizenship Judge.
He has worked as an economist, independent real estate developer and consultant for various energy companies and government agencies.
Frequently quoted as saying "we are very good at making citizens; we are very poor at making Canadians," Lee is passionate about promoting the Canadian way of life for all people, regardless of heritage.
Outstanding Alumni Award - Arts and Culture
Michele Decottignies, Theatre Arts '92; University Transfer (B.Ed.) '96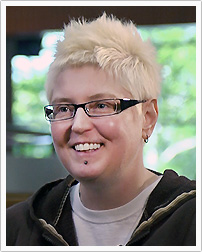 A former President of the Students' Association of Mount Royal, Michele Decottignies brings passion for social justice to her personal and professional life.
Through arts-based community development, she promotes social change, giving marginalized communities and people without a voice in society access to a vehicle to foster diversity, appreciation and education.
Her work in disability arts has become an international model of excellence in human rights advocacy.
Decottignies is the Founder and Artistic Director of Stage Left Productions and in 2009 led the creation of the Professional Disabled Artists' National Network and the International Theatre of the Oppressed Women's Network.
She founded Balancing Acts, Calgary's annual disability arts festival and the longest-running event of its kind in the world, in 2001, and Canada's Disability Arts and Culture Presenters' Network in 2006.
Decottignies makes a powerful contribution to disability arts in Canada and beyond. Her respectful, fun, intelligent and competent approach is making a difference - and she credits Mount Royal for being the training ground for her career and for the integrity within it.
Outstanding Alumni Award - Athletic Achievement
Tom Otjes, Therapeutic Recreation '76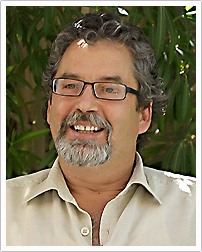 Tom Otjes has built an international reputation as an accomplished gymnastics coach, leader and innovator.
As the Las Vegas-based Senior Head Coach, Resident Shows Division, with Cirque du Soleil, he "coaches the coaches" for 12 shows worldwide. Joining the company in 1997, he was instrumental in creating the critically acclaimed O.
Otjes helped the Mount Royal Gymnastics Club's young female athletes excel at the provincial and national levels, and as the club's Head Coach from 1985-95 led its growth into the largest gymnastics club in Western Canada. Many athletes went on to become world and Olympic champions and Canada now ranks as a world leader.
Otjes and Alberta colleagues inspired the creation of competitive tumbling and trampoline programs - known as acro-sport - across Canada.
He has also held coaching appointments with provincial and national gymnastics teams, earning a number of awards.
Otjes maintains a strong connection to Mount Royal. He was a sessional instructor in Physical Education and Recreation Studies from 1987-95 and continues to provide insight and perspective to young athletes as a coach and mentor.
Horizon Award
Nicola Kozmyk, Applied Business and Entrepreneurship (Sport and Recreation) '06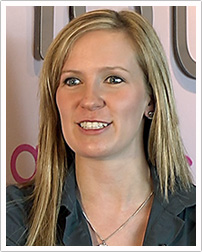 Nicola Kozmyk is driven by her dreams and passionate about people. While a student in Mount Royal's Sport and Recreation program, she developed the idea for a dance studio where every child would have the opportunity to explore the world of dance for its pure enjoyment and for personal artistic expression.
She used numerous project assignments to develop the business plan for Pure Motion Dance Company. Since opening in 2008, it has become one of Calgary's most successful commercial dance studios, with Kozmyk serving as President and Artistic Director.
An avid and professionally trained dancer, Kozmyk shares her passion for dance through a number of community organizations and devotes significant volunteer time to organizations including Big Brothers and Sisters, Make a Wish Foundation, CUPS and Dreams Take Flight. Kozmyk maintains strong ties to Mount Royal University.
She was a leader in establishing and is now the Vice-President of the Sport and Recreation Chapter of the Alumni Association, supporting fellow alumni and serving as a mentor and source of inspiration for current students.