Mount Royal University celebrates 50 years of nursing education
Don't forget to thank a nurse during National Nursing Week 2017!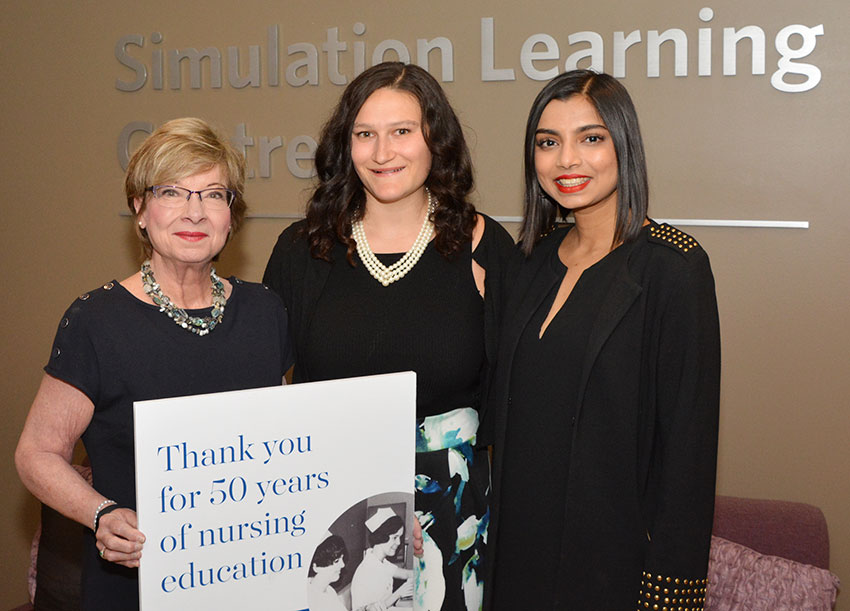 Nearly everybody knows a nurse somehow. And chances are, from birth to death, some of your most defining moments will be spent in the company of a nurse.
They save lives. They care for the sick. They help create comfort as we say our first hello and our final goodbyes. They advocate for healthier communities. And, they soothe bumps and bruises from follies in the playground.
On May 8 - the first day of National Nursing Week 2017 - Mount Royal University thanked the nursing community in recognition of the pivotal role they play in supporting the vitality of our city, province and country.
"Nursing has played a tremendous part in Mount Royal's rich history of higher education," says David Docherty, PhD and president of Mount Royal University. Docherty presented an oversized card adorned with thank you messages from across the campus to nursing faculty, alumni and students at the event.
"For a program with a 50-year legacy, you are looking great, and I am sure you will look even better when we are back here celebrating 100 years. And I just want to say thank you to all of the nurses out there for all that you do."
National Nursing Week takes on extra significance at Mount Royal this year as the University celebrates half a century of excellence in the delivery of nursing education. May 8 marked the kick-off of the nursing program's golden anniversary festivities.
"Nurses see people through their best and worst of days, and they do what they do without ever expecting a thank you," says Paula Price, interim director of the School of Nursing and Midwifery. "Today, in celebration of Nursing Week and our 50-year legacy of delivering nursing education at Mount Royal, we extend a sincere thank you to all of the nurses, students and educators who have dedicated their lives to the health and wellness of our communities."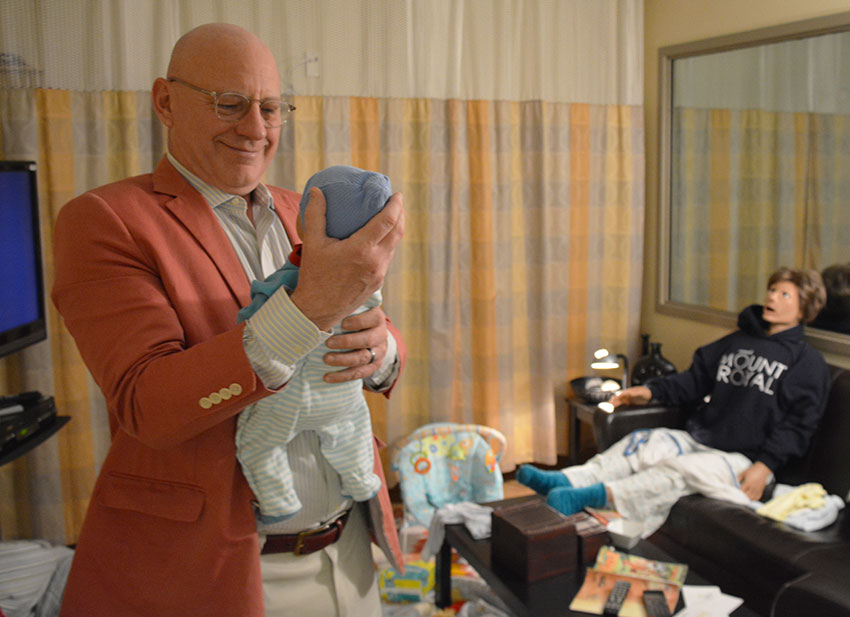 In 1967, 25 students were admitted to the inaugural class of Mount Royal's two-year nursing diploma. In 2007, nursing was the first of 12 baccalaureate programs introduced as Mount Royal began its transition to a university. Now, more than 200 students enter the nursing program each year in pursuit of a Bachelor of Nursing.
For Roisin Dillon, a fourth-year student in the Bachelor of Nursing program and a Spring 2017 Valedictorian, this year is of extra significance.
"I am so grateful to be part of the nursing program at Mount Royal. It is an incredible honour to be named valedictorian on such a momentous year for the program, and I look forward to seeing it unfold," says Dillon.
"I am excited to parlay the skills and knowledge I have gained at Mount Royal into to my graduate studies at King's College in London, England, and then ultimately into my career."
Throughout time, Mount Royal's nursing program has kept pace with the steady changes in health care. It is recognized as one of Alberta's most distinguished health care education programs, with thousands of highly skilled alumni making contributions to the profession worldwide.
In this historic year, Mount Royal aims to raise $25,000 through a crowdfunding campaign to create an annual scholarship that reflects excellence in the program. The endowed scholarship would support students who demonstrate academic excellence, commitment and leadership within the program.
National Nursing Week is held annually in conjunction with the birthday (May 12) of nursing luminary Florence Nightingale. The week-long salute is observed by groups such as the College & Association of Registered Nurses of Alberta and the Canadian Nurses Association.
"Education is key to shaping the nurses of our future, but it couldn't be done without those who came before," said Jerry Macdonald, president of the College and Association of Registered Nurses of Alberta. "In thanking nurses throughout the province during this National Nursing Week, I would also like to congratulate Mount Royal on its 50-year anniversary of delivering nursing education, and commend all of the educators that inspire the students and propel the evolution of our profession."
50th anniversary celebrations
May 9, 2017 ― Brendan Greenslade