CAGFIL Grant Helping to Open Doors for Study Abroad
The opportunity for Mount Royal University students to participate in international experiences as part of their studies continues to be more accessible thanks to grant programs such as the Campus Alberta Grant for International Learning (CAGFIL).
Established in 2009 and funded by Alberta's Ministry of Innovation and Advanced Education (IAE), the CAGFIL grant program supports innovative education abroad initiatives that create opportunities for Alberta students to have international learning experiences. This grant supports Campus Alberta post-secondary institutions in their creation of sustainable international learning experiences by providing partial funding to offset travel costs for participating students.
Since the program's inception, the Ministry has supported over 2,800 Alberta post-secondary students participating in international learning experiences in 53 countries around the world.
Through their participation in international programs, the Ministry hopes that students will gain global awareness and perspectives, experience personal enrichment and growth realize academic, research and professional pursuits. Study abroad programs will also help to develop international skills and competencies, intercultural skills and the ability to communicate effectively with international peers, and develop global networks and relationships.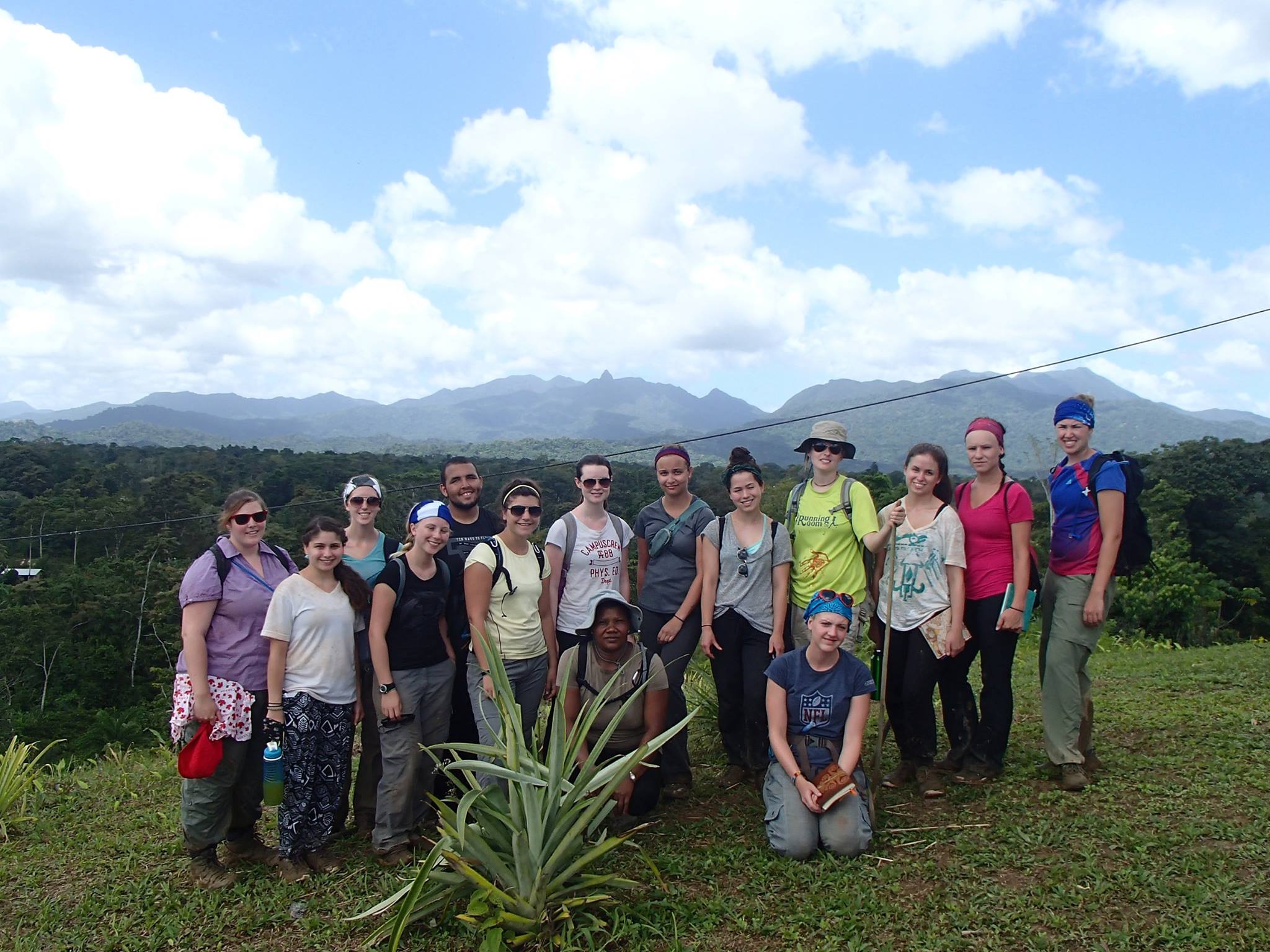 General Education students participating in Field School to Honduras in Winter 2014
"The objectives of our study abroad programs are to ensure Albertans are prepared for success in a global community, and that global awareness and perspectives are integrated throughout our Campus Alberta system," explains Caleb Nienkirchen, International Programs Officer with Alberta Innovation and Advanced Education. "It is through these experiences that students develop the international competencies that are increasingly necessary for Albertans to be successful in our global marketplace."
The ministry is glad to see broad participation from across Campus Alberta in its international education programs and initiatives. In November 2013, the CAGFIL program received applications for 61 programs at 13 institutions across Alberta encompassing more than 1,200 student participants.
Mount Royal University is pleased that this grant program continues to be available to Alberta students in post-secondary institutions, and specifically that, since its creation, it has been available to Mount Royal students.
In the last two years, Mount Royal had annually received $22,500 from the ministry, enough to fund 35 students, but that number has more than doubled this year to $54,750, enough to fund 73 students! This is thanks to an increased allocation made to support an additional 100 students across Alberta participating in international education programs in China, Brazil, India and Mexico. This allocation has been made to support the development of new partnerships within these countries.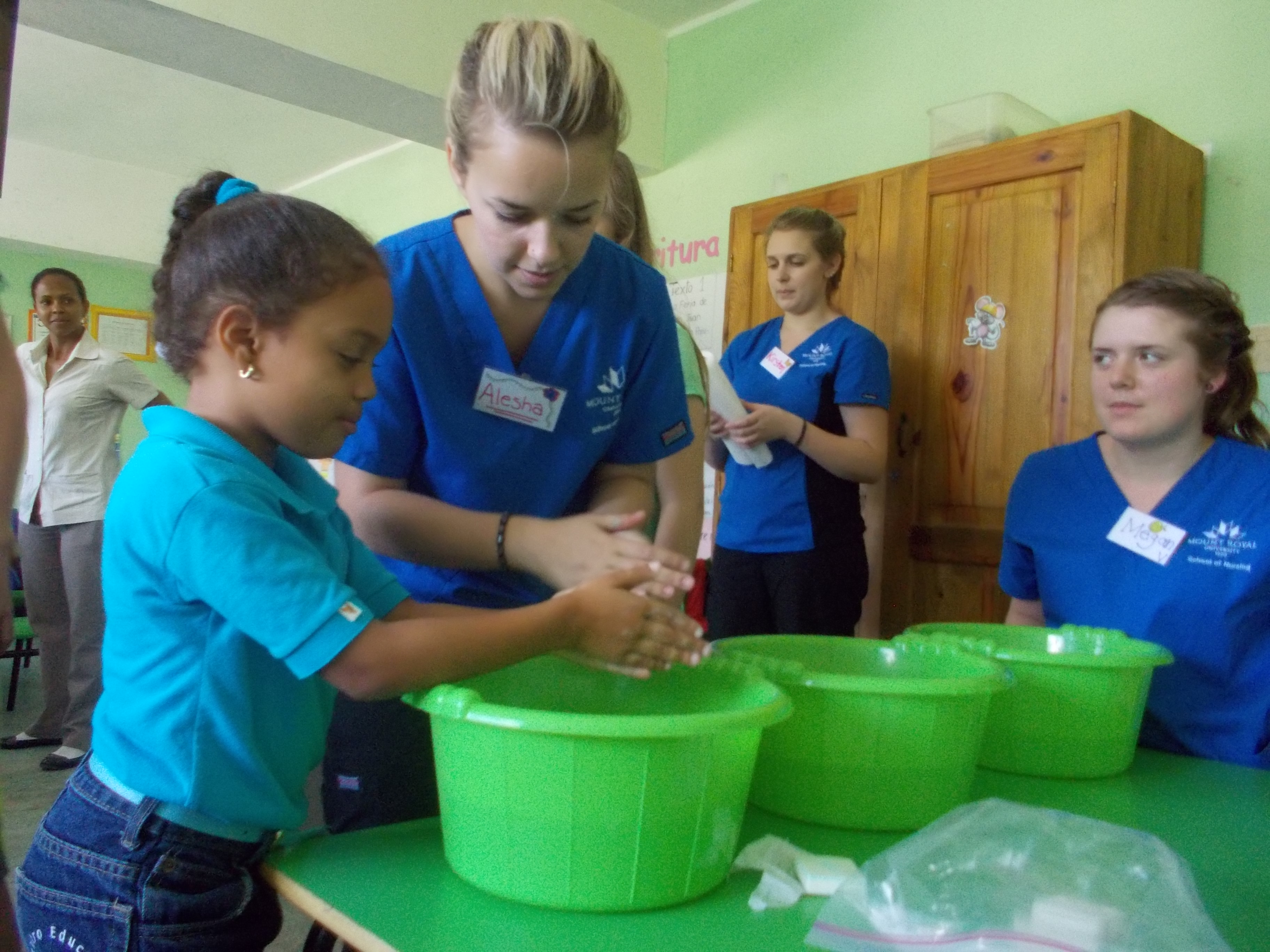 Nursing Students promoting Community Health through hand hygiene in the Dominican Republic, Winter 2014
"This was very exciting news," says Dianne MacDonald International Projects Manager in the Office of International Education. "The increased funding awarded to Mount Royal this year recognizes the need for financial assistance to support students in their efforts to study abroad, and will allow for growth in our Field Schools."
All four Mount Royal Field School programs that were nominated for the 2014 CAGFIL grant were successful in receiving funding, with each student participating receiving $750. Field Schools receiving CAGFIL support were:
- "International Community Health": Nursing 2216 in the Dominican Republic, 12 students led by Professors Margot Underwood and Judith Gleeson.
- General Education 3010 and 3030 : in Honduras, 14 students led by Professors Melanie Rathburn and Roberta Lexier.
- "Dimensions of Social, Cultural and Personal Development": Communications 3501 and International Community Development 3331 in India, 28 students led by Professors Terry Field and Yasmin Dean.
- "Fairy Tale Tour": English 3397 and Film 3701 in Germany, 19 students led by Professor Renae Watchman and Provost and Vice-President, Academic Kathy Shailer.
Megan Vanderzwaag, a recent student participant on the International Community Health field school in the Dominican Republic, is very appreciative of the CAGFIL grant she received.
"It is wonderful that grants are available for students taking part in international experiences that contribute significantly to one's learning," says Megan. "Grants help to ease the financial strain of being a student and increase the accessibility of these learning experiences to more individuals".
For further information on the Office of International Education's field schools and study tours and the CAGFIL grant program, please visit our Field Schools/Study Tours webpage.
Marisa Norona, May 14, 2014