A Canadian for peace and human security
Douglas Roche awarded the Calgary Peace Prize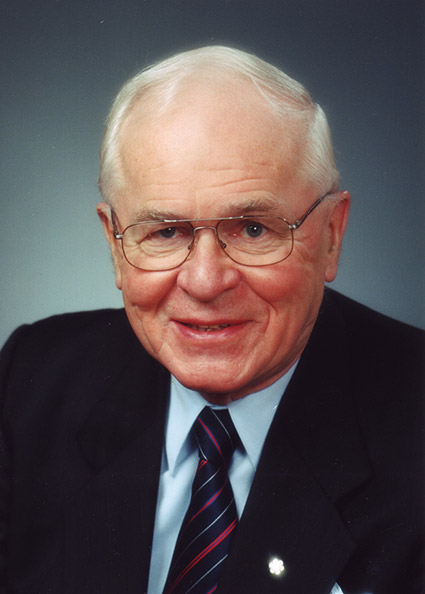 The risk of nuclear warfare is back in the spotlight. In fact, a Jan. 26 New York Times report states that, "scientists who orchestrate the Doomsday Clock, a symbolic instrument informing the public when the earth is facing imminent disaster, moved its minute hand from three to two and a half minutes before the final hour. It was the closest the clock had been to midnight since 1953, the year after the United States and the Soviet Union conducted competing tests of the hydrogen bomb."

The cause for concern is real. And this year's Calgary Peace Prize is going to someone who has worked tirelessly to advocate for human security and nuclear disarmament.

As part of the Peace Studies Initiative via the Faculty of Arts, and through its marquee event titled the Calgary Peace Prize, the University will recognize the Honourable Douglas Roche, O.C. for his long and sustained efforts towards international peace building.

"It is a privilege to present the Calgary Peace Prize to Douglas Roche as yet another recognition of his global impact," says Jeff Keshen, dean of the Faculty of Arts. "Douglas Roche is a most distinguished Canadian; the list of honours he has received is quite phenomenal."

Roche has held many roles throughout his career, most notably as an author, parliamentarian and diplomat. His specialty, however, is peace and human security issues and he often lectures about peace and nuclear disarmament.

"Douglas Roche is a very powerful and inspirational speaker," says Mark Ayyash, PhD, director of the Peace Studies Initiative and professor in the Department of Sociology and Anthropology. "People will get the chance to hear someone who's worked long and hard towards international peace building as a civil society activist, as a parliamentarian and senator, and as Chairman of the United Nations Disarmament Committee."

The mission of the Peace Studies Initiative at Mount Royal University is bold: to build, develop and disseminate interdisciplinary knowledge on a range of local and global issues dealing with peace and violence.

The Calgary Peace Prize, "underlines the importance in building understanding, respect and constructive interactions between groups," says Keshen. "The prize is also important to the Faculty of Arts because it is another means by which we are seeking to raise our recognition and reputation in external communities."

MRU is well-positioned to facilitate dialog and ensure that universities play a role in advancing knowledge and understanding of peace.

"Our initiative is quite unique as it uses disciplinary lenses that include Sociology, Anthropology, History, and several other domains," says Keshen. "More typical are programs focus on the specifics of peacekeeping and peacemaking through Strategic Studies programs, which exist at both the undergraduate and graduate levels … programs that have a heavy military component, rather than focusing on building positive community interactions."

Douglas Roche will be awarded the Calgary Peace Prize on Wed. March 15 at the Jack Singer Concert Hall in Calgary, AB. Reception at 6 p.m. and award ceremony at 7:30 p.m.

Purchase your ticket online today for this noteworthy event.

All ticket proceeds from this event will go to the operation of the Calgary Peace Prize.
A Nuclear Janus: The return of disarmament
In addition to the Calgary Peace Prize ceremony, the Peace Studies Initiative is hosting Professor David Mutimer from York University on Tues. March 14.

Mutimer will be speaking at MRU about the history of nuclear proliferation control, along with discussing how the world has reached the state it is in with respect to the nuclear arms race.

Yet another timely discussion with recent events.

This event is open to all. No RSVP required.

Feb. 24, 2017 — Rob Petrollini