International Organization Implements Community Empowerment Projects Around the Globe
In late October, Dustin Paisley, President of Enactus Mount Royal, and some of his Enactus Mount Royal colleagues found themselves walking together along the Great Wall of China, gaining an international experience of a lifetime. This was a dream, turned achievement, which they had worked so hard to realize.
Enactus Background
Enactus is an international not for profit organization, of more than 75,000 members in 39 countries, that brings together student, academic and business leaders who are committed to using the power of entrepreneurial action to improve the quality of life and standard of living for people in need. Guided by academic advisers and business experts, the student leaders of Enactus create and implement community empowerment projects around the globe. The experience not only transforms lives, it helps students develop the kind of talent and perspective that are essential to leadership in an ever-more complicated and challenging world.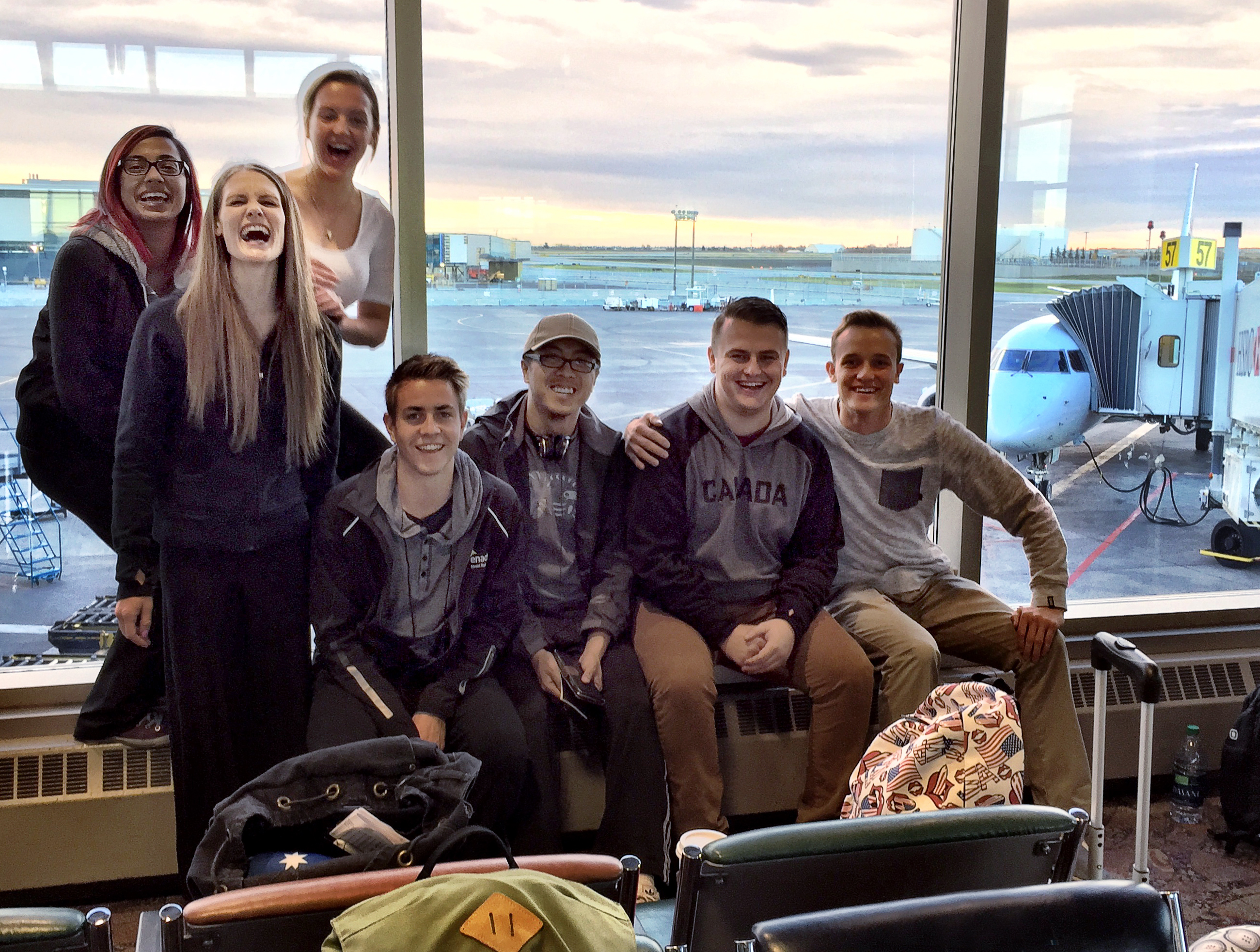 Enactus Mount Royal students prepare for their departure to Beijing
Enactus Mount Royal
Enactus Mount Royal is a group of 65 students from the Bissett School of Business and other subject fields dedicated to building a better tomorrow. The group creates impactful projects that address needs in the community, and make a difference in these communities and in peoples' lives. Some of their recent projects include:
ACE - Aboriginal Community Empowerment - a partnership with the Iniskim Centre on campus, to help improve the lives and student success of MRU aboriginal students by conducting a financial and employment skill-based curriculum.
RE-CREATE - Teaching environmental and social responsibility to elementary-aged students through the concept of upcycling (the process of converting waste material into something new and valuable) to create products that can be sold at parent-teacher interviews. The proceeds go to a local charity of their choice.
Blueprint for Life - Teaches business and entrepreneurial skills to at-risk youth. It is a hands-on approach allowing youth to learn the intricacies and pitfalls of starting a business by putting their skills to use while providing positive mentorship.
High River Project - Mount Royal University students consult with High River business owners to promote the culture and talent that High River residents have to offer as the community continues to struggle after the catastrophic floods that hit Southern Alberta in June 2013.
The Competitions
Enactus chapters compete and showcase their community project work in the areas of financial literacy, entrepreneurship, and the environment, regionally, nationally and internationally each year. Teams that place first at regional competitions move on to present their projects at the national competition, and those who win at the national level are invited to represent their country at the World Cup conference.
These competitions provide an opportunity for different chapters to showcase, share and celebrate their best projects and learning over the year. It is also an excellent opportunity for groups to make connections and network. "There are a number of corporate sponsors at these competitions, providing a fantastic opportunity to share, network and learn," says Dustin Paisley.
2014 World Cup in Beijing
From October 21 to October 24, 2014, a team of seven highly engaged Enactus Mount Royal students, and one alumnus, attended the Enactus World Cup conference in Beijing, China, where they participated in leadership workshops, accelerator training and connected with other students to learn about each other's community outreach projects.
Financial support from the Lingnan China Endowment offered by Mount Royal's Office of International Education, and funding received from various corporate sponsors of Enactus Mount Royal, enabled these seven students to attend the World Cup event, meet like-minded students from around the world and learn about social impact projects.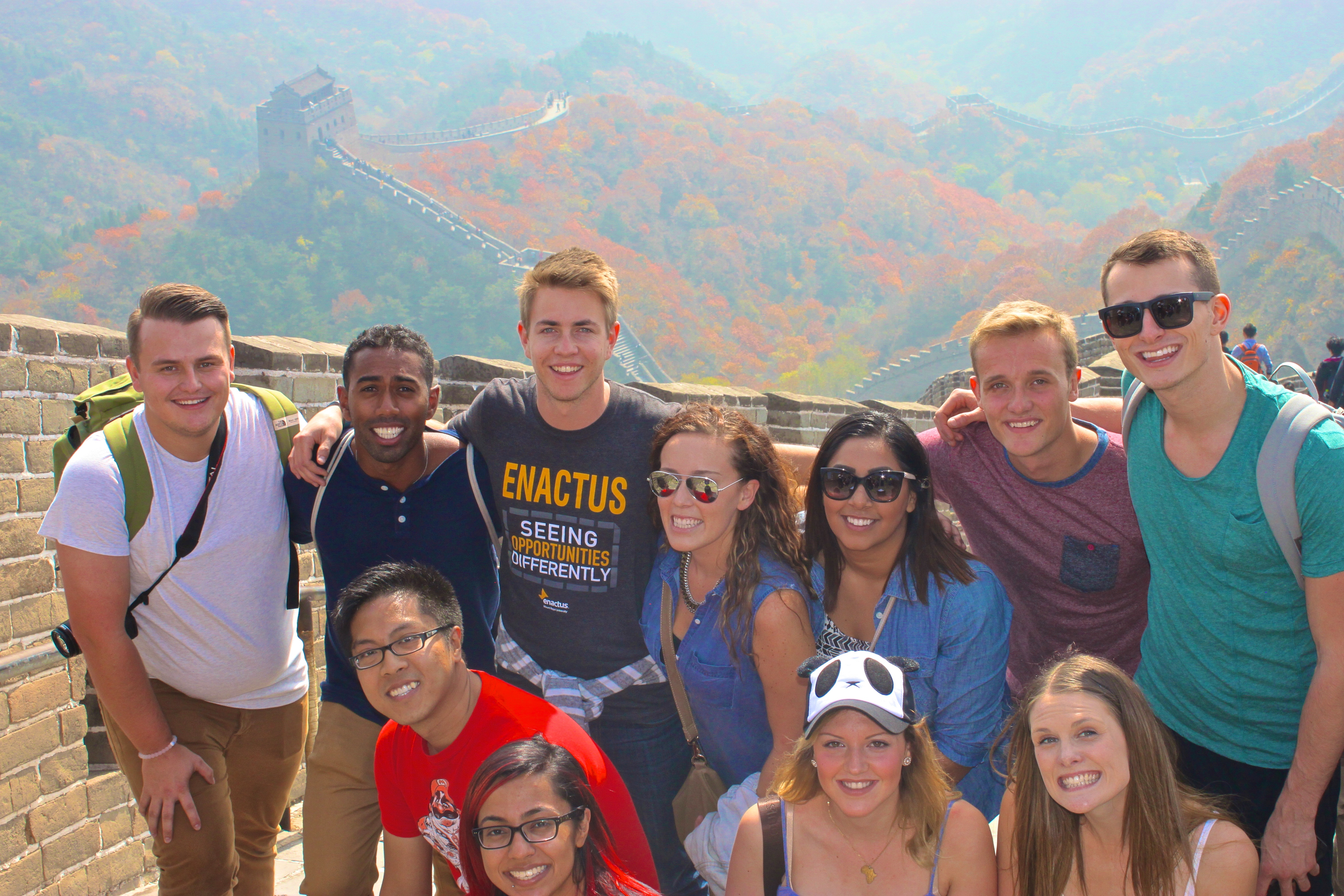 Enactus Mount Royal students visit the Great Wall of China
"We are very grateful for the financial support each of us received to help reduce our own personal costs of this trip," says Paisley. "The relationships built and knowledge gained have already, and will continue, to help us improve our projects and make a greater impact."
While Enactus Memorial, from Memorial University of Newfoundland, was the representing team for Canada this year, the Enactus Mount Royal project involving High River had been designated as an outstanding national project and was profiled at the event.
Enactus Mount Royal was there to provide support, observe, connect and learn. In addition, Dustin Paisley hoped to gain an international relationship with another chapter of Enactus through participation in the Beijing conference."One of our goals for this conference is to build a sister relationship with another Enactus group so that we can connect on a regular basis and learn from each other throughout the year," explained Paisley prior to his departure for Beijing.
Upon the group's return, Paisley confirmed that they had managed to establish a few relationships with a number of different schools, including the winning teams from Ireland, Egypt, Australia, Russia and Kenya."We are exploring these relationships further to see if we will have an official sister school," explains Paisley. "However, we were able to learn from each of these teams about the similar projects they run to us, and how we can implement some of the differences."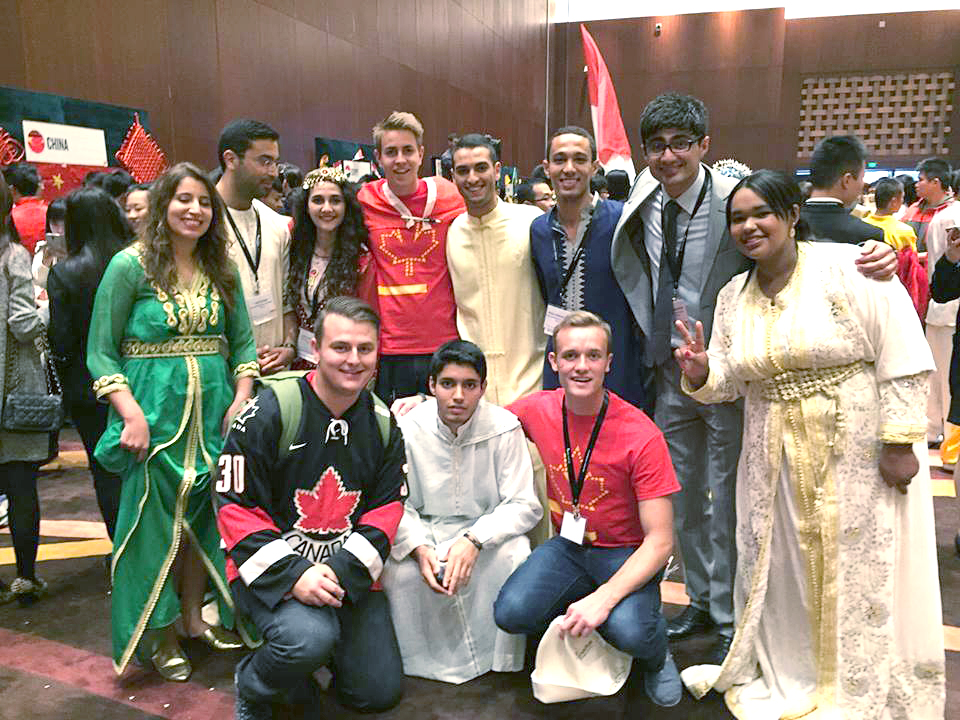 Enactus Mount Royal students connect with other Enactus chapters at the conference's cultural fair.
This global event brings together, every year, an international network of students, academic and business leaders to showcase how members around the world are enabling progress through entrepreneurial action. In addition to the competition, there is a culture fair providing an exhibit of the rich diversity of cultures represented within Enactus. Multiple receptions, lunches and dinners, along with forums, panel discussions and speaker sessions, also provide engagement and collaboration opportunities for participants.
Paisley Dressler, one of the Enactus Mount Royal students in attendance, found the international experience tremendously rewarding."Our time in Beijing was so life changing; it's inspiring to see what our peers have accomplished all over the world, especially those in developing countries."
Looking to Enactus 2015
The spring Western Regional Enactus conference will be held here in Calgary, March 12 and 13, 2015 with 15 university teams participating, including Mount Royal, followed by the national Enactus competition in Toronto from May 11 to 13. It is anticipated that approximately 750 students from 60 universities across Canada will attend.
Marisa Norona, November 12, 2014