Body of Knowledge 2010 opens with Dr. Woodson Merrell
The most common misconception people have about happiness, health and success is that they have no power over them, according to Dr. Woodson Merrell.
"The biggest impediment people have is not understanding one has the power to change their health and success," says Merrell.
"The point of my book is that most things people can do to improve their energy and health are simply a matter of lifestyle. These things are actually quite easy, for example, the studies are clear that just walking briskly for 30 minutes, three times a week is enough to double your energy capacity and improve your health."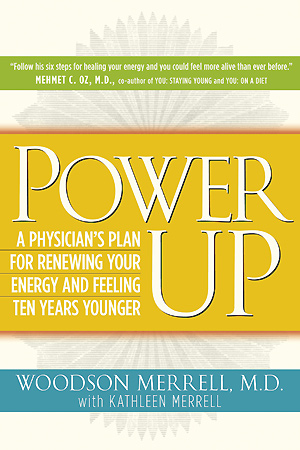 Woodson Merrell's new book is available on campus at The Bookstore.
Merrell, a pioneer in the field of medicine for his progressive attitude and practice, which has long married conventional Western medical knowledge and practice with certain Eastern medicines and practices, will be the first speaker in the 2010 Body of Knowledge Lecture Series.
He is also the author of
Power Up: A Physician's Plan for Renewing Your Energy and Feeling Ten Years Younger,
which is currently available in The BookStore.
Merrell will be on campus, the evening of Jan. 28 in the Ross Glenn Hall giving a lecture called
The source: a blueprint for living and feeling better
.
Body of Knowledge coordinator, Elaine Danelesko says she was eager to add Merrell to the Body of Knowledge roster.
"He is recognized as a preeminent integrative medicine physician in North America," says Danelesko.
"Dr. Merrell is engaged in clinical practice, research, education and health care policy reform. He also leads the Continuum Centre for Health and Healing in New York City, which is America's largest and most comprehensive primary care-based academic integrative medical center.
Merrell says he is excited about opportunities like the Body of Knowledge because it allows him to share information that can change people's lives.
Thirty years ago on the other hand he had to use discretion when sharing his belief in the validity of Eastern medicine.
"I went into medical school back in the 1970's hoping to combine yoga and meditation with Western science but East meets West didn't really exist in medical school back then," recalls Merrell.
"Since then there's been an explosion of evidence. But many of us were closet cases 15 years ago because there were certainly conservative, conventional physicians looking to take the licenses away from doctors who were doing anything that wasn't conventional."
Merrell is quick to cite studies when referencing his advice and in that way separates himself from many of the modern feel-good gurus.
The fact is Merrell says his medicine is based largely on a foundation of objective and quantitative results .
"Fifty per cent of my patients are vastly dehydrated and drinking dramatically more water can increase energy. Sleep is huge and most of us are underslept. The studies are very clear that it's virtually impossible to replenish yourself to optimal levels of health and energy without getting eight hours sleep a night, so it's not like we're talking about rocket science."
- Steven Noble, Jan. 21, 2010