New CBCT aims to prevent tragedy on campus
A student in your class talks constantly about weapons, and one day says it would be easy to get a gun.
A fellow employee confides in you about feeling suicidal.
Would you recognize these behaviours as signs that someone needs your help - and would you know what to do?
Mount Royal University's new Concerning Behaviour on Campus Team (CBCT) is a confidential resource that faculty, staff and students can use to get help for anyone who may hurt themselves or others.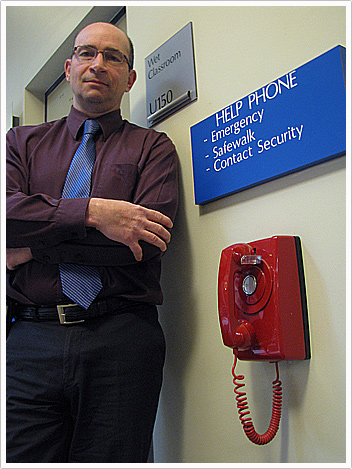 These red emergency phones are your hotline to the Concerning Behaviour on Campus Team.
"The CBCT is like a Block Watch program for the Mount Royal community," says Brian Fleming, the executive director of Student Affairs and Campus Life. He is also the team lead for the CBCT.
"Where Block Watch asks people to report criminal activity, the CBCT encourages the Mount Royal community to tell us about behaviours that are giving them concern."
"Part of Mount Royal's health and safety strategy is to be aware that critical incidents do happen at any workplace - and certainly there have been a number of high profile incidences at universities," Fleming says.
"Mount Royal has strategies in place to respond to such situations, and what the CBCT wants to concentrate on is preventing them from happening in the first place."
The CBCT combines the expertise of representatives from Student Affairs and Campus Life, the Office of Student Conduct, Security Services, Student Counselling Services and Human Resources.
It is responsible for evaluating behaviours that are disturbing, unusual and threatening and then developing strategies for reducing and managing the risk before those behaviours escalate.
It also makes sure that people who need help are directed to the appropriate support mechanisms on campus.
"In most incidences of violence at universities, there had been many warning signs that something was not right," Fleming says.
"People don't just snap and become violent. They build up to it or it can be triggered by a personal crisis. Our concept is that the CBCT can help people who are in need before they get to the breaking point."
Fleming says watching out for the physical safety and mental well-being of the people around us is grounded in a solid sense of community at Mount Royal.
"People feel good here. They know each other. Professors know students' names and students know their prof's name.
"If you see a behaviour that makes you uncomfortable, or even if you think someone else may be threatened by it, you should report it," Fleming says.
"It's better to be safe than sorry.
"Even if you're unsure, call the CBCT and talk with someone about it."
But, Fleming says, if you see a situation where there is an immediate danger to someone's safety or health, you should call 911.
"The CBCT is about asking questions and understanding behaviours. It's about helping to support the community members on campus to behave appropriately, and to understand the impact of their actions.
"It is intended to be a learning experience rather than a punitive one."
The CBCT will hold an information session for the campus community on Tuesday, March 30 from 12:05 p.m. to 12:50 p.m. in the Lincoln Park Room (J301). There is no need to register.
As well, you can find more information on behaviours to watch for
online
.
How to contact the CBCT

Call 403.440.5900
E-mail cbct@mtroyal.ca
Tell Security Services
Use a red emergency telephone
Talk to a Security Officer
Go to the Security Services desk at West Gate