The best athletes you've never heard of
There was a time when nobody had heard of Michael Jordan.
Future stars, like a young Jordan who was cut from his Grade 9 basketball team, need nurturing and the Alberta Sport Development Centre (ASDC) at Mount Royal University is already generating some star power, after just 12-months of operation.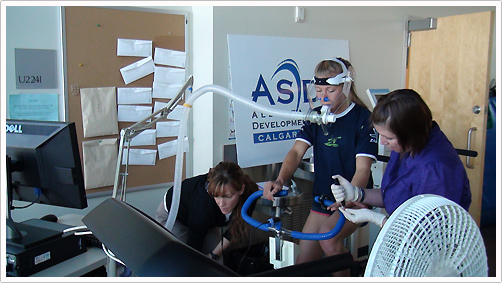 The ASDC offers elite athletes an opportunity to benefit from Mount Royal's academic experts and facilities, in turn our students benefit from research opportunities.
The Mount Royal branch is one of seven ASDC's across the province.
The centres were created by the Alberta Sport Parks and Wildlife Foundation to improve the development of young, elite Albertan athletes and help them stream into national programs.
ASDC Director Reid Bilben says he's proud to have already helped develop future stars.
Officially launched in August 2009, the ASDC has used Mount Royal facilities and academic support to support some of the best athletes you've yet to hear about on their journey from invisible to bankable.
In turn Mount Royal's undergraduate students will enjoy a rare opportunity to take part in research at the ASDC often reserved for graduate studies.
"It's not just about service," says Bilben. "Ultimately it's about academics and there's a great tie between the service we're trying to provide regional athletes and research projects and research incentives."
How the ASDC works
"The ASDC is about creating a system that's better for the athletes, one that's homogenous whether you are a kayaker living in Grande Prairie or Lethbridge," Bilben says.
"In order for our athletes to reach their potential, they need to have access to sport science professionals, and their coach needs to be involved in the planning process to ensure a similar program for all athletes, no matter their location."
That is a work in progress, but Bilben says the goal is for a provincial team coach to know that each athlete is on a similar training program, no matter their home or training facility around the province.
Mike Marshall, technical director for Alberta's amateur Speed Skating Association says the ASDC has already been an invaluable resource for his athletes.
"Due to budget limitations, our provincial team benefits from a level of support, testing and feedback that is normally only available to national team athletes," Marshall says.
This past year the ASDC worked with 92 individual members representing eight different organizations and teams.
Mount Royal's involvement
The athletes aren't the only young people to benefit from the ASDC.
Students in Mount Royal's Physical Education and Recreation professor are also benefitting from the opportunity to be involved in advanced research.
Christy Tomkins, who teaches Anatomy in the Bachelor of Physical Education University Transfer program, is developing a database to collect normative data on young athletes.
She says collecting this information, which ranges from height and weight to strength testing, will benefit coaches and athletes as they devise and assess training programs and it will benefit students as they learn to become effective researchers.
"It's tough for undergraduate students to jump right into research because they don't know a lot about the process," says Tomkins.
"And then, on top of figuring that out, to have to collect their own data within the space of a year is a lot - even for a master's student. For our students to be able to come in and work with faculty and have data already available which they can apply towards answering their research question is something that could set Mount Royal apart from other post-secondaries."
Tomkins says the experience will be particularly valuable for those students looking to go on to graduate school or professional studies from here.
The future
You may want to take note of the young people wearing the ASDC's royal blue T-shirts as they train at Mount Royal's Recreation Centre.
One day soon, they may well be on TV accepting medals, hoisting trophies or hawking sports drinks.
"We've already established strong relationships with elite programs in the province and created a presence in the community," says Bilben.
"We are looking to build on those things, to the benefit of these kids - students and athletes."
- Steven Noble, Aug. 19, 2010 *with files from Fred Cheney