Mount Royal joins the club
Membership has its privileges, but unlike a credit card, it's no easy task to acquire membership among the Association of Universities and Colleges of Canada.
The
Association of Universities and Colleges of Canada
(AUCC) recently accepted Mount Royal University into their ranks.
This partnership is a significant step towards our goal of becoming Canada's leading undergraduate university.
Like many of the steps on our journey towards that goal, AUCC acceptance was intensive and at times felt like a long time in coming.
Peter Seto, director of the office of Institutional Analysis and Planning, and his team spent hundreds, if not thousands of hours over the last two years compiling and polishing a 1,400 page application package.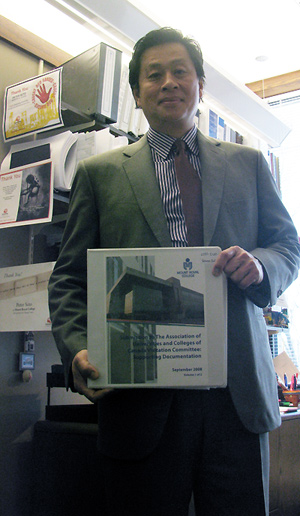 Peter Seto says compiling Mount Royal's 1,400-page AUCC application was no small feat, but something he's extremely proud of.
"It was quite in-depth," Seto says, sighing a breath of relief now that his efforts have been validated.
"They were looking at things such as our mandate, our governance system, our name and the degrees we offer," Seto says, listing off just a few of the criteria necessary to attain AUCC membership.
The AUCC is a nearly 100-year-old body of universities and colleges dedicated to ensuring Canada's higher education is a national priority and ranked among the best in the world.
It also ensures there is a set of standards amongst Canada's top post-secondary institutions.
AUCC membership also gives us a voice on the direction of higher education in Canada, right alongside the country's most prestigious, and long-standing post-secondary institutions.
The AUCC is an influential lobby group and our membership ensures that Mount Royal's values and perspectives have a voice that is included in the political process when policy makers are carving out important legislation that affect the future of our students, staff and faculty.
Seto says the AUCC is adamant about ensuring its member schools offer students and faculty an environment conducive to work, learning, study and research - something that has always been a signature of our community.
In Aug. 2008 the AUCC gave Mount Royal four months to prepare for an investigative visit by their review team, which featured the presidents of Carleton University in Ottawa, Universitý de Moncton and Brock University in St. Catharines, ON.
The result of that visit was vital to the success of our application.
A big step in preparation for that visit was a day-long mock visit - Mount Royal University president Dave Marshall invited his successor as president of Nipissing University, Dennis Mock and Ryerson University president, Sheldon Levy, to come to Mount Royal and act as reviewers.
"They asked the hard questions," says Seto.
"They put us through the ringer. Mentally that was instrumental in getting the University ready. That happened in Dec. 2008, just prior to the review."
The review was a two-day process that included tours, private interviews with faculty and students and a reception where they could talk about any aspect of campus life they liked and make observations in an informal setting.
The review committee wanted to find out directly from the source if life on campus matched the description we offered in our application.
Obviously they liked what they saw, even if the result wasn't revealed until nearly a year later.
Professor David Hyttenrauch, president of the Mount Royal Faculty Association, says it was worth the wait.
In fact, he points out that the work that led to our AUCC membership "has taken a generation to accomplish."
"From the introduction and development of applied degrees, to learning outcomes, to collaborative degree partnerships with other universities, to the creation and implementation of the General Education program, to the launch of our own baccalaureate degrees," Hyttenrauch says, listing some significant precursors that have facilitated our acceptance into the AUCC.
"AUCC marks an external recognition by our university peers that we've created something substantial and valuable at Mount Royal.
"It creates an opportunity to begin to communicate nationally our vision of undergraduate teaching excellence informed by scholarship, our model of an engaged, collaborative and committed faculty culture, and our aspiration to graduate students who can go anywhere and accomplish anything on par with graduates of other universities."
Seto says the accomplishment and the doors it opens isn't something that should be taken for granted.
The review team's recommendation to their AUCC colleagues was extremely positive.
Our acceptance puts us in the same conversation as some of the top-ranked universities in Canada.
And most importantly, it puts us on track to be the leading undergraduate university in Canada.
"It was a really exciting opportunity to see this type of thing come to fruition," says Seto.
"As much hard work as it's been, it's been a lot of fun.
"The Mount Royal story is an easy one to tell and that made this process a lot easier than it could have been."
- Steven Noble, Nov. 5, 2009