Mount Royal acknowledged for effort of our leadership
Mount Royal University is well on its way to becoming a premier undergraduate university and people beyond the borders of Calgary and Alberta are beginning to take notice.
During the International Chair Academy Conference in Minneapolis, President Dave Marshall and Vice-President Robin Fisher proudly accepted the Exemplary Team Leadership Award, which recognized Mount Royal's hard work and dedication over the past five years in making Mount Royal a university.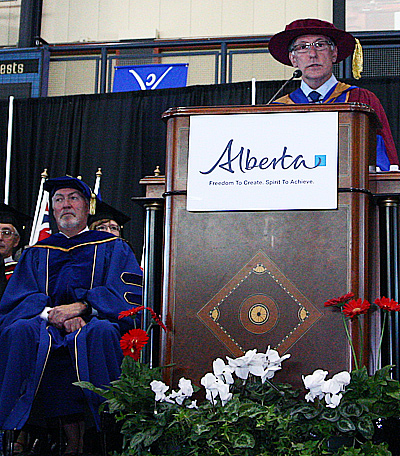 Dave Marshall (left) and Robin Fisher (right) seen here at Mount Royal's name change ceremony last fall, recently accepted an Exemplary Team Leadership Award for Mount Royal's efforts towards becoming a university.
The award presented to Marshall and Fisher, acknowledged the thorough university transition game plan which included the elements of: political preparation, internal and external audience preparation, governmental approach preparation and student preparation.
The International Chair Academy Conference takes place every year to address academic needs of post-secondary leaders, enhance effective leadership and improve opportunities for interaction between leaders.
"This is not an individual award for me," says Marshall.
"It is for Mount Royal as a whole and anything that recognizes the significant work the Mount Royal Community has done over the past six or seven years is extremely important."
By accepting the Team Exemplary Leadership Award, both Marshall and Fisher stress the importance of it being Mount Royal's award. The achievement of this award was not solely due to the effort of one or two individuals.
"It was a pleasure to receive this award from the Chair Academy, says Fisher. "Dave Marshall and I were accepting it on behalf of the entire Mount Royal University community."
The success of the institutional change came from all areas working together.
"University status was accomplished by everyone at Mount Royal contributing," says Fisher.
"None of the big steps such as focus on student success, degrees, faculty roles and responsibilities and governance could have been achieved without everyone at every level in the institution playing a part."
Ten years was the expected time frame for the transition to take place. Remarkably, it was completed in a short amount of time, taking only five years.
What took Marshall by surprise wasn't the amount of time from start to finish - it was the commitment of Mount Royal staff, which ultimately contributed to the rate of how quickly the project was completed.
"I underestimated the dedication of staff," says Marshall. "Mount Royal employees worked extremely hard going above and beyond their daily jobs. That is why this achievement happened in a short amount of time."
Remembering back to the start of it all, the idea of Mount Royal College becoming Mount Royal University was that of the entire Mount Royal community, and Marshall feels his primary role was to lead and keep everyone on track to achieve the same goal.
"It was Mount Royal's vision," says Marshall.
"I was there to help articulate that vision."
This incredible achievement was made possible by remarkable leaders driving a community of enthusiastic people in the right direction.
For both Marshall and Fisher there were several milestones along the way, but the most significant highlight about the transition was the constant dedication within the institution.
"The level of support for change at Mount Royal is remarkable," says Fisher.
Because of this, Mount Royal University will continue to exceed expectations.
- Angela Sengaus, March 25, 2010