Cougars Women's Hockey Heating up the Rink
What a difference a year can make.
At this time last season, the Mount Royal University Cougars women's hockey team was sitting at the bottom of the Alberta Colleges Athletic Conference (ACAC) hockey standings, having registered just three wins before the winter semester break.
The team had only tallied a league low 23 goals. The only thing lower than their scoring might have been their moral. Certainly their future looked dim.
Fast forward a year and the high flying Cougars are perched atop the ACAC standings after sweeping a pair of games versus their arch nemesis - the SAIT Trojans.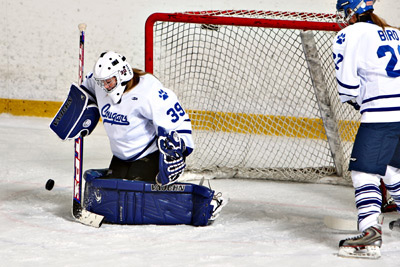 The play of goaltender Kendall Kilgour has been one of many reasons the lady Cougars have been dominant this year.
The team has scored more goals than any other squad in the conference, with 30 goals in just 9 games and seem to have found their groove early on in the season.
"I think we are more mentally prepared as a team this year," said Mount Royal forward Christina Hodgson.
"We are a tighter knit unit, more like a family and the chemistry is really strong, plus I think this year we want it more than ever after coming so close last season."
Despite their sluggish start last year, the lady Cougars defied odds in advancing to the ACAC championship, ultimately losing a narrow 1-0 decision to the U of C Dinos in game five of the league finale.
Beginning with last year's playoff run the team has gone an outstanding 12-6-1-1 including a league best 6-2-1-1 this season.
Cougars head coach Scott Rivett talks about the difference a year can make for a team.
"Last season the coaching staff was only in place a couple of days before training camp.
We were more focused on changing the identity and culture and growing the program more than anything."
"We've now had a whole year to work with the team and even though we had a lot of success late in the season, I think it's now something we've been able to build upon.
"The veterans know their roles and what to expect from the coaching staff and we've been able to recruit a few players that fit into our mould - all these things have contributed to a positive start."
Though the Cougars currently sit atop the ACAC league standings, the team knows just how testing and grueling the season can be and complacency isn't an option.
"In this type of league, you can't be content until you've won it all and the season is over," says Rivett.
"It's so tight and on any given weekend any team can win or lose. You look behind us in the standings and everyone is nipping at our heels. You need to keep your focus for the entire season and not lose sight of the ultimate goal."
Hodgson reiterates her coach's message in the importance of playing a full season.
"Every weekend is important, even if we don't win; we know we have to keep positive and keep learning from our mistakes, trying to get better. The standings can change a lot week to week, so if we just keep to our game and keep focused, I think we'll be alright."
With a home at home series with the NAIT Ooks impeding this weekend, the Cougars know they'll have to be sharp to stay in first place.
The teams have met already twice this season, with the Cougars securing a pair of 6-2 and 4-2 wins versus the Ooks, but Hodgson is excepting a more aggressive opponent than she saw in those first two victories.
"We played them early in the year, when all the teams are just starting to get comfortable with one another. I'm expecting they'll come out a lot harder and more focused now that the season is ten games underway."
Whatever the answer to their success may be, the Cougars hope to keep the positive momentum rolling and fulfill their ultimate goal of winning an ACAC championship.
"To win it all would mean a lot to the team. When you come so close to winning the championship, it's disappointing to lose, but for me, it just adds fuel to the fire."
For the Cougars, that fuel seems to be working, because the team is on fire, a fire they hope won't get extinguished until they've won it all.
- Kyle Henry, Nov. 26, 2009