Harvard professor Lights way for MRU to be No. 1
When Mount Royal University President Dave Marshall took to the podium during September's official name change ceremony, he said, "I confidently predict that Mount Royal will become Canada's top-ranked university when it comes to every single measure there is out there related to student success and satisfaction."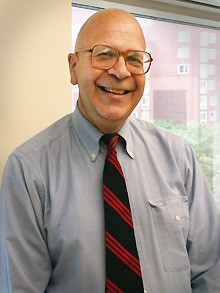 Professor Richard Light, comes bearing words of wisdom about student perceptions of university.
A keynote presentation next month will enable the campus community to hear suggestions from an expert on student perception of university life.
Provost and Vice-President Academic, Robin Fisher invites faculty, staff and students to this lecture by Richard Light, PhD, Walter H. Gale Professor of Education at Harvard University, and an expert who is helping institutions become "learning organizations."
His presentation -
Making the Most of Mount Royal
- will be on Jan. 14 from 2 to 3:30 p.m. in Ross Glen Hall, Roderick Mah Centre for Continuous Learning.
Light has conducted 20 years of research on student perceptions of university life at Harvard and will offer some tools to faculty, staff and students to make Mount Royal a happier place for everyone.
"We all prefer more successful, happier and engaged students," says Light. "The entire campus community can learn a lot by asking students about specific experiences."
Light conducted one-on-one interviews with students towards the end of their first year of university for his research to gauge student satisfaction.
"It has been the most effective measure of how we are serving our students," adds Light.
Without giving away too much of Light's presentation, his suggestions will include engaging faculty with ideas to maximize student learning and engaging with students as an institution.
"The more students feel a part of the community, the better it is for everyone on campus," Light says.
Another tactic to ensure that students are well looked after is to stress the importance of good academic advising.
Light's research over the past 20 years has shown that academic advising has been a constant and vital service that students require to succeed.
By providing information about what choices students have about what courses they can take and where they can obtain sound academic advice, institutions will be supporting their students in the best way possible.
Although much of
Making the Most of Mount Royal
will be student focused, Light hopes to have an impact on the entire campus community.
"I very much hope during my time at Mount Royal, that I will have offered different groups of people a few new, good, concrete suggestions to implement to enhance student success," Light says.
- Fred Cheney, Dec. 10, 2009