Engler co-edits first book of its kind in field
The opportunity to write something original, to develop something new and necessary is a special opportunity.

After two long years of e-mailing, editing, brainstorming and writing long into the night,
Mount Royal University Religious Studies Professor, Steve Engler is thrilled that Routledge books have launched a book he co-edited with German academic Michael Stausberg.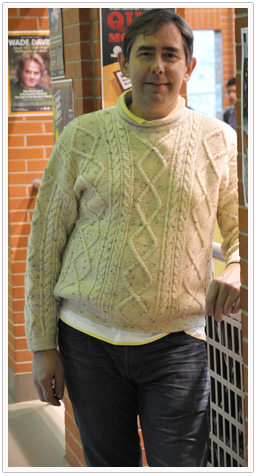 The Routledge Handbook of Research Methods in the Study of Religion is the first religious studies book of its kind.

"I do interviews and participant observation for my research and that was a big part of what motivated me to think more seriously about the kind of methods I need to do and that's when I realized I wasn't trained to do that in my graduate program."

That lack of training during his own student days motivated Engler to work with Stausberg and co-edit The Handbook.

The publisher, Routledge is one of the world's largest academic publishers in the world and the book, which was released Nov. 15 will be sold internationally.

The Handbook is already drawing strong reviews: Ann Taves, Professor of Religious Studies at the University of California at Santa Barbara and the current President of the American Academy of Religion dubbed it "the most significant contribution to the field of religious studies that I have seen in many years."

The first of its kind

Unlike other fields such as the physical sciences and even some social sciences where proper research methods and processes are clearly defined, Religious Studies students have never had anything so formal to work from.

Until now.

"Partly, this void has existed because religious studies is very interdisciplinary, so if you're doing anthropological work there are appropriately outlined methods to follow," says Engler.

"We ask the question: 'does it make a difference what methods you use when studying religion' and we think it does and the book addresses that issue."

Another reason Engler theorizes there may have been a blind spot in religious studies is that it has historically focused on the Christian tradition where people reviewed and analysed scriptures, texts and beliefs.

"More recently, many researchers are studying ritual and asking 'what do these people do?'
"Now, there's people working on architecture and media, food and clothing in religion and with that growth, the question has become more vital: exactly how are you supposed to study these things?"

The genesis

Stausberg contacted Engler in 2009 to see if he'd be interested in collaborating on the project. After some thoughtful consideration of the amount of work it would entail, Engler agreed.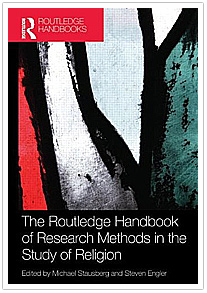 He doesn't sugar coat the process, admitting that putting together the first book of its kind has challenges of its own such as: choosing the methods to cover and finding the right people to write about them.

The Handbook includes the writings of 34 experts from nine different countries.

The second challenge was getting those people to submit on time and giving them a lot of critical feedback to make sure the book got the highest quality writing possible.

Engler says The Handbook fills two voids:

"First, if you're teaching a course on theory and methods, which is a course that's in many religious studies requirements, it's all about theory.

"We seldom talk about methods and even if a professor wants to, there's no book available to work with."

Second: Engler says that graduate researchers are often unsure how to proceed and default to talking about texts in a generic sense. The Handbook gives students and faculty a concise menu of options explaining how to go about researching something.

A unique field of study

Aside from methods and research, Engler specializes in the study of Brazilian spirit possession.
In particular, the blend of spirit possession religions in Brazil such as Umbanda.

Engler has spent five years of his life working and studying in Brazil, including a two-year stint teaching at the Pontifical Catholic University of São Paulo. His research in Brazil is ongoing.

"When studying spirit possession, it's normal to talk with a guy socially and get to know him and then go to ritual and see him there and talk to him again - only it's not him.

"I'll be talking to the spirit that possesses him and then I try to make sense of what it means to talk to the same man in these very different contexts," explains Engler.

In religions such as Umbanda, Engler says spirit possessions are a positive thing.
"The spirits are helpful beings who are only here to help people. It's almost like an alternative medical system. It's a big part of the culture."

The conclusion

"Hopefully this book will up the ante for researchers and motivate them to think more about methods and critiquing each other's work as they aim to publish it.

"We would like to see the book have an impact in the class room and on research published in the field. We'd like to see scholars think more seriously about how they collect and analyse data and to pass those skills on to students."

- Steven Noble, Nov. 18, 2011