Public Relations and Iniskim alumna danced at opening ceremonies
Aboriginal dancer and Mount Royal alumna Candace Harkness, proudly stood in front of millions representing the Métis Nation, and welcoming the world's athletes to the 2010 Vancouver Winter Olympic Games.
As one of Canada's top 100 Aboriginal graduates in 2009 and a member of the Kootenay Region Métis Association (KRMA), it is no wonder Harkness, a graduate of the Public Relations stream, was recruited to perform in the Olympics on behalf of the Métis Nation.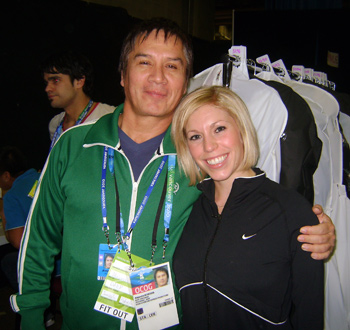 Candace Harkness with Alejandro Ronceria, the influential choreographer, director and film artist that choreographed the aboriginal performance at the 2010 Olympics.
"Because of my recent involvement in the KRMA, I was approached by someone involved in the Métis Nation British Columbia Provincial Organization to fill out an application to represent the Métis at the Olympics," says Harkness.
"When I was applying I had no idea what I would be doing. It was top secret."
Going with her instincts, Harkness trusted that whatever opportunity she would be a part of had to be incredible.
Her instincts didn't let her down.
"The experience was more than just having us there to showcase Aboriginal dance," says Harkness.
"It was an amazing cultural learning experience and really brought us together for when the opening ceremonies finally happened."
The experience
Dancers in the Aboriginal portion of the opening ceremonies were also involved in the Indigenous Youth Gathering, Vancouver 2010, held before the performance to promote healthy living for Aboriginal youth.
There were approximately 350 youth involved in the conference, which was done in collaboration with the opening ceremonies performance.
"The exchange of culture was incredible," says Harkness.
The dancers stayed at the North Vancouver Outdoor School where they were given a camp-like experience.
"The time at the camp was remarkable and we were able to experience other Aboriginal traditions such as Inuit throat singing," says Harkness.
"There was also dancing, Métis fiddlers and guitarists, dancing jigs, by the fire and so much more. It was a great way to interact with everyone and experience their culture."
The different groups rehearsed all day, every day leading up to the performance, and between rehearsals took in some sights.
The interaction prepared each group to work together as one for the opening ceremonies.
The night of the ceremonies
When the day of the opening ceremonies finally came, Harkness says it was surreal and an experience she'll never forget for a number of reasons.
Up until that point everything about the dance performance was kept confidential which meant the dancers went from rehearsing in an empty space to performing in front of 60,000 people and a worldwide television audience.
"It was extremely emotional to welcome the athletes," says Harkness. "Aboriginal culture is very important to Canada and there were so many things going on at once. It was quite overwhelming."
Harkness says every detail that was practiced came to fruition perfectly as planned and says it takes her breath away even now to think back on it all.
Experience aftermath
With another Winter Olympics completed and logged in our hearts and memories, Harkness looks back on her experience with Canadian pride and a new appreciation of her Métis background.
"Being one out of 20 representing a whole nation of people was an unbelievable opportunity says Harkness.
"It was quite emotional. My grandmother always wanted me to be more involved in the Métis culture. I think she would have been so proud to see me up there."
The emotional aspect didn't just hit Harkness during the opening ceremonies. She recalls that many other Aboriginal groups found it touching to share sacred parts of their culture with millions of viewers.
"I am so proud of myself, and everyone involved.
"When I have kids, the performance will still be just as exciting in 10 and 20 years from now," says Harkness. "The experience will never stop being incredible. It is definitely something for everyone to remember."
- Angela Sengaus, March 11, 2010