Iniskim Centre leads day trip
As Iniskim Centre's Trevor Freeman led a group of staff, faculty and students through the halls of Old Sun College on the Siksika Reservation, he was struck by history and the future all at once.
"We did a tour - Old Sun's actually converted from an
old residential school
, which is a really big deal as far as reclamation goes. We also have a lot of students that come to Mount Royal from there so we also wanted to show that we support that relationship."
The visit to Old Sun College was part of a day trip the Iniskim Centre organized for members of the Mount Royal community to learn about Aboriginal customs, culture and history in Alberta. Twenty five people climbed aboard a bus headed for the historic site of Blackfoot Crossing after the visit to Old Sun College.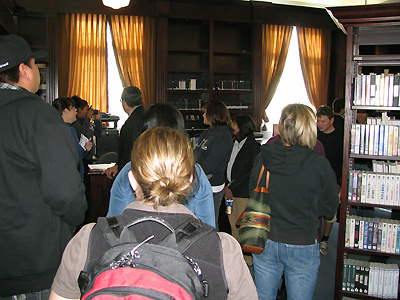 Guests of the Iniskim Centre's recent road trip take in the library at the historical site of Old Sun College.
"It was really interesting to see how Old Sun has turned what was a place with a negative history into a positive," adds Freeman.
"With the renovations they've done there it's a first-rate facility for adults to go and get their education."
Aside from offering an educational opportunity, these trips - which Iniskim hosts once a semester - are a way to bring Mount Royal's different cultural communities together.
Freeman says it's a common misconception that Iniskim Centre is just for Mount Royal's Aborginal community.
"The idea is to provide everybody on campus the opportunity to reach out and learn about our community and the contribution of Aboriginal people to the region. So we explore different examples. Last year we took about 60 people to the Glenbow Museum."
Aside from its historical significance, Old Sun College was also chosen because of its long-standing relationship with Mount Royal.
Old Sun has been sending its graduates to Mount Royal for further educational opportunities for nearly 40 years and that is a valuable relationship for both campuses.
With the results of Mount Royal's transition to a university it provides Old Sun graduates with even more opportunities to improve their education and credentials.
Freeman says some of the local Aboriginal communities have a lot of questions about the change and how it affects Mount Royal's accessibility to their community members.
Freeman says the visit was also a good opportunity to address some of those questions and concerns.
From Old Sun College the journey took the group to Blackfoot Crossing, a historical landmark, also in the Siksika Reservation.
Blackfoot Crossing has a beautiful new interpretive centre with exhibits and opportunities to learn about the history of the area and its indigenous people.
Blackfoot Crossing is the spot where the Canadian Government and many of southern Alberta's Native tribes signed
Treaty 7
in 1877. The purpose of that particular treaty allowed the government to build a transcontinental railway, which was a significant factor in convincing British Columbia to join Confederation.
"We got a lot of good feedback from this trip. It really seemed to resonate. The only thing that was a bit negative was people felt they could have spent a lot more time at one or the other of the spots we visited," says Freeman.
"But people generally really enjoyed it and many have said they'll go back on their own."
For more information on Iniskim Centre events and the second semester road trip, contact Trevor Freeman or swing by the
Iniskim Centre
.
- Steven Noble, Oct. 29. 2009