Christina Mitchell wins international fellowship
Christina Mitchell was accepted to both University of Calgary and Mount Royal University to study psychology two years ago.
She chose Mount Royal and it seems the decision couldn't be working out better.
Mitchell is the only undergraduate student in all of Canada to receive a rare summer research fellowship from the American Psychological Society.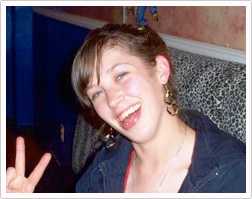 Second-year psychology student, Christina Mitchell, was the only undergraduate student in Canada to receive an APS summer research fellowship.
Assistant Professor of Psychology, Evelyn Field, who helps supervise Mitchell's research (alongside U of C's Quentin Pittman), says this honor is just the beginning for such a bright student.
"Christina is one of the most reliable, level headed and organized first year undergraduates I have met in over 10 years I have worked with undergraduates," says Field.
Field points out that Mitchell had already accumulated enough data from last year's research to present at a scientific conference this past February - the 22nd Annual Canadian Spring Conference on Behaviour and Brain.
"She and fellow MRU student, Madison Lang, did a fantastic job of their oral presentations. This was confirmed by the number of faculty from other universities who approached me to enquire about both Christina and Madison's plans for graduate school."
Pleased she chose Mount Royal
The 26-year-old has come a long way since she was the little girl who grew up camping and singing karaoke in her home town of Bentley, or as she fondly refers to it, "the-middle-of-nowhere."
Although she still cites a sleeping bag and a microphone as a big part of her favourite extracurricular activities, she couldn't be happier with how her decision has turned out.
"I love Mount Royal's atmosphere of support," says Mitchell as she lists the ways Mount Royal is helping her achieve her dreams.
"The small class sizes and the approachability of the staff - I have received more guidance than I could have hoped for.
"By the end of my first year, I was presented with multiple offers to do summer research, as well as being able to speak one-on-one with professors of varying specializations, all so I could decide for myself what exact area I wanted to pursue professionally. Without the great opportunities and personal advising I've received so far, I highly doubt I would be as motivated or as satisfied with my academic pursuits."
Mitchell's success is fueled by a passionate interest in "observable behavior." She says she has always been interested in "the processes in living things."
"I'm very interested in finding out how and why the brain goes haywire, from a biological and psychological perspective."
The APS awards the summer undergraduate research fellowship to a 1st, 2nd, or 3rd year undergraduate student and their research advisors annually. The goal of this award is to encourage students to pursue careers as research scientists.
Mitchell says on paper, the award will be a powerful credential when she applies to graduate school, the experience will be priceless.
"I will be able to learn things I might never otherwise be able to do because of funding shortages and lack of lab space. Through the APS though, I've already made connections with incredibly talented students, as well as received advice and guidance from knowledgeable scientists who have achieved great success in their fields."
What exactly does the fellowship mean to Mitchell's research?
The fellowship will help fund Mitchell's work in the lab this summer looking at the effects of prenatal illness in pregnant rats on post-natal behaviours similar to those seen in Autism spectrum disorders.
"Being the only Canadian recipient was an added bonus, and I look forward to representing both Canada and Mount Royal at APS' Experimental Biology conference next year in Washington, D.C., which is also an exciting aspect of the fellowship."
Field says it's going to be exciting to watch Mitchell's future play out because she has the talent, drive and potential to do whatever she puts her mind to in the field of psychological research.
"Without a doubt Christina is well on her way to becoming a highly desirable graduate student and I feel that she will be able to go in any research direction she chooses," says Field.
"She is the type of student that will excel in whatever field of research she chooses - I can't wait to see where she will be 10 years from now."
-Steven Noble, May 6, 2010