Open dialogue encouraged at public forum in Pages
If you put your mind to it, anything is possible - but for how many of us and to what end?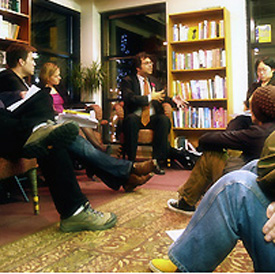 The last installment of the "Ideas that matter," public forum drew nearly 100 people.
"Positive thinking" - once considered by many to be a hippy's hobby - has erupted into a billion-dollar cultural phenomenon.
On the evening of March 5, 7 p.m., at "Pages Books on Kensington", the Faculty of General Education is presenting its second Ideas that Matter book panel to examine that question.
The event, generated to provoke debate and critical thought about a popular subject, will feature Allison Dube, PhD and ordained Zen Buddhist Monk and Multi-faith Chaplain, Tim Sampson, both of Mount Royal as well as Piers Steel, PhD, of the University of Calgary. The CBC's Brooks Decillia will moderate.
The three will kick off a discussion on author Barbara Ehrenreich's hit book,
Bright-sided: How the Relentless Promotion of Positive Thinking has Undermined America.
"Piers Steel, who has been referenced in the
Wall Street Journal
and
News Week
among others, teaches the book," says Karim Dharamsi, General Education professor and event organizer.
"He's also the world's foremost expert on procrastination, so it will be interesting to see what he brings to the discussion.
"Dube, who enjoyed the book immensely, does a lot of research on self-help and has written on it himself so he was a perfect candidate.
"Sampson is an ideal counterpoint to Dube. While he's skeptical of some things in that industry, he likes some of what it purports and I think was skeptical of the book."
Sampson, who was trained at a Zen Buddhist temple in San Francisco before being ordained in Japan, comes to the panel with mixed feelings.
"I'm of many minds on these things," says Sampson.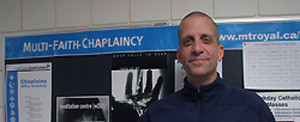 MRU Multi-faith Chaplain Tim Sampson will share some of his feelings on the proliferation of the positive thinking movement.
"For people to explore what is an alternative to the self-centred, consumer-driven society is a healthy sign. But how that journey and that knowledge is used is another thing.
"If it's just going to be used as another tool to further chase our selfish needs and desires, then that's a misuse."
While Sampson is leary of those who pursue Eastern-based philosophies for material gain, he says it's difficult to argue with the benefit of Eastern meditation techniques that are being used these days to help people who deal with chronic pain, suffer from depression, or struggle with other ailments.
Dube, on the other hand, wonders if Ehrenreich could have even gone further in her examination of positive thinking and the industry surrounding it.
He has read popular books like
The Secret
, and
The Seven Habits of Highly Effective People
, which claim to offer keys to success and happiness and believes it's time many of what he calls alleged prophets are held to account for what they're preaching, writing and most importantly, selling.
"It's become an almost ideological demand on the population," says Dube. "Ehrenreich deserves credit for standing up and saying 'There's a certain amount of hokum going on here.'
"There are dark sides at work here. There's got to be a red flag that goes up any time something wears the mask of spiritual or therapeutic value that ultimately is a billion-dollar industry."
- Steven Noble, March 26, 2010