Faculty of Teaching and Learning hosts open conversation
As far as the Faculty of General Education is concerned, Mount Royal University is not an ivory tower and nor should it be.
In fact, in September the faculty members of general education decided it would be a great opportunity for Mount Royal to engage with the community by bringing some popular academic discussion on current topics to their doorstep. And more importantly, to let them take in the conversation.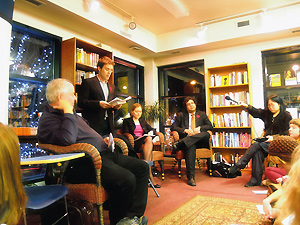 CBC's Brooks Decillian opened the panel discussion at Pages last week in front of nearly 100 people on a Friday night.
"We thought as a community it would be a nice way to take ourselves out of the classroom and talk to people about the books we're reading and some of us are teaching," says Karim Dharamsi, PhD, a coordinator in the Department of General Education.
Dharamsi helped organize the first such event last week at Pages Bookstore in Calgary's Kensington neighbourhood.
The topic of conversation was William Easterly's The White Man's Burden, a book in which he attacks current foreign aid models and asks that we rethink how we engage developing countries.
CBC national reporter, Brooks Decillia moderated the event, which saw nearly 80 intrigued parties crammed into the bookstore on a Friday night.
Barry Cooper, PhD, of the University of Calgary's Department of Political Science, Jennifer Brenner, PhD, of the Alberta Children's Hospital and Naheed Nenshi, professor from the Bissett School of Business were the night's feature panel members.
"Most of us here in this department believe this is an interesting book because it challenges some of our assumptions about aid and asks us to accept, no matter what solutions are offered, that what we're doing at the moment is not working.
"Easterly challenges what for some is conventional wisdom, and we believe having a discussion about his provocative work can help keep the conversation moving - especially if thoughtful people from different walks of life share their ideas," says Dharamsi.
Easterly cites our having spent 2.3 trillion on Africa over the past fifty years, with no tangible results.
Dharamsi, whose specialty is philosophy, says, "Easterly asks us to rethink our expectations, and how we think about aid."
"He identifies a 'self-imposed obligation' by 'Western planners' to prescribe solutions for developing countries. Solutions disconnected from local realities. Is he correct in this?"
Cooper and Nenshi both teach Easterly's works in their classes and have somewhat opposing thoughts on his position. And Brenner added her own compelling arguments as one who spends a great deal of time on the front lines as an aid worker in Uganda.
Ultimately the night gave people something to think and talk about long after the hour and a half was up.
In fact, Dharamsi says the department plans on organizing one more similar event this year. The department will invite colleagues and an interested public to come out in early March to discuss Barbara Ehrenreich's Bright-sided: How the Relentless Promotion of Positive Thinking Has Undermined America.
"What we want to try and do is discuss a book in socio-political thought, in literature and in science. We want to run it as a cycle every year with a range of panel members from different walks of life."
- Steven Noble, Nov. 12, 2009