Sing us a song, piano man
Red Deer Alberta might not be the location most people would expect a cutting edge crime fighting technique to come from.

The small, western town of Cochrane might not make the top of the list either.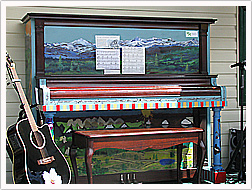 But following an initiative out of Red Deer, two Mount Royal University students worked with Criminal Justice Professor Nikki Filipuzzi this past summer to install only the second street piano in the nation, downtown Cochrane to help discourage crime by building a sense of community and positivity.

A street piano is a piano that is situated in a public area, decorated by the public and left alone to be used and ideally enjoyed, by people local to the area, whether they are homeless people, residents or merchants.

"The street piano has been adopted all over," explains Filipuzzi pointing out that New York City now has 60 of them alone because they have been proven to discourage criminals. "It's really taking off. They're all over Europe as well."

The idea is to build communal pride in the neighbourhood where the street piano is positioned.

"It's not going to stop crime but it brings together a community and builds a feeling of ownership to the area where the piano is positioned."

From Red Deer to Cochrane

When Filipuzzi brought in a Red Deer-based crime prevention consultant, Steve Woolrich to speak to her third-year class last spring about his experience setting up Canada's first street piano in 2010, it caught several of her students' attention.

Long-time Cochrane resident Valerie Cheadle and fellow student Danielle Sieger were particularly piqued.

"I'd never heard of anything like that before," says Cheadle. "I grew up playing instruments, so did my siblings. Whenever there's a family get-together, we all pull out our instruments and start playing and it's a happy place for me."

Between being a piano player, from Cochrane and passionate about the field of "crime prevention through environmental design," Cheadle decided it was an opportunity to use her education and passion to make a difference in the real world.

She mentioned the idea to Filpuzzi and Sieger and they were thrilled.

Sounds like a plan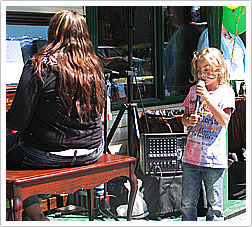 While they knew they wouldn't have time to implement the plan until after exams, the trio started keeping their eyes open for a piano - preferably a free one.
It may sound like long shot, but it wasn't long before Sieger found a church that was ready to part with an old piano to whomever had a truck big enough to take it.
Cochrane City Council approved the idea quickly.
"That part happened easier than we expected," says Sieger. "They were really excited about it. They loved the idea."
The next step was to engage the community on the ground level.
They got the Boys and Girls Club of Cochrane involved and asked them to help another local artist decorate the piano. Then they found a local merchant (Home Quarter Mercantile and Pie Shop) who was willing to let them set it up beside his establishment.
On Aug. 7, they launched it with cake, balloon,s a crowd and of course, music.
"We were really interested to see if this idea could help bring the community together and get some people involved who might not otherwise have the opportunity.
The party

The day of the event was light-hearted and fun but Sieger says there was one particular moment - "a goose bumps moment" - that really made it evident how much impact the street piano could have.
"We had a professional singer there, Randy Bolton, to loosen everyone up, so that helped a lot but the stand-out moment was when one little girl stood up beside Randy and sang Hallelujah with her."
Everyone went quiet.
"Apparently it was only the second time she'd ever sung in public and she was amazing. It was emotional. I had tears in my eyes."
Neither Cheadle nor Sieger knows exactly where they want to take their studies when they graduate next June but they are hoping to work with Filipuzzi to establish a similar piano in Calgary next.

- Steven Noble, August 25, 2011