From Mount Royal to McMahon
In November, 1948, Calgary Stampeders fans invaded Toronto for the Grey Cup.
Their hijinks - a pancake breakfast on the steps of Toronto City Hall; spontaneous parades and street parties; riding a horse into the Royal York Hotel - began a tradition of city-wide celebrations in conjunction with the championship game.
On Sunday, Calgary hosts the Grey Cup, and three Mount Royal students - past, current and returning - are involved behind-the-scenes in preparing this year's festivities.
"It's been called one of Canada's largest events, and it really is," says Mitch Bayliss, a graduate of Mount Royal University's Bachelor of Applied Business and Entrepreneurship - Sport and Recreation degree program.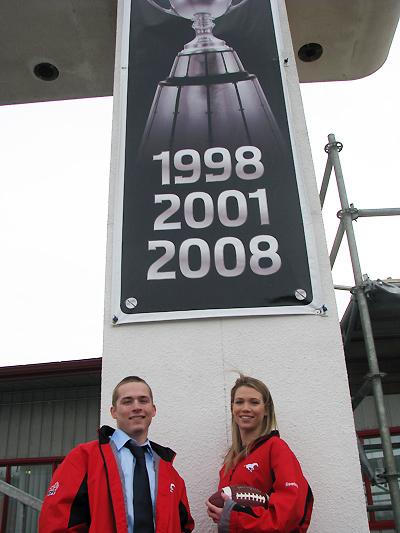 Rhys Dowbiggin and ClareTaylor couldn't be happier with the direction their education is taking them in.
Since 2005, he's been the Coordinator of Community and Media Relations for the Calgary Stampeders.
"I've been to the last couple of Grey Cups and this game does bring together so many people," Bayliss says.
"Before I had experienced one, I remember thinking, 'Do that many people really fly into each city for the game?'"
"And then I met people who had been to the last 60 Grey Cups without ever missing one," he says.
"The energy that's around the office right now is just exciting to be a part of."
It's an experience he is sharing with Rhys Dowbiggin, who is working full-time with the Stampeders after completing a Directed Field Studies (DFS) component with the team, and Clare Taylor, a current student who has been interning with the Stampeders since July.
David Legg, PhD, is the coordinator of the Bachelor of Applied Business and Entrepreneurship - Sport and Recreation program. He says the three are also providing inspiration to other current students.
"I talk about Mitch, Rhys and Clare all the time in class as examples of how students who volunteer and then complete a DFS open up doors likely closed to them beforehand," Legg says.
"Our students are making contributions - taking what they've learned in the classroom and applying it in a frenetic, competitive marketplace - and they appear to be thriving."
Although the Grey Cup Festival Committee has its own marketing and communications team, Bayliss expects that Grey Cup will still be a very busy time in the Stampeders office.
"We're starting to see a whole bunch of media attention about Grey Cup," he says. "We work with the league on media and community events that involve players and that promote and celebrate the week."
He couldn't have come to McMahon without going to Mount Royal

Bayliss began with the Stampeders during a DFS in May, 2005. It led to a second internship with the football club, and that led to a job.
Bayliss credits Mount Royal's program with giving him practical skills that allowed him to hit the ground running when he entered the workplace.
"The smaller class sizes were another huge key for me," he says recalling the benefits of a Mount Royal education.
"I really think that helps as far as your taking what your teachers are saying to heart. Most classes I can remember being in were 30 to 40 kids and a prof, and that fostered people being able to share and work well together.
"It let us learn more first-hand and not have to just take notes, go home and review later - and hope you'll pick it up down the road."
Today, Bayliss works closely with Rhys Dowbiggin, another Mount Royal student whose DFS with the Stampeders turned into a full-time job.
"When I started, I was presented with various scenarios that I had studied at Mount Royal but had never put into practice before," says Dowbiggin, who is Communications Assistant with the team. "I found that more than anything, it was the process of learning that best supported me early on.
"It was the skills developed while researching projects or putting together business plans rather than the actual knowledge put on the paper. If I ever ran into a situation, I understood the best way to take stock of it and develop solutions."
He also discovered how much he enjoys the community work involved in his job.
"I coordinate with community members who are looking for player appearances, and there is so much support and passion out there.
"When we go to the Children's Hospital and a parent thanks me so warmly for what we do for the kids and for the community, I get a huge rush. It's a feeling I can't compare with anything."
Dowbiggin intends to finish his degree, and is enrolled in a night class during the Winter Semester.
"I'm in a unique situation from a lot of my classmates because when I go back to school it will be following a period of working full-time. I'll have already put in the time and effort that many of them are looking to acquire post-graduation," he says. "I'll have a much different perspective on my studies."
He'll also have first-hand experience of what it takes to host a major national sports event.
"To be honest, when I initially started making inquiries into getting this opportunity, I hadn't remembered the Grey Cup would be here. It was really exciting when I suddenly realized that if I did get the job, I'd be working through the Cup. That was a cool feeling."
Clare Taylor expects to graduate from the program in April, and she is also taking advantage of having her DFS run through the Grey Cup.
"Normally DFS is about four months, but I got hired to start as soon as they found me," Taylor says. "I started in mid-season and then I'm here straight until Grey Cup, so it's about five months."
Taylor says the Mount Royal program's blend of business and sports is a great mix of her two passions. To date, her internship has involved everything from promoting the Rogers College Zone to creating a long-term fan development program.
"I've learned a lot more about the business, and the new things that I've learned I've really liked," Taylor says, adding that her career goal is to work in professional sports marketing.
Being involved in a national championship is sure to help Taylor reach that goal.
"I'm getting a lot of opportunity to network and make contacts throughout the league with other teams in the CFL as well as the Grey Cup Committee and members of the actual league who work in the CFL office," she says.
- Nancy Cope, Nov. 26, 2009