Obama social media expert gives insight at MR lecture
You would think that working for Barak Obama's election campaign would be the highlight of a long career, but for Rahaf Harfoush, it seems it's only the beginning.

Just 25 years old, on the heels of working as part of the American president's social media team, Harfoush is launching her first book and has accepted a position as associate director of the Global Cooperation Project at the World Economic Forum in Geneva.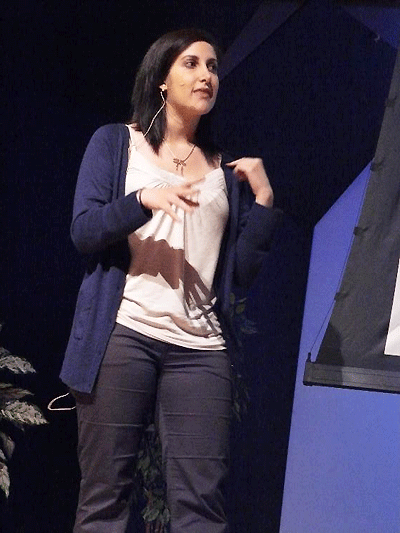 Twenty-five year-old Rahaf Harfoush fed a packed house's audience with insights into the Obama campaign and the world of social media last week.

Harfoush's talk was presented by the Mount Royal Public Relations Alumni Chapter and the Faculty of Communication Studies last week at the Leacock Theatre.

A packed crowd of staff, students and communications professionals showed up, eager to learn the social media secrets from the campaign that changed history.

Harfoush's new book, 'Yes We Did!" is now available in bookstores.

"It was the most incredible experience of my life - I didn't eat all day," says Harfoush recalling the day Obama won the presidential election.

"I had gone down to Chicago to learn as a volunteer but I ended up wanting Obama to win more for the team I worked with than for him."

An avid blogger for years, the self proclaimed digital native (someone who has grown up online), had been digging into the election and doing her own research on social media when she decided to move from her home in Toronto to Chicago to join Obama's team as a volunteer.

Those three months of work may have been on a volunteer basis, but the payoff was a jackpot.

Obama's social media outreach campaign is one for the history books. He was the first president-elect to reach out to untapped American demographics by taking an old-fashioned grassroots campaign to the masses online. By doing so, he helped people who were untapped feel plugged in.

"Regular people can impact change," Harfoush says describing the heart of Obama's social media campaign.

With more than 1 billion personalized e-mails sent, hundreds of thousands of hours watched on YouTube, a Facebook inspired community called MyBo and an Obama iPhone Application, 750 million dollars was raised for the campaign. It was the largest war-chest of publicly funded money in U.S. election history.

Harfoush spoke passionately about her experience and focused her talk on seven lessons that can be applied to any social media campaign. More solid advice than secrets, Harfoush's lessons hammered home the point that strategy and planning are the most effective way for any social media campaign to be successful.
"It's OK to start small with just one thing - you don't need to jump on every social media bandwagon."

Popular platforms such as Facebook, YouTube and Twitter have given access as never before to people wanting to connect, says Harfoush, making it easier to reach out and get involved. But she cautions against using social media to sell a product.

"It's all about relationships - the bonds people form and their connections - more than about the specific platforms. For it to be meaningful, you have to ask yourself what you're going to add to the online community, not what you're getting from it."

Other lessons focused on the importance of consistent messaging and branding throughout social media planning - confirmation of the relevance of Mount Royal's brand and the need for an institution-wide strategy regarding the use of social media.

On the recommendation of Mount Royal's Brand Advisory Committee, a task force will soon begin the work of investigating and analyzing the roll and potential of social media in MR's operations.

The task force is charged with providing recommendations on a MR social media strategy this fall, to the Innovation Technology Advisory Committee.

- Karen Richards, June 4, 2009