Former Olympian, Karla Karch is doing her part to help ensure MR's athletic program continues to dominate
In the 1980s and 90's Karla Karch helped Team Canada topple some of the best basketball teams in the world. Then in the new millennium she went one-on-one with breast cancer and beat that too.
Since joining Cougar Athletics four years ago, the Manager of Athletics' winning attitude and tenacious spirit have been evident as Mount Royal's varsity squads elevated the school from a post-secondary institution known primarily in Calgary to a Canadian sporting icon.
While she puts her stamp on MR's athletic programs, it's not in Karch's nature to put her face in the limelight.
When the Calgary native talks about what she's most proud of in her time here, she lists the work her coaches have done and the achievements of the student-athletes.
Those achievements were highlighted in 2008-2009 with a national championship (men's basketball) and one gold medal, six silver medals and two bronze medals earned at the provincial championships.
Karch, who is a living encyclopedia of basketball knowledge, says she doesn't miss donning a jersey in front of a stadium full of die-hard fans, in spite of her experience playing at the 1996 Summer Olympics in Atlanta, the 2000 Summer Olympics in Sydney and representing Canada at numerous World Championships.
"I love being around people," says Karch. "I love giving back to sport, to youth and I enjoy the opportunity to support sports other than basketball."
If Karch has been a blessing to Mount Royal, the community here at the school has returned the favour and she says she couldn't imagine working anywhere else.
"When I retired, I'd given the national team 15 years of my life - during that time I had to make a lot of tough choices.
"I missed my brother's wedding because I was away in a tournament.
"The reality is life is about choices and I missed a lot of things, like watching my nephews grow up - I'd go to Europe to train and play and I'd come back eight, nine months later and they wouldn't know who I was, but I learned a lot from the choices I made and I've grown so much as a person since then.
"I absolutely love it here at Mount Royal and I would not go to another institution. From the people I work for, to the people I work with, to the student-athletes - the quality of people here in general and the incredible facilities are hard to match."
Karch is happy to have the day-to-day grind of the school year take a break for the summer, but hasn't stopped planning for what she expects will be another huge year for the Cougars in 2009-2010.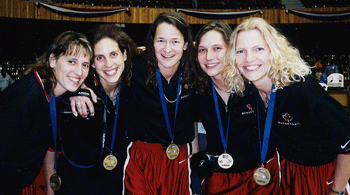 Karch and her Team Canada mates pose for a photo after qualifying for the 2000 Summer Olympics in Sydney, Australia.
On that to-do list is creating more school spirit and generating greater support within the campus for Cougar teams.
She'd also like to hire several more full-time coaches, which she says plays an instrumental role in the success teams have at the collegiate level.
Karch says that day-to-day interaction with a coach also helps out off the court. The relationships student-athletes and coaches build by seeing each other around campus and meeting regularly help ensure that students remember the main reason they're here.
"Most of our athletes, at the end of the day, won't have sport to fall back on, so we need to try to help them get something from their time here they can use in their future, so we believe in pushing academics.
"When it comes down to it, I don't always care about the sports as much as I do seeing the kids get through school and getting something from it."
Even though that challenge doesn't require Karch to step on the court herself, it keeps her on the balls of her feet and that's more than enough to keep her competitive juices flowing as she looks forward to the challenges ahead.
- Steven Noble, June 11, 2009
What we won this year:

Men's Basketball - ACAC and CCAA National Champions

Women's Hockey - ACAC Silver Medal (Lost in game 5 of final 1-0 vs. U of C)

Men's Hockey - ACAC Silver Medal (Lost in Game 5 1-0 vs. SAIT)

Men's Volleyball - ACAC Silver Medal (Lost in 5th Set 11-15 vs. Grant MacEwan)

Women's Soccer - ACAC Bronze Medal

Badminton - Darren Hong and Benson Chang (Silver in ACAC Men's Doubles)

- Ashely Dixon and Lindsay Bell (Bronze in ACAC Women's Doubles)

Men's Golf - ACAC Team Silver Medalist

Women's Golf - ACAC Team Silver Medalist