MR SIFE stars shine bright at national competition
Only a few months ago, members of Mount Royal's Students in Free Enterprise (SIFE) team didn't really know how they were going to afford a trip to the national SIFE competition in Toronto.
They'd spent most of their free time volunteering around the city, a duty members of SIFE take seriously. Combined with the demands of school, it didn't leave much time for fundraising.
Ultimately those 2,000 hours of positive contributions were paid back with enough karma to fund the trip. And the team of Mason Brookwell, Jenae White, Brett Thompson, Acacia Killips, Igor Guelber, Laura Wettstein and Danielle Carruthers did not let that support go to waste.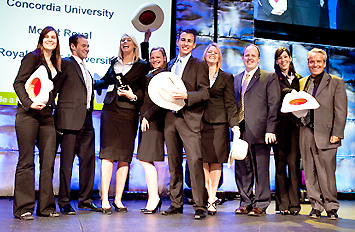 MR's SIFE team, pictured from left: Jenae White, Mason Brookwell, Brett Thompson, Acacia Killips, Igor Guelber, Laura Wettstein, Vance Gough, Danielle Carruthers, Gerry Taft, placed fourth at the national competition in Toronto.
On a mid-April flight, the students smiled at each other anxiously as their airplane circled Pearson International Airport, looking down on most of the 1,500 competitors who'd already arrived from colleges and universities across Canada.
While they had high hopes, they couldn't have known their trip would end just as it had begun - looking down on the competition.
The team finished fourth, yet again proving that Mount Royal houses and cultivates some of the brightest young minds in the nation.
SIFE
is an international organization of college and university students that works with business leaders and schools to challenge students to stimulate and implement positive change in their home communities and around the world.
"This competition is all about pressure," says SIFE Mount Royal president, Mason Brookwell, looking back on the team's achievement.
True to their western heritage, SIFE Mount Royal didn't back down once in Toronto, in spite of being a bit of an underdog.
Bissett School of Business Instructor, Gerry Taft, who accompanied the team along with fellow instructor, Vance Gough, says the team kept its poise and sense of self even though many university teams were twice SIFE Mount Royal's size.
That resilience proved pivotal in their success.
So did their charisma and creativity.
"SIFE Mount Royal has always been a team that shows our passion on the stage," says Brookwell. "When we get up there, we don't become robots memorizing a script- we are real people that have fun with the presentation.
"We are also not afraid to try new presentation techniques. We will always be the team that pushes the boundaries of the competition and the formal business presentation."
Taft says a willingness to challenge certain conventions was also vital.
"When we prepare for the presentation, after the material has been memorized, we try to change it from a report to a conversation," Taft explains. "Following that, we usually add humour and try to bring out personality traits of the presenters. The PowerPoint is also very visual with lots of pictures, usually including something eye-catching or unique."
One such visual was a video the team created that utilized the style of the popular (nearly six million views since being posted in late 2007) YouTube video, Lost Generation (link: https://www.youtube.com/watch?v=42E2fAWM6rA) - but with their own content.
"We wrote our own version," says team member Daneille Carruthers. "It highlighted our own motivation as a team to be more about helping others succeed and developing long term, sustainable projects rather than shotgun one-offs that were just about getting numbers for competition."
The result is one more example of Mount Royal students, staff and faculty raising the bar for peers around the country.
In 2010, the national SIFE competition will be leaving Toronto for the first time in over 20 years. It will be held in Calgary, at the TELUS Convention Centre. The MR team is looking forward to having home turf advantage to help build on its success.
- Steven Noble, May 28, 2009