MR climbing Instructor lives on the edge: Life on the wild side with Derek Wilding
Mount Royal climbing instructor Derek Wilding loves to hang out - from rock faces and the sides of giant ice waterfalls.
Wilding began climbing more than 20 years ago when he was a young lad attending a day camp. After a friend's older brother took him climbing, his passion for the sport really got ignited.
Since then, he's looked down and up plenty of times, but he's never looked back.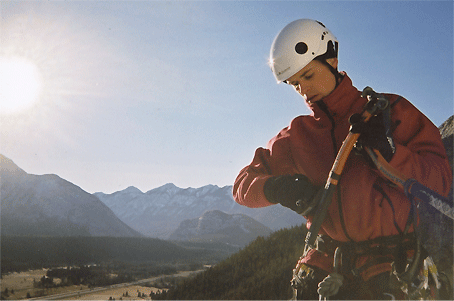 MR climbing Instructor, Derek Wilding gets the most out of living near the Rocky Mountains.
He is currently the climbing coordinator at Mount Royal Recreation, and you'll find him most weekends attached to a rock or ice face in the mountains around Calgary.
Ice climbing is definitely a complex and potentially dangerous sport, Wilding says. "You have to avoid routes with high avalanche danger and where the snow conditions are poor, as well as thin or detached or free-hanging routes. In a sense, ice climbing requires a wider understanding of the nature of the sport."
The highest waterfall Wilding climbed topped out at around 300 metres, while he's scaled a rock face with a dizzying height of more than 1,000 vertical metres. Life in Western Canada provides adrenaline junkies like Wilding a near endless range of death-defying options.
As for the dangers inherent in the sport, Wilding is pretty level-headed about his decision to get busy like Spiderman on a sheer face.
"It can be relatively safe if you're experienced, know what you're doing and use good judgment."
Even someone as experienced and skilled as Wilding has had his share of scares.
Fortunately, his closest call with being in real trouble never amounted to more than a hair-raising experience.
Wilding and some friends were rock climbing on the top of South Howser tower in the Bugaboos of southeastern B.C. when they got caught on a peak by a sudden electrical storm and had to escape as quickly as possible.
"I could feel the metal gear on the harnesses zinging and my hair was standing on end."
"The Rockies are one of the best ice climbing locations in the world."
His favourite spot to get up close and personal with ice is the Ghost Valley area west of Calgary, which is accessible via an old seismic route and a 4x4. "It's somewhat remote, there's not too much snow and the avalanche danger is low."
The area also features a good variety of winter ice climbing routes, from introductory routes to ones where the tiniest error can cost a life.
While rock climbing has a balletic or gymnastic element, ice climbing requires a slow and methodical approach. "You've got crampons on your feet, an ice pick in your hands and a dome helmet on your head."
You've also got rope slung over your shoulder and a variety of other essential gear including the vital ice screws - which are used as anchors in the ice much as rock climbers drive pitons into rock seams.
The best ice waterfalls are formed when heavy snowfalls in early winter are followed by a thaw-freeze cycle in December that forms several layers of thick ice.
Conditions not so conducive to a good climb include extreme fluctuations in temperature - if it gets too cold, the ice becomes brittle and fragile, while warm weather results in too-soft ice.
His favourite part of the sport? Hanging out with his friends, literally. "I really like sharing experiences with friends; having a good day no matter what the route."
Wilding has also climbed ice in Quebec and on the west coast near Whistler, and he's even taken his twin 4-year-old daughters rock climbing. "They enjoy swinging on the ropes."
He also enjoys teaching climbing as a guide. "Over the years I've seen kids start at about 12 and now at 18 or so they're some of the top athletes."
Wilding spends a week each winter rock climbing south of the border, particularly in the Las Vegas area, and will sometimes find a good face to climb here on warmer days in the winter.
He's a fixture on the climbing wall here at Mount Royal in the winter as well, and encourages anyone to come out and give the wall a try.
"It's the nicest climbing wall in the city," he says. "It's pretty new, it's well-maintained and well-lighted. Try a new challenge."
-Rhonda Greenaway May 28, 2009