The underlying issues behind the U.K. riots ...
In this months' Smart Talk: Mount Royal University Policy Studies Professor, Vettivelu Nallainayagam discusses the underlying issues behind the riots that shook the U.K. this summer.

Professor Nallai, as he likes to be called, has not only researched the distribution of wealth but he has also studied in the U.K. ...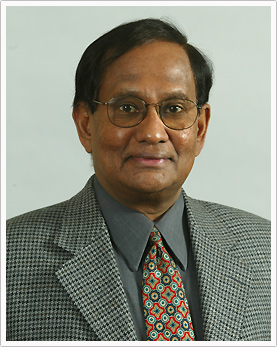 FT: What are some of the underlying issues that motivated rioters?

VN: Of course there are some criminals doing it for a selfish agenda but if we dig deeper, some of the riots certainly have to do with how society has changed in England over the last 30 or 40 years. The divide between the rich and the poor is a serious issue there that I have been studying. The rich are gaining drastically at the expense of the poor, in many Western countries this is a growing problem.

A great example of this dilemma was front and centre recently in the United States where they wanted to cut back on spending but didn't want to raise taxes. Even Warren Buffet recently told the New York Times that this is nonsense.

What's happened over the years, is the middle class has eroded and the lower class have had less and less opportunity for mobility in the class system as governments have progressively cut health care and other social programs, cut transfer payments in Canada and cut taxes for the rich.

It's coming to the point where these people at the bottom of the economic and social spectrum have no stake in society. You and I have careers and a reputation to think about. We benefit when society functions but these people are so far marginalized that this may be a way for them to express their anger and frustration with the system.

FT: Do you think the British government will make deep enough changes to deal with these underlying societal issues?

VN: British Prime Minister David Cameron has said that they need to have a two or three-pronged attack on the issue: one, obviously dealing with the criminal element. But also, he has said that clearly there are social issues that need to be dealt with.

I think the government really needs to rethink some of its economic and social policies and really consider how they can help these marginalized elements. Otherwise, this will happen again and it might be worse.

England has the least social mobility among modern western nations, which is largely an effect of Margaret Thatcher's government programs, which ultimately widened the class divide and made it more difficult for the lower class citizens to move up in society.

FT: Is it naive to think these problems aren't happening in North America to the severity they are in the U.K.?

VN: The distribution of wealth is growing more and more disproportionate throughout the western world. At one point, Canada was a very egalitarian society but over the last 20 or 30 years the governments have undermined a lot of the nation's earlier progressive social policies.

I don't think Canada is at threat so much as the U.S.A. is. But unemployment is through the roof, the wealth of the upper class is sheltered by the government and their incomes have gone up at a faster pace than the average person's income.

These factors create volatility. Redistribution of the wealth begins to make more and more sense because it's getting to the point where the rich can't even make as much money because the lower class doesn't have the money to spend to drive the economy and create the demand the rich need to make money and then the rich can't create more jobs because there is no demand, so it becomes a degenerative cycle.

It's a serious issue in the U.S. Once it gets to a point, as it has in the U.K., where a lot of people feel as though they don't have a stake in society and their voice is irrelevant, the societal structure is at risk.

FT: You lived and studied in Manchester for several years when you were younger. Based on your personal experience, do you give much credence to the racism aspect?

VN: This particular instance, I feel, was much more to do with class. There were lots of white caucasions iVNolved in these riots and Indians and South Asians were trying to prevent it so I think in this situation it was more about class.

Racism certainly can manifest in different forms and it does in different societies including Manchester but when I was a student, I was sheltered from that a bit, living on campus and having been very devoted to my studies.
Smart Talk is a monthly segement of Face Time that gives face to face exposure of Mount Royal University experts. If you wish to be added to our list of Smart Talk experts, please contact Fred Cheney.