Designing an outstanding event
On April 18, 2013, more than 500 Bachelor of Applied Interior Design students, faculty, alumni and members of Calgary's design industry gathered at the Jack Singer Concert Hall for "The Party Formerly Known As…",a fundraiser and networking opportunity organized by The Interior Design Alumni Chapter.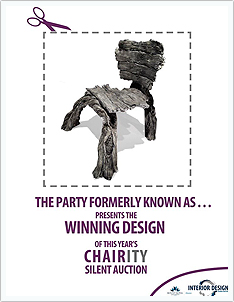 Originally organized by the Department of Interior Design and Art History, the event moved to the Alumni Chapter last year under the name "Act II".

The event featured food, drink and live music as the preeminent members of Calgary's design community (including many Mount Royal Alumni) chatted and introduced themselves to Mount Royal's current crop of Interior Design students.

Raising money for CHAIRity

The party included a prize raffle and the inaugural CHAIRity silent auction.

The auction featured bids on miniatures (called maquettes in the design industry) of the legendary Eames Molded Plywood Lounge Chair, one of the most iconic furniture designs of the last century. Maquettes were submitted by both industry professionals and Interior Design students, and were displayed throughout the event. Attendees voted on their favorite maquette with the winner awarded an authentic (and life-sized) Eames chair.

Alumni Chapters and Branches Coordinator James Parsons hopes that the CHAIRity Auction remains an integral part of the event going forward.

"The money raised by this event goes toward an endowment that awards a bursary to one Interior Design student per year. This year's auction and raffle, combined with sponsorship funds to support the event itself, totaled well over $39,000 dollars," says Parsons.

"This event is one of the key social engagements in Calgary's design community and really puts Mount Royal out into this community in a huge way."

Making connections

"From a student's perspective, it feels like a great welcome to the industry," says Erin Loffler, an Interior Design student who is completing her work term at S2 Architecture this week. "We are a tight-knit industry, and all of the firms, companies and designers really make it clear that the students are welcome and a pivotal part of the design industry in Calgary."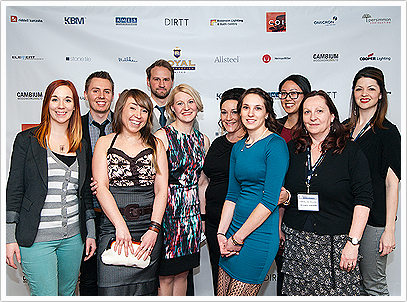 The relative size and scope of the industry creates an environment where new members get to know the key players in a hurry, and events like Act II help integrate students into the broader design community before they graduate.

For Loffler, it gives her a boost in confidence starting her career.

"Spending the evening with the people at S2 Architecture helped introduce me to as many people as possible. The inclusivity of the event really does make a difference and impacts the way the design industry works in this city."

- Colin Brandt, April 25, 2013