Associate Professor Joe Pavelka and ETOL students make a positive mark in Peru
Every other year since 2003, Associate Professor and Eco Tourism and Outdoor Leadership (ETOL) Program Coordinator, Joe Pavelka, has embarked on field school journeys with groups of students to South America.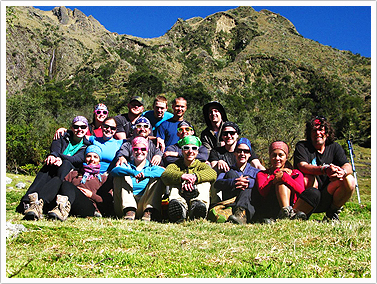 Pavelka has also made some incredible connections beyond the classroom.

Most recently, he has been conducting field schools in Peru along the Salkantay trail, which is emerging as a popular secondary trail for reaching Machu Picchu.

"What we set out to do is help the local people develop adequate skills to compete with other outfits coming from larger centres like Lima or Cusco, says Pavelka.

"Our efforts aid them in competing, which will hopefully prevent the displacement of local people as the Salkantay develops."
The field school participants work in a very intimate setting with locals as they help them with adequately preparing for the further development of the Salkantay trail. It is these interactions that help create the meaningful and impactful relationships that bring value to students by giving them a broader experience and the ability to interpret the world from a new perspective.

As a result of an Association of Universities and Colleges of Canada (AUCC) international grant this past year, three senior ETOL students, Mike Overend, Roberto Donoghue and Kelly Cytko, were able to travel to Peru to as a continuation to the work done at the 2011 field school.

"I can guarantee you, the students that just returned from the Peru trip from the AUCC grant, their lives will never be the same," says Pavelka.

Life changing experiences

Over their three month excursion, the ETOL students had a four-pronged agenda: to assess the extent to which the Salkantay was already being used by local trekkers, the likelihood of tourists in Cusco to use the Salkantay trail, to provide basic English language training to local people along the trail and to build capacity of locals to compete by teaching them fundamental business skills.

This agenda presented the opportunity for the students to work very closely with the local people on route and form some amazing relationships.

"For me it was especially impactful as I grew up in South America, and kind of see my roots in the Latin American culture, says senior ETOL student Roberto Donoghue.


"Being fluent in Spanish, I was able to connect with the host families and other locals. One guy in particular, Francisco - known as 'Pancho', I was really able to connect with. We were able to contrast cultures, share experiences and exchange ideas about eco tourism. He had learned English through interacting with tour groups and had aspirations of starting his own company - it was a very humbling experience."

Through the various field studies and personal adventures through Peru along the Salkantay trail, Pavelka has also formed some very special relationships of his own.

"I actually have a God-daughter, Maria Huari, who lives in a small village called Soraypampa along the Salkantay trail. This came about as a result of the amazing relationships I have developed during my visits," says Pavelka.

Making connections with the local culture

Part-time ETOL faculty, Laura Ell, was part of the initial cohort of students who participated in the 2003 field school in Belize and Mexico as part of her ETOL applied degree program. Despite the array of different activities she took part in, interacting and establishing relationships with her 'homestay' hosts, remains a highlight of her education.

"It helped us to recognize that we as practitioners are here to support and help successfully facilitate what local residents and stakeholders wish to achieve - rather than going in and prescribing to them only what we, as foreigners, think is best, says Ell.

"Although MRU applied degrees are already designed to prepare students to be successful in their industries through applied learning, the field school takes it to another level and spreads that icing on the cake, especially for students who want to have more international exposure and enhanced long-term learning."

- Brendan Greenslade, Oct. 18, 2012