Two students take big strides in improving balance in children
Mount Royal University students Darcy Howard and Kristi Mayell are taking their learning to an exer-gaming level.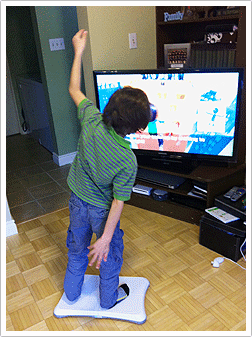 After Associate Professor, Dwayne Sheehan, PhD, pitched a volunteer opportunity to his class that involved using exer-gaming technology to help 8-year old Kieran Knight with his Developmental Coordination Disorder (DCD), Howard and Mayell jumped at the opportunity to apply their knowledge outside of the classroom.

"The idea is that children with DCD may in fact benefit from video games that use a sophisticated balance platform to help support their development of static balance," says Sheehan.

"In Dwayne's class he touched on how to work with kids and gaming systems. It was really neat to learn about that and then put it into practice," says Howard, who is pursuing a Bachelor of Applied Child Studies and has previous experience working with children with disabilities at Easter Seals Camp Horizon.

"I thought this would be a really great experience to help shape which direction I want to go professionally," says Mayell, who in her second year of the Physical Education University Transfer program has aspirations of becoming a gym teacher or pursuing a career in physiotherapy.

What is DCD?

Developmental Coordination Disorder (DCD) is a motor skills disorder that affects five to six per cent of school-aged children, with a higher prevalence in boys.

The Disorder occurs when a delay in the development of motor skills, or difficulty coordinating movements results in a child being unable to perform common, everyday tasks.

"DCD used to be called the "clumsy kid syndrome," says Sheehan. "The condition goes easily undiagnosed in schools because kids are really good at hiding and adapting their behaviour.

"It's important to raise awareness about this motor delay and help inform parents and educators about the reality of why some kids have difficulty with their motor proficiencies. From what we know about DCD, through practice, repetition and remediation there can be improvements."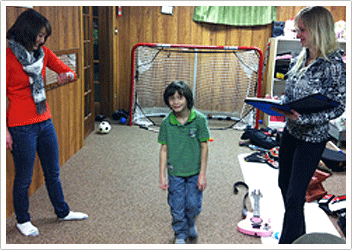 Making a difference

Sheehan met Knight while coaching his son's soccer team, and in January 2012, he began the exer-gaming pilot project led by Howard and Mayell to assist Knight with his balance deficiency.

While Knight enjoys playing hockey, soccer and baseball, when it comes to static balance activities like standing still or balancing on one foot, he has difficulties.

One day a week, Howard and Mayell visit Knight at his home to do thirty minutes of exercises using the Wii Fit balance board in games such as ski jumping, table tilt and yoga.

Another half hour is spent on floor exercises that focus on motor coordination and balance.


Early signs of progress

Knight is showing signs of improvement since his initial testing one year ago.

"We've seen a noticeable increase in his balance using validated protocols that we use to measure children with DCD," says Sheehan. "The efforts of Kieran, his parents and particularly the student volunteers are really making a difference."

Knight's mother, Monica, is thrilled with his progress.

"Even though it's therapy, it's still a video game," says Monica. "Kieran wants to do the exercises because he really enjoys playing video games.

"It's that whole instant gratification aspect where he can immediately see how well he is doing compared to previous sessions - so absolutely, it is very beneficial."

Howard and Mayell's contributions are so appreciated that Knight's parents regularly invite them for dinner after the therapy sessions.

Continuing the movement

Mayell plans to continue working with Knight once the semester wraps up.

"Over the last few months I really got to know Kieran and have come to care about him,"
says Mayell. "I'm interested to see how he continues to improve in the future."

In June, Howard and Mayell will conduct a debrief session where they will share their observations and recommendations from their experience to guide future research.

"Ultimately, Darcy and Kristi will end up being consultants in the development of a research study which is really exciting from an undergraduate student research perspective," says Sheehan.

Once funding is confirmed, future plans include expanding the exploratory learning into a formalized research study that would involve more student volunteer opportunities.

"I think it's a really great idea to get students involved with this," says Howard, who will graduate in the fall. "It looks good on their resume and you get to help children while having lots of fun."

Undergraduate students interested in working with Knight and other children with DCD should contact Dwayne Sheehan (dpsheehan@mtroyal.ca).

- Jondrea De Ruyter, April 19, 2012