Former student and instructor named chief of the Tsuut'ina First Nation
Relationship will open more doors to indigenization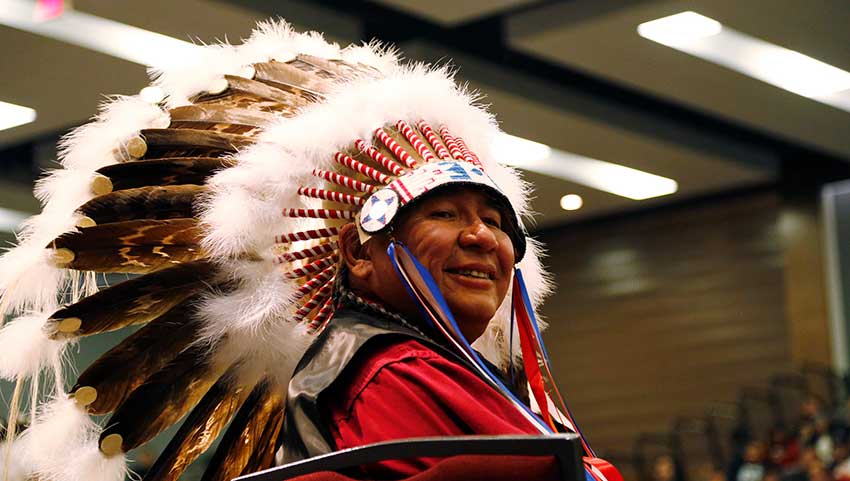 When Lee Crowchild was elected as the new chief of the Tsuut'ina First Nation late last year, he earned the same moniker his father and grandfather held before him. The new chief is the former director of public works, emergency management and infrastructure on the Nation. The Crowchild name - highly respected in the community - has a long-standing history in Calgary, too. Every day, many Calgarians drive the major southwest-to-northwest artery named after the family.

Aside from the physical proximity of the Tsuut'ina Nation to Mount Royal, Crowchild's ties to the University go back decades to when he was a student and, later, an instructor. While studying here in the 70s, there was one experience that was pivotal, he says, in setting him on the path to continuous learning. His "aha" moment came when an instructor asked, "Why are you studying?"

"It made me introspective and made me ask myself that same question," says Crowchild.

Crowchild was a student in the two-year Physical Education diploma program and, at the urging of instructor Jean Jarrell, he went on to attend Washington State University to finish with a Bachelor of Science in biomechanics. He later earned a diploma in education studies from the University of British Columbia and another from the Vancouver Film School.

Jarrell, now a professor emerita who continues to teach part time, recalls Crowchild as an exceptional and engaging student.

"What I liked about Lee was that he was a student with a tiny bit of an edge," she remembers. "There was a lot going on in his head. His interactions with other students were extraordinary. He wasn't particularly outgoing but his personality would draw you in. I can still hear him laughing."

Jarrell recalls that Crowchild, who lived on the reserve, would run the distance to campus, wearing his backpack, regardless of the weather. "Even though he had a car, he used to say 'that's how we're supposed to get around.' He was such an interesting young man. I would chat with him lots―he was that kind of person."

Running continued to be a passion of Crowchild's. He competed in five Iron Man events and earned the Tom Longboat Award for Indigenous athletes.

"Never stop asking the question, 'why are you studying?'. Go get your education, then come and teach the values of who we are."

Lee Crowchild

Jarrell and Crowchild kept in touch after his graduation, and in the mid-1980s, Jarrell, then chair of the program, asked him to return to Mount Royal to teach dance studies for a year as a sessional instructor.

Jarrell remembers Crowchild's commitment to his culture. "He was an exceptional student academically, and he was committed to the school community, but there was this other part of him that he never lost sight of."

It's all a matter of "being in balance," Crowchild says. "We exist in three worlds," he explains, "the human world where we interact every day; the natural world of the land; and the spiritual world. They all have to be congruent, in balance."

That's a message he wants to pass along to Indigenous students today, emphasizing the importance of retaining a sense of stewardship while pursuing an education outside of their community. "Sending students to university to become robots has never suited us. They need balance in their lives and respect for the land. They need to ask, 'How am I going to be a steward of what I'm responsible for?'"

Crowchild has more recently returned to MRU as a guest speaker to talk about the Southwest Ring Road that will cut through Tsuut'ina and connect to two of Calgary's major roadways.

That ring road, he says, creates opportunities for his nation. "Our needs are great. I want to get our students trained to meet those needs, to be the thinkers and guiders of the next generation." Mount Royal University is a natural choice, but, he cautions, "The University has to meet our needs as well. An investment in indigenization sounds good, but it's not just about increasing the number of students. Other universities have tried that but made no real change in departments to meet our needs. Our students were expected to leave their traditional knowledge behind." That was a missed opportunity, he says.

"I agree with Lee," notes John Fischer, Iniskim Centre Director at MRU. "Indigenization is more comprehensive and demanding an activity for universities. It goes beyond increasing student numbers or recognition of territory. It is the university's commitment to meet the needs of students through academic supports, curriculum and research," says Fischer, who shares responsibility for implementing and monitoring the Indigenous Strategic Plan.

According to Crowchild, "A higher-thinking metaphysic opens the door to our traditional knowledge having much bigger impact."

Fischer, who agrees with the need to incorporate traditional ways of knowing into curricula and pedagogy, adds, "It is also an active response to the Truth and Reconciliation Commission's Calls to Action."

Crowchild's hope is that Tsuut'ina students will complete their education and return to the community to serve in areas such as education, nursing, business and the natural sciences.

Now, as chief, Crowchild hopes to inspire students the way he was inspired many years ago. "Never stop asking the question, 'why are you studying?'. Go get your education, then come and teach the values of who we are."

Despite his accomplishments over many years, Crowchild continues to reflect on the purpose of lifelong learning. "It's an ongoing question, not one you find the answer to. But the journey is interesting," he says.

Jarrell is eager to see where Crowchild goes next. "I hope this new role is a stepping stone for Lee. I see him contributing nationally. He's knowledgeable about a lot of things and he has that kind of personality. He knows how to negotiate, how to be effective with people. He has a wonderful heart, and he's very congenial," she adds.

"I see this as just the beginning."

Feb. 1, 2017 ― Melissa Rolfe