MRU trains potential 2018 Olympic employees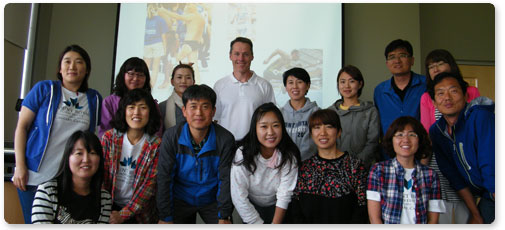 Although the 2012 Summer Olympic torch has been extinguished, Mount Royal University continues to help prepare for the 2018 Winter Olympics in Pyeongchang, South Korea.
This summer, the Office of International Education hosted the first participants in the Global Leaders Program, a training program initiated by the Gangwon Province in South Korea to train officials and employees who will be a part of the Olympics in 2018.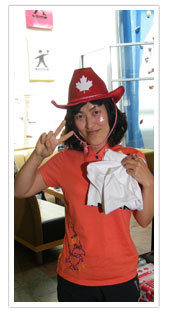 From July 1- 21, 2012, 14 employees from the Gangwon province worked on improving their English and enhancing their understanding of the organization of large scale events like the Olympics and community development initiatives through various Field Research Programs.
Eun Jung Sim, an employee of the Tourism Development Division, said that she joined the program to help her obtain a position during the 2018 Winter Olympics and feels that the program and her time in Calgary will help her to obtain this goal.
Eunha Kim agrees with Sim, saying that the opportunity to study in an English speaking environment helped improve her English skills in a short time. Although Kim wishes that she had had more time to study at Mount Royal University, she says that the experience gave her motivation to continue her studies when she returns home.
Enhancing English language skills
"I was really satisfied with my English class. The teacher was really professional and the content of the class was really helpful for my English," says Eunha Kim.
In addition to studying the basics of English, students were able to concentrate on themes and topics of interest in the module component of the program. For her module, Sim focused on Famous Canadians, which gave her the opportunity to speak and present in front of her classmates. "It was a good opportunity to practice," she says.
Throughout the three week program, participants lived in the Mount Royal Residences with other international students, giving them another opportunity to make international connections and practice their English.
"I had three roommates. Two were from China and one was from México," says Sim. For her, living with other cultures was a great learning experience as it exposed her to different traditions, such as cooking. "I still keep in touch with my Chinese friends in email."
In addition to making international friends, the group had an opportunity to network with local dignitaries and tour various Calgary attractions through the Field Research component of the program.
Field Research
In order to understand the importance of community engagement, festival management and municipal governance, the group was divided into three groups to conduct field research. Groups interviewed various representatives from each area, made observations and participated in various festivities throughout July.
From attending the Ismaili Community Stampede Breakfast where Premier Alison Redford and Mayor Naheed Nenshi gave opening greetings, to attending the Rodeo and evening show and meeting with volunteer coordinators to understand the magnitude of volunteer management, the group truly got to experience the 100th Anniversary of the Calgary Stampede.
"Participating in Calgary Stampede's Centennial events was the most memorable moment for me," says Sim.
Other highlights of the program included meeting with Mount Royal's own professor, Dr. David Legg, President of the Canadian Paralympic Committee, touring Canada's Olympic Park and WinSport facilities and meeting Alderman Brian Pincott, who invited the group to City Council.
Although many members of the group participated in the Summer Immersion Program to improve their English, they left Calgary with much more. "The program helped me in understanding western culture and will help with guiding the athletes who participate in the 2018 Winter Olympic Games," says Sim.
Background
In late April 2012, the department of Alberta Enterprise and Advanced Education (AEAE) invited all post-secondary ESL providers in Alberta to bid on a training contract to enhance the English language capacity of government employees in Gangwon Province, South Korea. As Alberta and Gangwon Province are sister provinces, the Department of Alberta Intergovernmental Affairs and International Relations and the Human Resources Development Center of Gangwon Province worked together to prepare the bid.
Mount Royal University's Office of International Education placed a bid on the program and found out in early June that they had been successful and that the first participants in the Global Leaders Program's pilot project would arrive on July 2nd.
"We were very excited to be awarded the contract for this pilot training program," says Lorna Smith, Director of MRU's Office of International Education. The sister province relationship between Alberta and Gangwon and Calgary's experience with hosting the 1988 Winter Olympics provided us with some natural links and affinities. We look forward to hosting the Global Leaders next year and every year up until 2018."

-Andrea Morrow, August 24, 2012