Exclusively for 2016 soon-to-be grads, the #GradUPerks crew will make life a little easier this exam season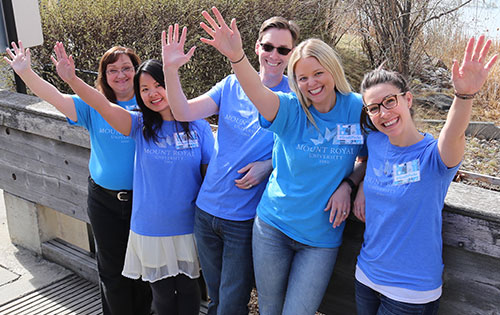 The MRU Alumni team, Diane Westlake, Kathy Mok, James Parsons, Tierney Edmunds and Brittany Simpson will be ready to offer up some #graduperks for soon-to-be alumni. What's a "#GradUPerk" you ask? Read on to find out.
- Photo by Theresa Tayler
Need a double-double? Maybe a slice of 'za?
We're here to help.
Studying for exams is stressful, sometimes even the most organized and studious of us forget to pack a lunch or find the time to grab a shot of caffeine between the books.
On April 19 and 25, the Mount Royal University Alumni team will be on the ready to lend a helping hand to students who are graduating in 2016.
All you have to do is log onto twitter and put out the call.
"We want to do something fun and positive for our soon-to-be alumni to help them focus on getting over the last hump of their degree," says Tierney Edmunds, coordinator, Alumni Outreach.How?
Follow @MRUAlumni on Twitter on April 19 and 25 between 10 and 2 p.m. and Tweet us with the #GradUPerks hashtag.
We'll deliver coffee, a snack, a pencil or something else you need to get you through your last exams.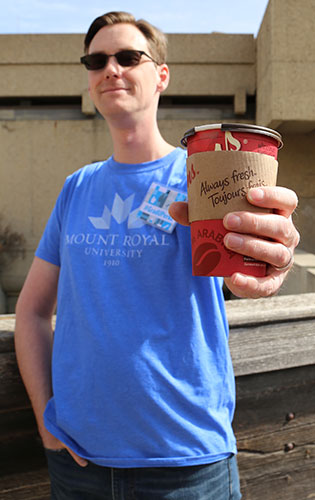 #GradUPerks runner James Parsons will be on hand April 19 and 25 to help 2016 grads brace for exams.

- Photo by Theresa Tayler
"It's about welcoming soon-to-be grads into our alumni community and showing them there's going to be continued support for them, even once they have finished their journey as students," Edmunds says.
"They're still part of Mount Royal."
#GradUPerks is modeled after a similar Twitter initiative that McMaster University ran for its students last year.
"We spoke with folks at McMaster and they told us how successful the program had been and how it brought a smile to student's faces during a stressful time of the year," she adds.
"We thought, let's try this out at MRU!"
There are rules, of course. Requests have to be within reason, and something we can successfully find on campus. We can't deliver expensive cars, or bling. But, we'll try to come up with some kind of perk that will help you through the day.
For all the guidelines check out the Alumni pages
#GradUPerks is a pilot project and we hope to make it successful. So, those of you getting set to graduate in 2016 (Spring or Fall), don't be afraid to Tweet us and ask for a "perk"!
Follow us @MRUAlumni and @mountroyal4U. For more information on Mount Royal University Alumni checkout the Alumni pages.
April 7, 2016 — Theresa Tayler