Hawai'i Field School - Integrating Indigenous Worldview and Practices
In the Fall 2014 semester, the Hawaiian concepts of Ohana (family), Pono (harmony, truth & righteousness) and Aloha (love) were incorporated into classroom discussions in Mount Royal University's Nursing (NURS) 3124.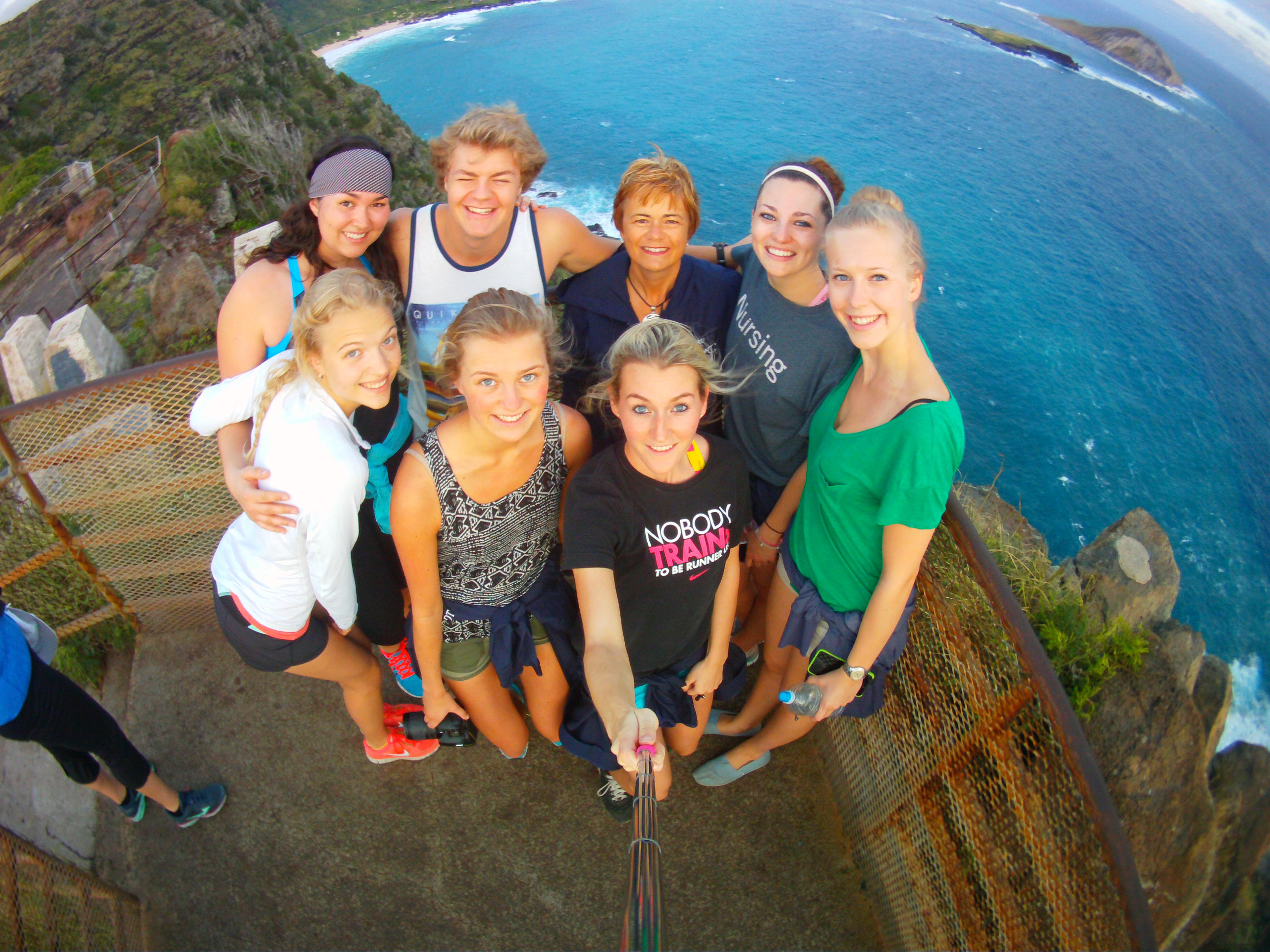 Field School Group B at Makepuu
The students enrolled in this course were about to embark on an unforgettable experiential learning experience, the Child Health Field School, Oahu: Indigenous Child Health in the Global Hawaiian Community.
14 third-year student nurses were selected to attend the inaugural running of this global school health experience led by Andrea Kennedy, Associate Professor in the School of Nursing and Midwifery, and were split into two groups departing in early and late November 2014 for two to three weeks each.
Connection and History
Years of planning and preparation has gone into the realization of the Hawai'i Nursing Field School, which initiated from a connection, dating back to 2012, between Kennedy and Elder Francine Dudoit-Tagupa (known by her colleagues and patients as Aunty Fran), Hawaiian traditional healer/registered nurse and Director of the Traditional Hawaiian Healing, Waikiki Health Center. Kennedy received training from Aunty Fran and did a half year sabbatical term with her in 2013.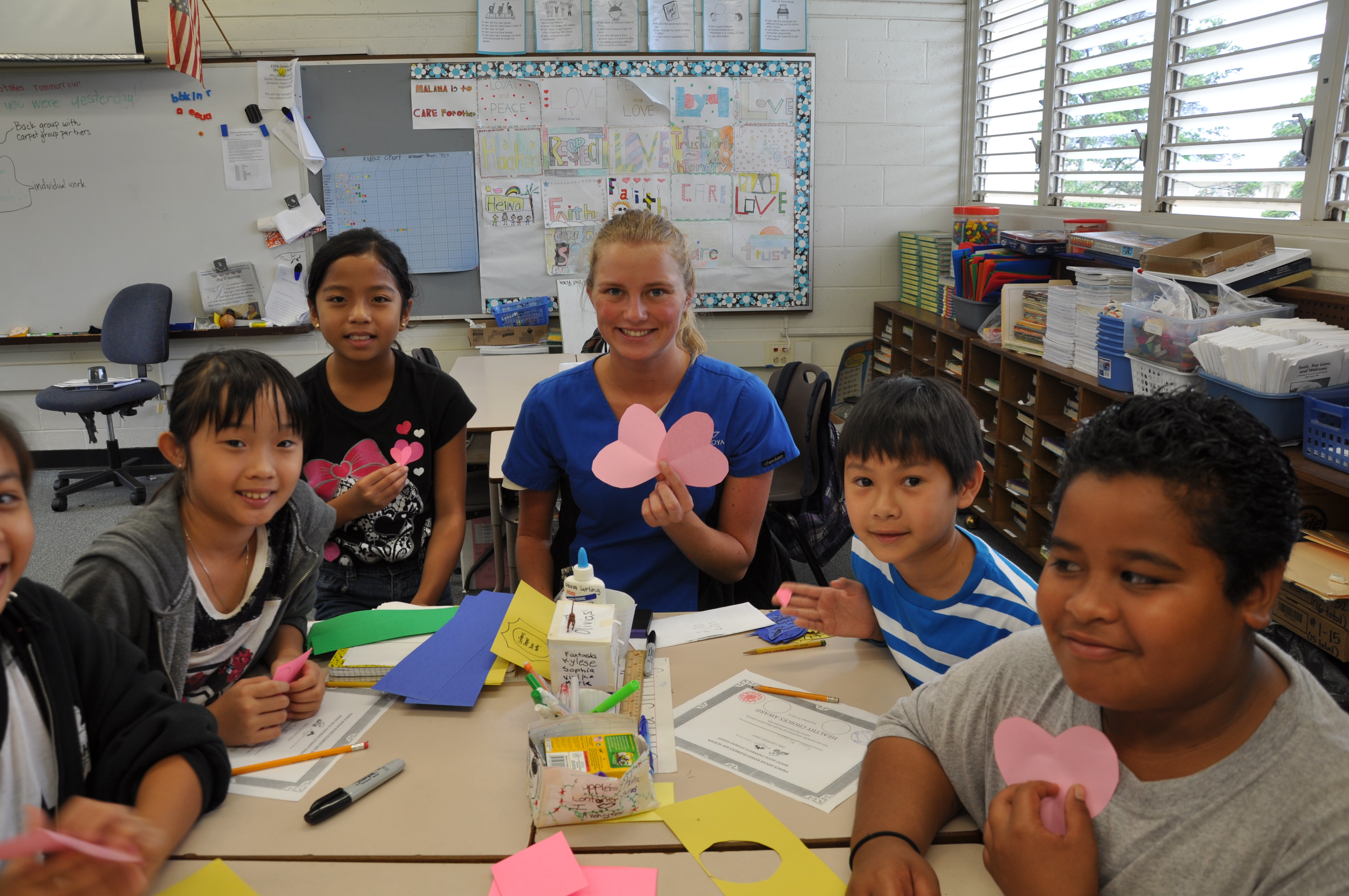 Mount Royal Student Nurse, Kira Gerhardt, with grade fours and fives at mental health table during Health Education Day.
"I continue, to this day, to be Aunty Fran's student," says Kennedy, "as I further build my knowledge and understanding of indigenous health."

Andrea also connected with Nancy McGuckin, Instructor with the School of Nursing and Dental Hygiene at the University of Hawai'i at Manoa, and together they met and established a relationship with Evelyn Hao, Principal of Prince Jonah Kuhio (PJK) Elementary School. They explored how Mount Royal and University of Hawai'i student nurses could promote wellness with the PJK school community.
PJK is located in venerable Mo'ili'ili, a section of Honolulu at the foot of the University of Hawai'i at Manoa. The school has a wide mixture of ethnic groups and nationalities and a cross section of socio-economic groups, from solid middle class to poverty levels, including many displaced indigenous children from Micronesia.
Elder Francine's Dedication and Involvement
Elder Francine's dedication and involvement with Mount Royal University began in March, 2012 when the Iniskim Centre was celebrating its fifth anniversary. She was one of the invited guest speakers at the event, presenting a free seminar on integrating traditional medicine with modern practices, and was honoured by local elders at a ceremony of traditional drumming, dancing and food. This visit allowed Elder Francine to establish key connections with different faculty, staff and students at Mount Royal.
"Elder Aunty Francine's guidance was key in the success of this field school," says Kennedy, "along with the commitment of the students to prepare wholeheartedly for this experience".
Preparing for the Field School
The field school course included 40 hours of preparation work prior to departure. It involved learning about compassion, self-compassion and empathy, as well as understanding indigenous issues, and engaging in in-depth teachings and discussions on core Hawaiian values. Students learned how understanding and incorporating these values into their daily lives would benefit them during their Hawai'i field school experience and beyond, in their careers as nurses.
Elder Francine came to Calgary during the pre-departure week to help prepare and guide students, along with Dion Simon, Medicine Trail Coordinator, in Mount Royal's Iniskim Centre, for the international experience ahead.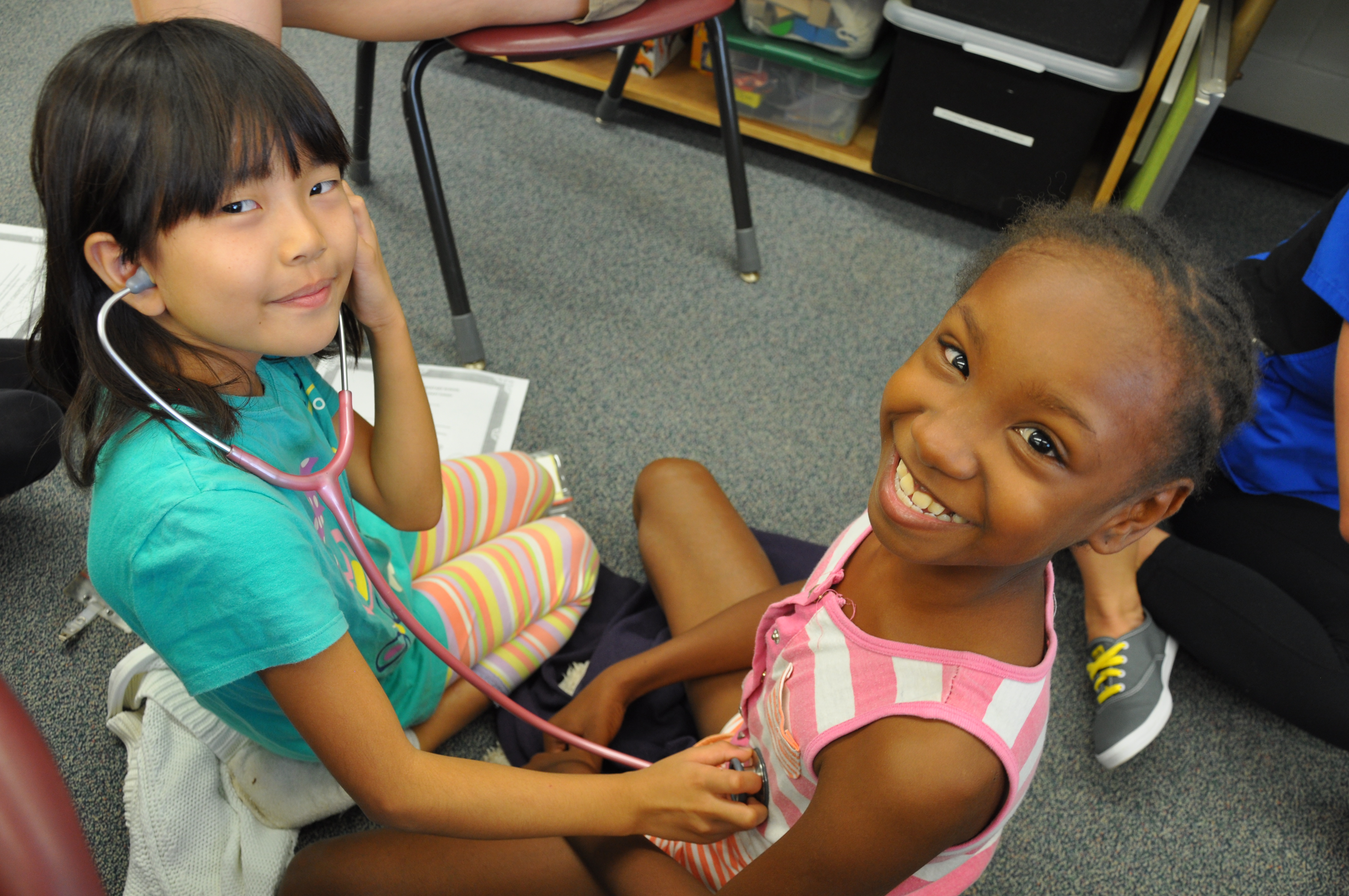 Grade four students at body sounds station during Health Education Day
"We based our approach on Brené Brown's (2012) book "Daring Greatly"," explains Kennedy. "Aunty Fran taught us that you cannot give what you do not have".
They also focused on Wayne Hammond's TM work on "Resiliency Initiatives", and students facilitated children's internal strengths from an indigenous foundation as part of their preparations.
On-site in Hawai'i
Upon arrival in Hawai'i, students volunteered at Kokua Kalihi Valley - Hoʻoulu ʻaina Nature Preserve where they cleaned and bundled harvested Pili grass used to make thatching for the traditional hale (house). Pili, meaning 'close', served as a great metaphor for the group's connection with Ohana (family).
"It was fascinating to see how connected the locals were to the land, as well as with themselves," write student nurses Holly Elliot and Nicole Hambley in their field school blog. "The sense of community that was displayed amongst them, as well as with us, was truly an amazing feeling".
Students embraced the importance of incorporating Aloha spirit into everything they would do in Hawai'i, by participating in the ancient cleansing ritual of pikai; a traditional Hawaiian ceremony of immersing in sea or salt water to purify an area or person, washing away anything that may not be serving in a healthy healing way.
"We learned that in order to promote resilience within our patients and be present for them, we must first love ourselves," explains student nurse, Arrow Big Smoke. "This was an irreplaceable learning and spiritual opportunity, paving the way to our rich experience here in Hawai'i."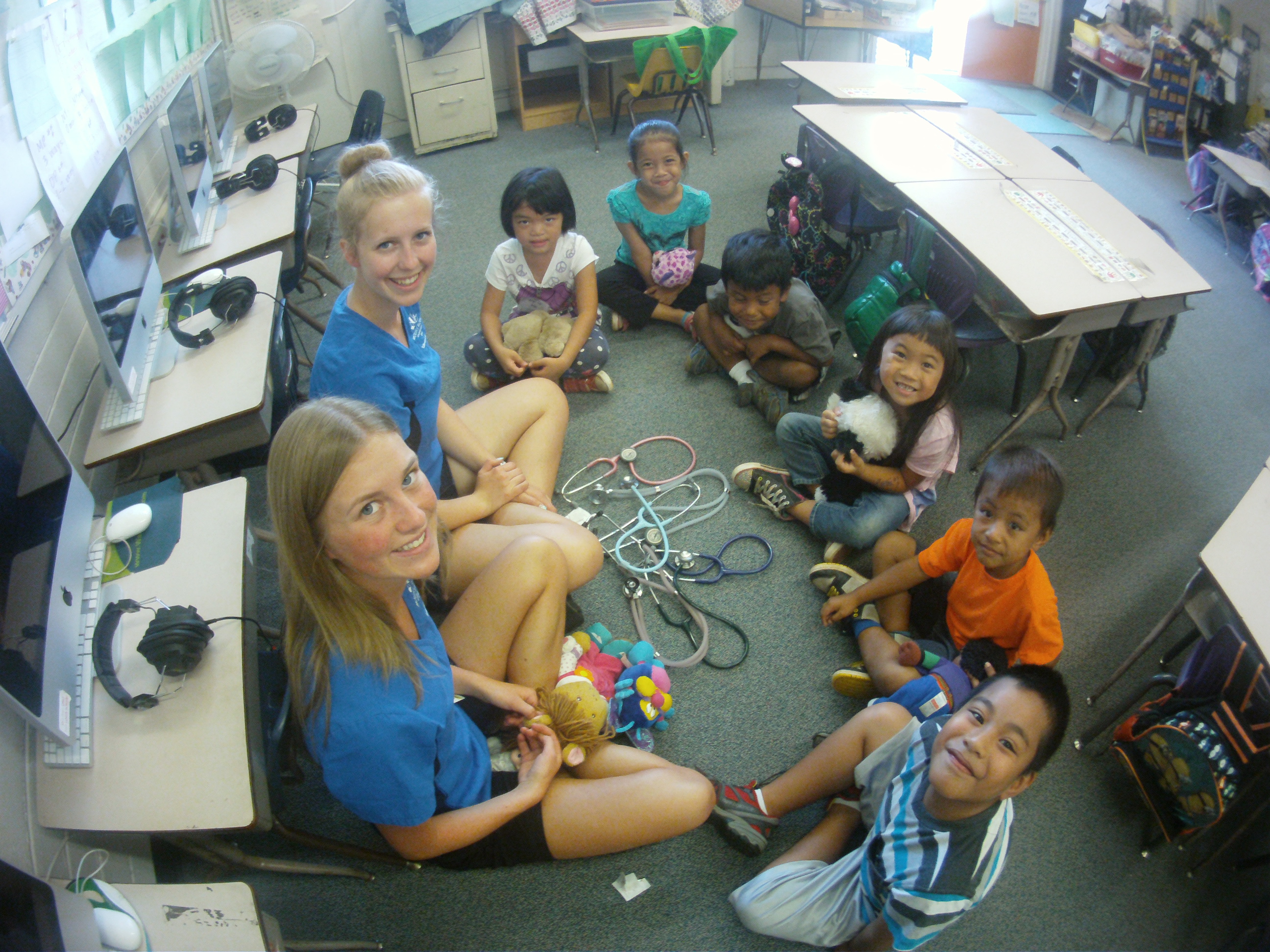 Kira Gehardt (front left) and Jenna Turchanski (back left) with kindergarteners at stethoscope station during Teddy Bear Picnic
The students' hands-on work at PJK elementary school was a rewarding learning opportunity that expanded their experience with children while in Hawaii. Regular classroom visits allowed them to work on deepening relationships with the children at the school in order to gain insight into a community view of child health.
Some of the activities they prepared for the children included a health promotion event for the grade four and five classes where they had fun dancing, learning about teeth and healthy foods, listening to their lungs, hearts and stomachs, and exploring what makes them who they are.
With the grade ones, student nurses created a teddy-bears' picnic, with stations to teach the children about their own health and to do assessments on their teddy bears. The stations included hand washing to stop germs, a check-up station to measure height and weight, a station to listen to body sounds and a busy bodies station to exercise together. The local news even covered the kindergarten portion of the picnic! http://khon2.com/…/student-nurses-use-teddy-bears-to-teach…/.
Making an Impact
Through experiential learning in Hawai'i, Mount Royal student nurses experienced personal growth, gained cultural understanding and made connections between North American and Hawaiian indigenous cultures.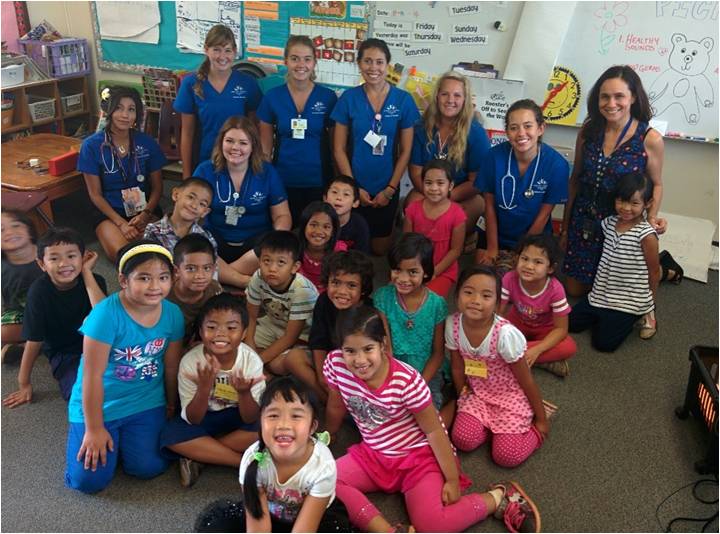 Getting ready for the Teddy Bear Health Picnic: MRU Student Nurses with first grade children at Prince Jonah Kuhio Elementary School
"They were challenged to see Hawai'i differently," says Kennedy. "Many of them had been to the islands previously as tourists, and this was a welcomed new challenge to live amongst the people, immerse themselves in culture, integrate indigenous worldview and practices, while connecting with the land and enjoying the beautiful surroundings".
The Nursing Hawai'i Field School is scheduled to next run in the Fall 2015 semester with interviews and selection taking place in March 2015.
Marisa Norona, February 2015