Mount Royal BBA Students Receive HKCBA Calgary Scholarship
On February 21st, 2014, at the Calgary section of the Hong Kong Canada Business Association's (HKCBA Calgary) Chinese New Year Gala, Mount Royal University and University of Calgary students were presented with HKCBA Calgary 2014 scholarships. This scholarship program, which is funded in part by the annual Chinese New Year Gala itself, is an opportunity for HKCBA Calgary to give back to the community. This year, the scholarship was significantly enhanced by increasing the total amount donated to $10,000 with two scholarships each for MRU and the University of Calgary.
Two deserving students enrolled in the Bachelor of Business Administration (BBA) program with minors in Supply Chain Management, Carlos Rojas and Michael Nodder, were this year's Mount Royal University recipients, each receiving a $2,500 scholarship. They were chosen for being enrolled in international business or business, having demonstrated an interest in Asia, obtaining strong academic achievement, demonstrating financial need, and participating in an international exchange in Hong Kong.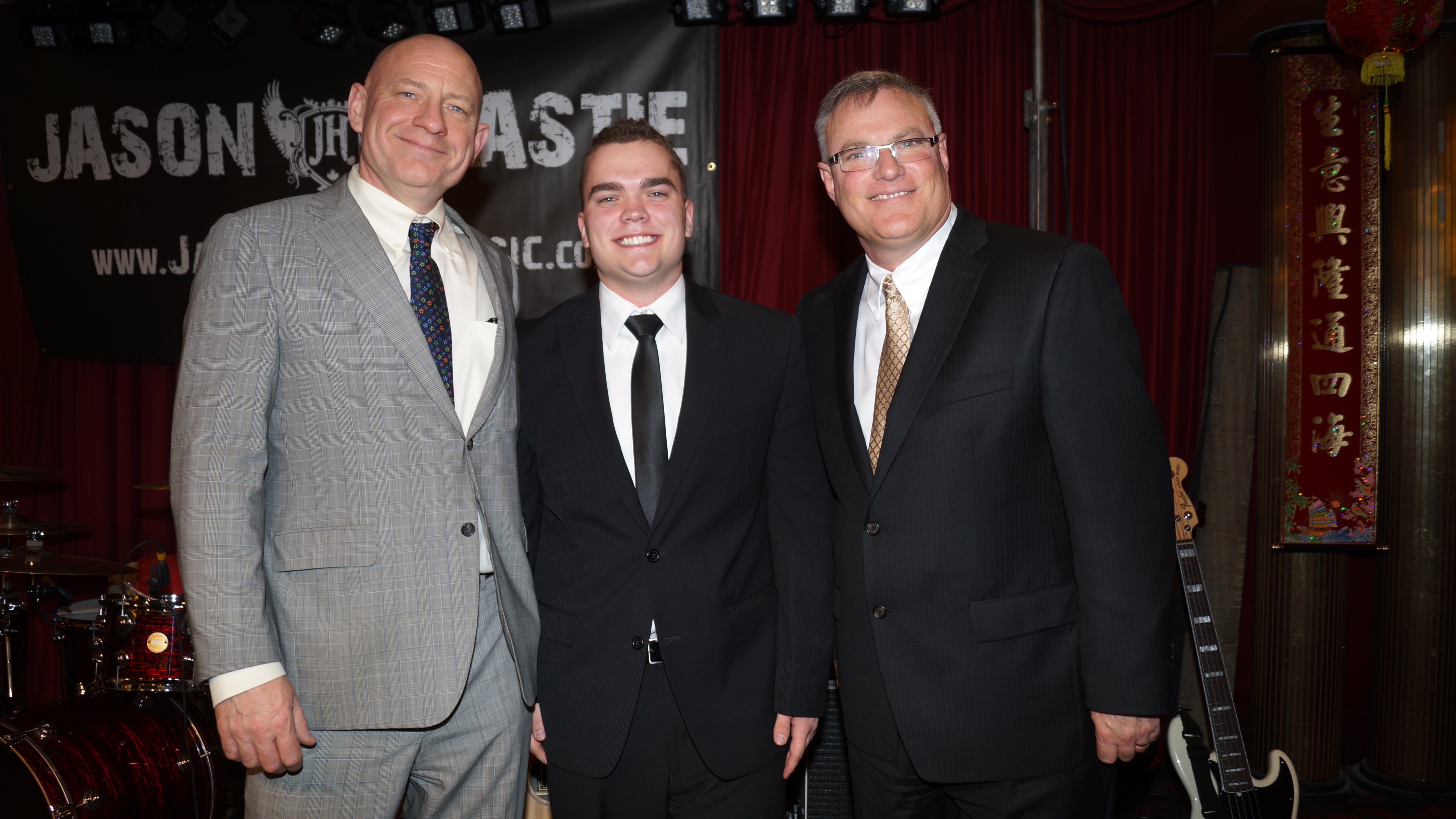 MRU President, David Docherty (left), and HKCBA Calgary President Tim Onyett (right), pose with scholarship recipient, Michael Nodder
Both students studied for one semester at Lingnan University in Hong Kong in 2013. During their exchanges, Carlos and Michael were able to gain a first-hand understanding of business transactions, communication and lifestyle in Hong Kong. By connecting with the people and culture there, they were able to experience competing in a global market. Since returning home from abroad, they are continually drawing from their International experiences as they further their studies in business.
Third year Business student Carlos Rojas felt that the generous scholarship he received also allowed him to take his international exchange experience to a deeper level by giving him the means to travel further onto mainland China and the island of Hainan during his stay.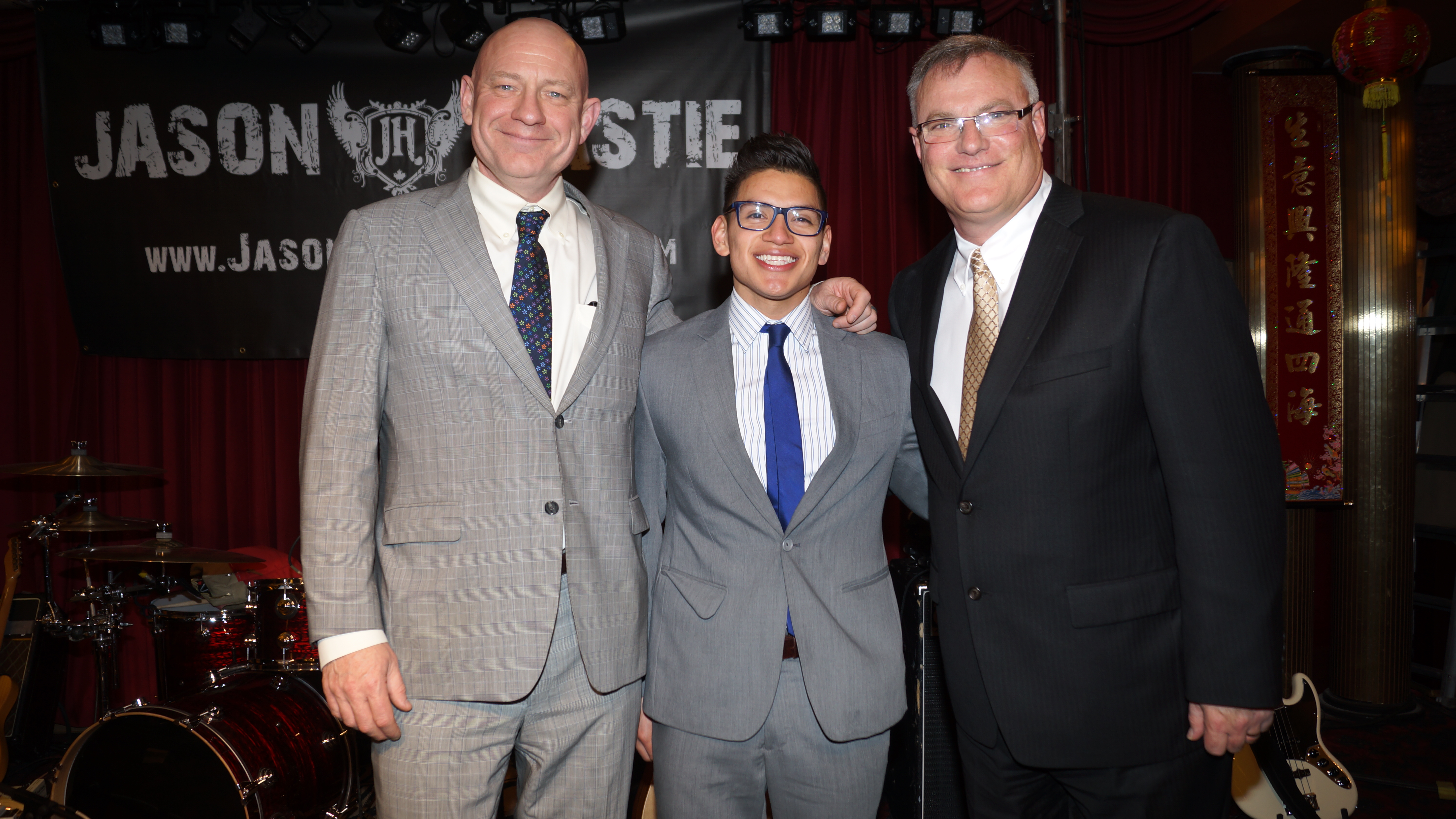 HKCBA Calgary 2014 scholarship recipient, Carlos Rojas, with MRU President David Docherty (left) and HKCBA Calgary President, Tim Onyett (right)
"It was quite a benefit for me to be able to travel to other parts of China and to be exposed to different areas, giving me a better understanding of Chinese culture," remarked Rojas.
The students were especially appreciative of the way in which they were presented with their scholarships at the HKCBA Calgary's Chinese New Year Gala. Each student was recognized on stage during the evening's program, and the Presidents from each of the partner universities, Dr. Elizabeth Cannon (University of Calgary), and Dr. David Docherty (Mount Royal University), were present to assist in the scholarship presentation.
"We felt so honoured to be part of the celebrations," said Rojas. "It was a wonderful way to be congratulated, and the evening provided many valuable networking opportunities."
Marisa Norona, March 13th, 2014