Hitting high notes at The Conservatory
MRU alum Brad Mahon comes full circle in his new role as Conservatory director
Just before the holiday break, Brad Mahon, PhD, took the opportunity to reflect as he walked down the crooked hallway of the old Mount Royal University Conservatory. The campus' former music rooms moved to the state-of-the-art Taylor Centre for the Performing Arts in 2015, and Mahon reminisced as he stepped into a classroom where he first took lessons over 25 years ago, remembering he and fellow students strumming their guitars.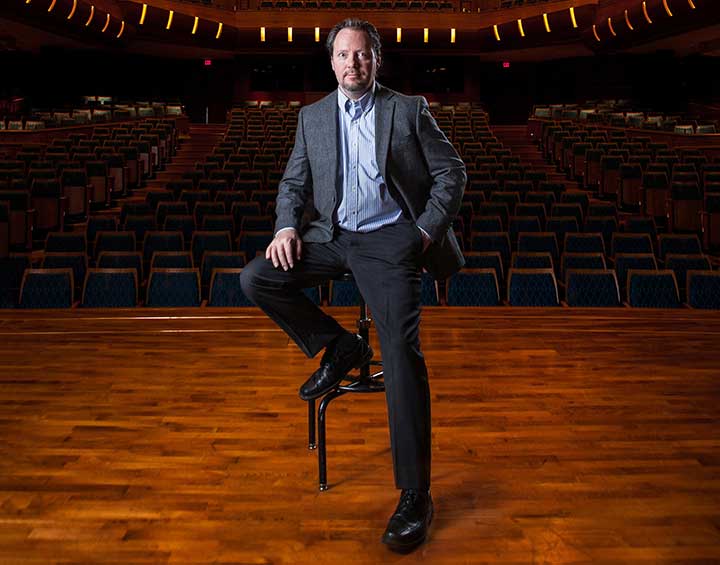 "It's very surreal to be coming back to Mount Royal," says Mahon, who The Conservatory has proudly named as their new director this year. He recalls how many people were convinced ― even then ― that Mount Royal would eventually be home to a world-class concert hall, and how that idea grew over decades into fruition.
It happened, and he is now in charge. And plenty of the Mount Royal community is happy to welcome him back.
One of those old friends is Jonathan Love, a member of the well-known local band The Heebee-Jeebees and the media relations and communications specialist for MRU's Faculty of Continuing Education and Extension. Love and Mahon used to sing together as students in the Mount Royal Youth Choir in the early '90s.
"I am so excited that Brad is coming in as director," says Love. "He's a tremendous guitarist and a great musician. There are still a lot of the same people here and the feeling is good that he's stepping back in. It will be a really nice homecoming."A musical history
Progressing through The Conservatory, Mahon achieved a diploma in music performance from Mount Royal, then a Bachelor of Music from the University of Calgary. He returned to MRU in September 1997 as a guitar instructor, taking on an additional role as ensemble coach and coordinator of the Guitar Academy and Strings programs while also continuing his education. He completed a PhD in musicology from the University of Calgary and has crisscrossed the country, acting as a guitar discipline specialist and senior examiner at The Royal Conservatory of Music in Toronto and as an instructor of music history, theory, guitar and chamber music at various universities. He also managed the conservatories at both the University of Regina and Medicine Hat College, all the while playing guitar professionally, recording commercial CDs and touring.
Now Mahon has come full circle - returning to the city he grew up in and to MRU. In his new role as director, and in an exciting new space, Mahon will provide strategic leadership and artistic direction to The Conservatory. He sees that he has the opportunity to help shape the future of the music school and performance centre, which has been part of Calgary's arts scene since 1911 and is the largest institution of its kind in Canada.
"I feel a tremendous responsibility, but it's a good thing," says Mahon, also saying he has been provided many warm messages of support.
Rolf Bertsch, coordinator of The Conservatory's Academy Piano program and a pianist with the Calgary Philharmonic Orchestra, says, "I've had the pleasure of working with Brad in a variety of situations and have always found him to be a serious, thoughtful and wonderful musician and human being. He brings a fresh sense of collaborative leadership to The Conservatory. I am looking forward to working with him."
"Dr. Mahon is exactly the sort of director we want to lead The Conservatory to the next level of national and international prominence," says Charles Webber, PhD, and dean of the Faculty of Continuing Education and Extension.
"As a past Conservatory instructor, Brad understands the culture of the organization, and he brings the added value of being a much sought-after teacher and performer throughout North America and internationally. We know that he will help us to confirm the MRU Conservatory's stature as an arts education leader in Canada and abroad," Webber says.
Notes for the future
Mahon says he would like to consider a teacher education program to offer professional development opportunities to music instructors. He is also interested in expanding post-secondary programs and providing music courses as electives for MRU students. Mahon hopes to explore a preschool program and to build on his relationships with other conservatories in Western Canada to network and collaborate to ensure The Conservatory remains a beacon for the arts in Calgary.
For the first time ever, Conservatory class registrations surpassed the 10,000 mark this fall - as more than 4,000 students participated in existing and new programs unique in their breadth and scope. Examples of exciting new programs include Kathak dance, Taiko drumming and Chinese classical music. School-focused programs were introduced so that more students could participate in music education. Courses range from an Intro to Song Writing, Indigenous Drumming, Latin Percussion and Power Up Your Podcasting, Mahon points to the strength of existing programs.
"We're bringing young families into the building and starting that relationship. We've had some families come through with multiple children in The Conservatory hallways for a decade. It's a unique relationship and we become stewards in those children's development."
Mahon's own 18-year-old son Brendan is one of those students. He spent six years at The Conservatory as a double bass player, taking music lessons and studying in the academy and orchestra programs.
"We were at Mount Royal with him two full evenings a week and it really became a part of our lives," says Mahon.
Performances at the Bella Concert Hall are also hitting high notes, with three packed shows in 2016 - Ziggy Marley, Chantal Kreviazuk and Chris Hadfield. Love says the shows were phenomenal and are attracting a whole new audience to Mount Royal.
"The Bella is designed for professional, world-class performances," explains Love. "Any time someone sits down to take in a show, they tell us we've exceeded expectations. The concert hall seats 787 people, but it still feels intimate and the sound is spectacular. I hope the community continues to embrace us and we become a hub for music events and music education in Calgary."
"Now here we are," says Mahon.
"The vision that so many people had has manifested itself. Yet in many ways, The Conservatory hasn't changed at all. So many of us are still here and the values around students and art remains the same, which is a testament to this institution," he says.
Coming up in 2017…
Music to your Ears Concert Season
Music To Your Ears offers over 22 concert events in seven unique series. Pick a show that interests you and come and experience the brand-new Bella Concert Hall for yourself. Learn more at: mtroyal.ca/enjoy.
Soundscape Series -The design of the Bella provided the perfect opportunity to blend the best sonic engineering available with the incredible landscape of Alberta. The Soundscape Series celebrates this idea by providing sound experiences from a line-up of artists as varied as the province.
Jan Lisiecki - Friday, Jan. 20
Wu Man & Friends - Friday, March 3
Journey, Live! - Saturday, May 6
Land's End Ensemble 20th Anniversary Celebration with Guest Percussionist Evelyn Glennie, Friday, May 26, 2017
Travelers Series -The Travelers Series brings the world to Calgary as it showcases a diversity of musical heritage and traditions on MRU's new centre stage.
Brian Blade & The Fellowship - Sunday, Jan. 29
Antigona Soledad Barrio and Noche Flamenca - Friday, March 10
Avital meets Avital - Wednesday, March 15
Pedrito Martinez Group - Saturday, April 22
Northern Lights Series - Proud to be Canadian? So is The Conservatory. The Northern Lights Series showcases homegrown talent in all its richness and diversity. Canadians have a strong presence in the performing arts on the local, regional, national and international levels and the Northern Lights Series bring these talents to the stage.
Raghav - Wednesday, Jan. 18
Canadian Guitar Quartet - Wednesday, Feb. 8
Cowtown Opera Presents: Guilty Pleasures - Sunday, April 2
Wyatt Series - The celebrated Wyatt Series continues to feature contemporary masters of classical works. This series honours the late Hal and Marnie Wyatt, long-time supporters of The Conservatory.
Zukerman Trio - Friday, Feb. 17
Kronos Quartet - Wednesday, March 22
Andrés Cárdenes and the Calgary Youth Orchestra - Sunday, May 14
Family Portrait - Music, storytelling and theatre are for all ages. MRU presents the Family Portrait Series for younger family members and for those who are young at heart.
The Queen, the Bear and the Bumblebee - Sunday, April 23, 2017
Spotlight Series - A Sunday recital showcase of the diverse and talented instructors at the MRU Conservatory. MRU is proud of their instructors and created the Spotlight Series to allow them to shine.
Brett Gunther & Friends - Sunday, Jan. 22
Mike Schuett - Sunday, March 19
Leon Leontaradis - Sunday, April 30
Looking Glass Duo (Lucie Jones and Gianetta Baril) - Sunday, May 28
Salon Series - Historically, the Salon was a favourite meeting place for musicians of all styles to play, listen and collaborate. MRU brings it back with evening shows in the style of the salons of France in the 1920s and '30s. It's the perfect occasion to get a table of friends together, raise a glass and enjoy some tunes.
Ensemble Resonance - Saturday, Jan. 14
Calgary Creative Arts Ensemble - Saturday, Feb. 25
MRU Composer Collective - Saturday, Mar. 25
International Jazz Day - Saturday - April 20
Jan. 9, 2017 ― Felicia Zuniga