How do you take a classroom lesson and make it an experience?
This past winter 14 Mount Royal University students travelled to Honduras as part of a new service learning joint excursion organized between
two courses: General Education (GNED) 3010 - Science in a Global Context and GNED 3030 - Global Communities and Societies.
Service learning is a type of teaching method that combines classroom instruction with appropriate community enhancement opportunities. "This academic structure allows for a deeper understanding and analysis of learning, as well as a synthesis of learning - connecting theory with what students see on the ground," says Roberta Lexier, PhD and advisor for GNED.
The program emphasized academic rigour complemented by hands-on practice equating to a community service learning (CSL) outreach strategy integrating community engagement and active reflection with academic coursework. Science in a Global Context examines the issues of biodiversity, environmental sustainability and conservation, while Global Communities and Societies explores the themes of global connections, cultural interactions and social problems/social change.

Although fundamentally different in nature, the two courses intertwine to peer closely at socio-economic and scientific issues in Honduras that have lasting educational and experiential impacts on the students.

Open to all MRU students, the excursion started with four weeks in the classroom before the group headed off for Honduras. Activities included a weeklong program with the Organization for Youth Empowerment (OYE), visiting banana and coffee plantations, building bridges in the jungle of La Moskitia, studying the local biology at the Cuero y Salado Wildlife Reserve and helping to collect data to be used by researchers all over the world by participating in an international Coral Watch program monitoring reef health.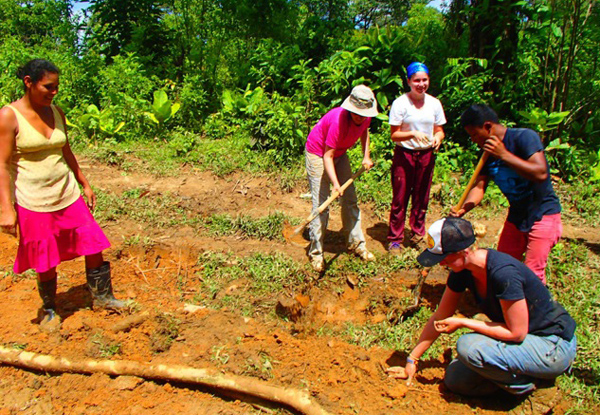 Students spent a total of five weeks travelling the country experiencing new cultures, environments and a more integrated learning experience hands-on, all while bridging cultural barriers. Their time at the banana plantation allowed students the opportunity to study both the scientific aspects of the business such as sustainability, pesticide controls and ideal growing conditions, as well as its socio-economic aspects such as working conditions, the global market and the influence of consumer demand.

When in Capucas the group visited a coffee plantation cooperative made up of local farmers where working conditions, the role of the cooperative in a larger global network and environmental sustainability were examined.

The hands-on experience gained through these CSL opportunities allows for innovative ways to learn and to become immersed in the subject matter.

"Students get to see how the world is so interconnected - just like the two subjects they are taking. To understand the issues, students need to understand the connections," says Lexier.

Courtney Walcott, an English and History major at MRU, took part in the field study and saw it as a great opportunity to use an international experience to augment his education.

"The subject matter is in line with my studies, and it is the perfect opportunity to get some hands-on, real life experience," Courtney explained about the program. "I was so impressed with how sustainable the coffee cooperative was, and how much initiative the local workers were taking to protect the environment and reduce waste."

Students came back to Calgary as more critical consumers, and now tend to think twice before deciding on which companies to support.
Upon return, each learned they had received the Campus Alberta Grant for International Learning funded by Alberta's Ministry of Advanced Education and Technology. This scholarship supports innovative faculty-led field school initiatives that create opportunities for Albertans in all areas of study.

Lexier and Melanie Rathburn, PhD, associate professor in biology, are already making plans to offer the program next year, and they hope to create a fund-raising event for September 2014 to help raise money for student scholarships. The goal of the effort is to make the program more accessible to all Mount Royal students, as well as to give back to community partners in Honduras.

Marisa Norona - April 6, 2014