John Winterdyk, Opening Doors to China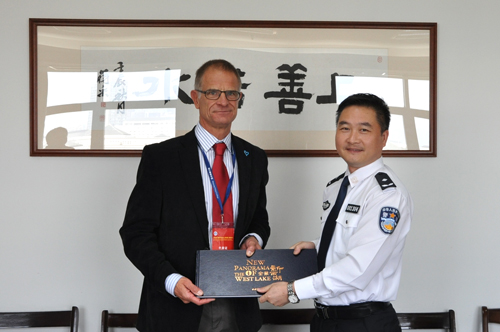 In November 2014, John Winterdyk (Justice Studies) was the only North American to be invited to present and be one of the Keynote speakers at a criminal justice conference at one of the top ranked police colleges in China. During his visit and given his international justice, John took the opportunity to also explore possible collaboration initiatives between Zhejiang Police College and MRU, and more specifically with the Department of Justice Studies (now known as the Dept. of Economics, Justice and Policy Studies).
With the assistance of an International Incentive Fund from the office of International Education at MRU, John returned to the College this past May for a week where in addition to delivering three invited guest lectures, he was involved in several meetings with the schools' International Affairs office and the Vice-President. The primary focus of the meetings was to try and lay the ground work for the two schools to be able to enter into a joint partnership which will enable students from the police college to attend the English Programs delivered through International Education during the summer months. In addition, John explored the option of possible faculty exchanges by 2016-2017. Another discussions pertained to the potential opportunity for their College to send (initially) several of their students to enroll in the Justice Studies program for a year. In addition, it is anticipated that a delegation from Zhejiang Police College will visit MRU to lay the foundation for the agreement between the two schools, perhaps as early as this summer, but more likely in 2016. An agreement between the two schools would represent the first such arrangement that their school has with a Canadian university. Discussions were also held about the possibility for Justice Studies faculty members to teach for a semester, or possibly even a full year, at the Chinese college. In addition, John laid the groundwork for organizing a criminal justice study tour that would be coordinated and facilitated with the assistance of the Office of International Affairs at Zhejiang Police College. In anticipation of such a tour, John was able to tour various components of their criminal justice (i.e., police station, 'legal aid' office, the regional police intelligence headquarters, and a detention centre). In addition, John also visited several cultural sites such as the UNESCO World Heritage site of West Lake, the acclaimed China Woodcarving Museum, a traditional ancient village, and several famous temples and pagodas. These and possibly other elements would be included in the study tour with plans to also travel to Beijing.