Hands-on International Research Experience at Mount Royal
When Karuna Kapoor first made e-mail contact with David Bird, professor in the Department of Biology at Mount Royal University, she never dreamed that it would lead to such a fulfilling academic and personal growth experience abroad.
While studying as a first-year master's degree student in the field of plant biotechnology at her home institution, Amity University in Dehli, India, Karuna became inspired and motivated to add an international experience to her studies. This was thanks to her two professors who talked eagerly about and highly encouraged her to apply to universities abroad to complete the final semester of her master's degree and gave her the confidence to do so.
Karuna quickly began researching schools around the globe. She had a keen interest in Canada, a connection with some distant family living here, and had heard of Mount Royal University. After reading about David Bird's expertise in the area of plant biology at Mount Royal, she was very intrigued by his work and proceeded to make contact with him to share her background and to see if he would be willing and interested in taking her on as a visiting graduate student.
Although Bird commonly receives "cold-call" e-mails from students around the world interested in joining his research, Karuna's background and interests, in particular, caught his eye. He could see that she had a very strong theoretical training background, and he was impressed by her enthusiasm, specifically to gain more hands-on experience in the field of plant biology. He also saw the benefit of having her join his team for four months as a completely self-funded research associate.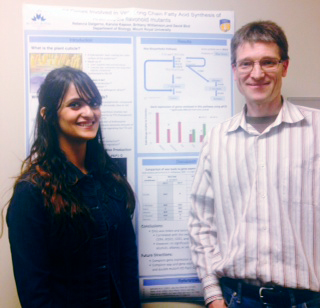 David Bird, professor in the Department of Biology at MRU with visiting graduate student, Karuna Kapoor
"Karuna's strong theoretical training in plant biology was evident upon initially communicating with her," says Bird, "but there would be so much new hands-on experience that she could gain; the relationship would be mutually beneficial to us."
One of her inspiring professors, Pawan Maurya, who taught her biochemistry, acted as a reference and was instrumental in facilitating her successful application process.
Karuna arrived at Mount Royal ready to begin research with Bird's group in January 2014. During her time at Mount Royal, she would also be preparing her research thesis, a summarization of her project contributions at Mount Royal, that she would then present back home at Amity University as part of her master's degree requirements.
The group's research involved studying the waxy layer (called the cuticle) that covers the leaves and young stems of plants. This waxy layer helps prevent water loss and is thicker (making a plant more drought tolerant) in some plants than in others. A couple of big questions that are still unknown to plant biologists is why some varieties are less tolerant to drought than others, and what the biological signals and processes are that control cuticle thickness.
David Bird's small research group at Mount Royal has discovered that alterations in flavonoids, a large group of small molecules produced by plants, can alter the amount of wax that accumulates in the cuticle. Bird's group wants to better define how flavonoids can control cuticle formation. This would represent a novel discovery that could lead improvement of drought-tolerance in crops through either genetic engineering or traditional plant breeding.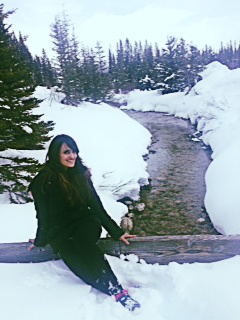 Karuna Kapoor, visiting graduate student from India, relaxes in Canada's great outdoors
The academic rewards of Karuna's international experience at Mount Royal are of incredible benefit. Most of the knowledge she had gained at her home university prior to coming to Canada was theory. There was not much opportunity for hands-on experience back in India as there were just too many students, and therefore a lack of resources for the number of students being taught. But at Mount Royal, she worked with only two to three students and was given much opportunity to gain hands-on experience with many different types of equipment and many new techniques. Although she struggled in the beginning with the equipment and techniques that were so different, she soon built self-confidence doing so much of the practical part.
"At Amity University, there was less emphasis on hands-on experience techniques," explains Karuna. "I can now share my new hands-on knowledge and techniques back home."
Karuna has found her international experience in Canada to be personally rewarding. Upon her arrival, she had many challenges adjusting to life in Canada. She had lived quite a pampered life in India, so much so that she had never even cooked for herself, nor travelled on a bus before. She also had to get used to quite different eating habits and a very private and independent society. Over the course of her stay, she learned to be flexible, independent and self-sufficient. A short homestay experience at the beginning of her stay helped her settle into her new surroundings more quickly and taught her much about Canadian culture.
"Towards the end of my stay in Canada, I had built incredible self-confidence, the feeling that I could do anything," says Karuna, " and I find myself saying thank you and sorry for everything now," she adds with a laugh.
Now back in India for over a month since completing her research work with Professor Bird at Mount Royal, Karuna has had time to reflect on her experiences abroad, not only how they have helped her grow academically and personally, but also how the experience will benefit her career prospects. She feels that her hands-on international experience in Canada will be highly looked upon by prospective employers. She has gained the upper edge on techniques in her field in North America and can now, in turn, share and teach industries in her community back home new techniques and how to improve.
Karuna hopes to be able to return to Mount Royal in the near future to continue her work with Professor Bird and his research group and possibly work on her doctorate degree.
-Marisa Norona, June 2014