Komagata Maru and the Lions of Sea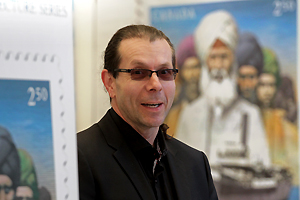 Professor of Religious Studies at Mount Royal University, Michael Hawley, PhD, says the Komagata Maru conference was planned based on student interest in Sikhism courses on campus. ~ Photo by Bryan Weismiller
Conference and exhibit celebrating Sikh history in Canada takes place at Mount Royal University
The Commemorating the Komagata Maru / Celebrating the Century Conference and the Lions of Sea exhibit is occuring from Oct. 2 - 4.
Extending the learning opportunity available for students, this three-day conference reflects on the 100th anniversary of the Komagata Maru, a Japanese steamship chartered by Gurdit Singh to carry 376 passengers from Punjab, India to Vancouver, Canada. The passengers on the Komagata Maru were predominantly Sikh. Muslims and Hindus were also on board and all passengers were reported to be British subjects. Singh's goal was to help fellow Punjabis seek immigration to Canada at a time when exclusion laws across in both Canada and the U.S. were aimed at keeping those of Asian origin out.
The Komagata Maru was held at the Vancouver harbour for two months during the summer of 1914, and only 24 of the passengers were admitted to Canada. The remaining 352 passengers were forced to return to India. Upon their arrival, 19 were killed by local police and Singh (as well as many others) was arrested.
Conference organizer and Professor of Religious Studies at Mount Royal University, Michael Hawley, PhD, says the conference was planned based on student interest in Sikhism courses on campus.
"It's a show of support for the Calgary Sikh community," Hawley says. "The demand for Sikhism courses at Mount Royal is quite high."

Hawley notes that the "ill-fated voyage" of the Komagata Maru is not only an indelible moment in Sikh history, it is also a Canadian story.
"The conference brings together international scholars to present on the most recent research on Sikh engagement within Canadian cultural, ethnic and religious diversity," Hawley says, adding that Commemorating the Komagata Maru / Celebrating the Century also provides a forum for the academic community to engage with members of the Calgary Sikh community.
The programme consists of 23 presenters from three continents (North America, Asia, and Africa), including four students, 15 faculty (two of whom are also graduate students) and five community speakers. Just a few of these notable participants include: Hugh J.M. Johnston, professor emeritus in history at Simon Fraser University and author of The Voyage of the Komagata Maru; Ali Kazimi, associate professor department of film at York University, and director of the award-winning film Continuous Journey; Shauna Singh Baldwin, Canadian/American award-winning author; and Pardeep Singh Nagra, executive director of the Sikh Heritage Museum of Canada.
Visitors to the conference will have the opportunity to experience Lions of the Sea, a powerful and visually-engaging exhibit commemorating the 100th anniversary of the Komagata Maru incident that is on loan from the Sikh Heritage Museum of Canada.
The three-day conference is free and open to the public. Visit the event website for more information, including scheduled presenters.

Oct. 2, 2014 - Melanie Veriotes