Leading Canada's International Strategy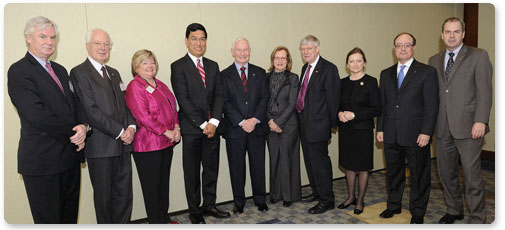 From October 2011 to June 2012, International Education's Director Lorna Smith, served as one of 6 appointees to the National Advisory Panel on Canada's International Education Strategy.
Lorna was appointed to the panel which was commissioned by Federal Minister of Trade, the Hon. Ed Fast and Finance Minister, the Hon. Jim Flaherty to provide guidance and direction for the development, implementation and evaluation of an international education strategy for Canada.
The Panel was chaired by the President of Western University, Dr. Amit Chakma and consisted of Dr. Colin Dodds, President of St. Mary's University, Halifax, Dr. Don Wright , President of British Columbia Institute of Technology, Mme. Jacynthe Cote, CEO of Rio Tinto -Alcan and M. Andre Bisson, Chancellor Emeritus of the University of Montreal. The Panel was supported by the Department of Foreign Affairs and International Trade (DFAIT) and a team led by Directors Claire Poulin and Michael Fine.
After engaging in a 6 month process that included an on-line questionnaire, cross--Canada Round Table consultations and a concluding Collaboratory session, the Panel released their final report entitled: " International Education: A Key Driver of Canada's Future Prosperity" on August 14, 2012.
The report lays out a bold long-term vision that positions International Education as a key driver for Canada's prosperity and contains 14 recommendations to the federal government. The government's response to these recommendations is expected to be reflected in the 2013 budget.