MRU Nursing Goes to China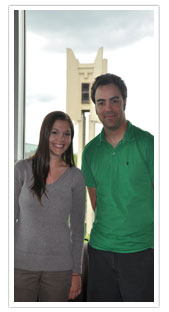 MRU nursing students, Nabil Rombough and Shaina Orr travelled with MRU nursing faculty members, Joanne Bouma and Jocelyn Rempel to Tianjin, China in June to compete in the China National Vocational Students Skills Competition (http://www.chinaskills.org) The China Guanghua Science and Technology Foundation Nurse Fund (GNF) invited Campus Alberta Nursing Faculties to partake in the skills competition after an Albertan delegation of post-secondary institutions (PSI)-led by Barry Tonge, Director of International and Intergovernmental Relations Branch, Alberta Enterprise and Advanced Education (EAE)-participated in a symposium in Manchester, England in February 2012 on a GNF initiative to educate 2000 Chinese Nurses abroad.
MRU accepted the challenge.The two MRU students competed at the prestigious annual vocational skills competition alongside nursing professionals from 55 Chinese vocational education institutions, 5 universities, 60 Chinese three-A hospitals and international teams from universities in Japan, England and Scotland. Two MRU faculty members also participated as judges in the competition. Organized by the Chinese Ministry of Education in conjunction with local partners, the event enabled Albertan students to showcase the skills of Canadian nursing students at an international forum, to share information with international peers and to broaden their knowledge about undergraduate nursing education in China and abroad.
Financial support for MRU's participation in the competition was provided by the GNF, EAE and MRU.
Find out about their adventures and experiences at the competition and in China by reading their blog.