New archivist unearths hidden gems, odd artifacts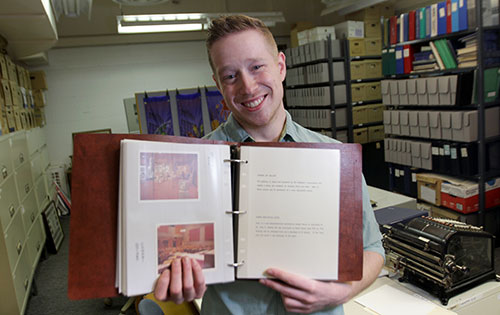 Mount Royal's new institutional archivist, Dave MacLachlan, shows off a snap shot of history from the vaults.
- Photo by, Bryan Weismiller

Mount Royal's first formally-trained archivist talks about making university records more accessible
Dave MacLachlan couldn't stifle his smile when asked about walking into Mount Royal University's archives for the first time.
"It was a mixture of mild concern and pure delight," recalled MacLachlan, Mount Royal's new institutional archivist who started last summer.
His concern? Well, upon first glance, it was a two-metre-tall decorative plastic diploma parked at the entrance way. The novelty-sized regalia was once part of a parade float, but had long been occupying valuable space in the cozy repository located in the campus' I-Wing.
That piece wasn't the only oddity to have survived the sands of time. The collection included a sack full of piano keys, an "Eye of Sauron-looking" figurine and a mechanical doodad known as a Comptometer.
"There were some confusing items," MacLachlan admitted. "At the same time, there were some really fantastic records and artifacts."
Much to his delight, MacLachlan uncovered several treasures including student notebooks from the early 20th century, original writings from Mount Royal founder and principal George W. Kerby, and educator Leonard Leacock's Order of Canada medal.
Whether artifact or archival, all of the material was vital to preserving the social, cultural and physical fabric of a more than century-old institution.
"We've got curling jackets from the '60s," said MacLachlan, whose official title is Archivist, Special Collections Librarian and Liaison Librarian, Art History. "I'm very 'archivally' minded, so those items wouldn't normally pop in to my brain."
"Because we've got this stuff, we can use it to build some really cool collections."
University archives - by strict definition - are organized collections of primary legal and historical documents. Although similar to libraries and museums in functioning as repositories for information, there are some notable distinctions between these types of collections.
Unlike most libraries, archives contain unpublished materials that are not intended for general circulation. And archival collections do not typically include artifacts and expositions as would be found in a museum.
With MacLachlan on the job, Mount Royal decided to open up the space to classes, researchers and the public.
Open for public consumption
Drop-in hours are scheduled on Tuesdays from 10 a.m. to Noon and Thursdays from 9 to 11 a.m. Appointments are also available upon request.
Already, some history students are spending at least eight hours a semester digging into Mount Royal's past. Their findings have been shared with the wider community through social media platforms such as Twitter.
"We are a teaching university," MacLachlan said. "This archival material is meant to be a teaching asset."
"It has to be open to people for it to function that way."
While MacLachlan is Mount Royal's first formally trained archivist, he acknowledged the hard work of Pat Roome, the former director of the Archives.
Roome, an instructor who taught Canadian history and Women's Studies at Mount Royal from 1975 to 2007, was seconded to prepare the archives leading up to the University's centennial celebrations that began in 2010.
In July 2012, the MRU Library assumed management of the archives.
University Librarian Carol Shepstone is looking forward to moving the archives and special collection items over to a spacious new home in the Riddell Library and Learning Centre in early 2017. The records will then be kept in a purpose-built, climate-controlled area of the building.
"We have a high-density storage area for archival material of all sorts," she said. "There will be a beautiful reading room where people can use the material, as well as work spaces to digitize and preserve items.
"We're going to have at least triple the collection space we currently have, which is great."
Meanwhile, Shepstone praised MacLachlan as a terrific addition to the library team, and highlighted his ability to connect the archives, the classroom and faculty members.
"There's something very special about working hands-on with primary documents," Shepstone said. "It's a really unique opportunity for students, our faculty and our community."
As the semester winds down, MacLachlan said he's enjoyed joining the friendly campus culture of Mount Royal University. In fact, it reminds him of his alma mater, St. Thomas University in New Brunswick. Both institutions are known for smaller class sizes, first-rate instructors and a focus on liberal education.
Prior to arriving at Mount Royal, MacLachlan worked as an archival assistant at the Nova Scotia Archives and an audiovisual archival assistant at Dalhousie University's archives, where he earned his Master of Library & Information Science in 2014.
He's also taught English at the Kojen English School in Taiwan, an experience that bolstered his communication skills.
Jan. 4, 2016 - Bryan Weismiller