MRU reps in China to help realize internationalization goals
Students from abroad can also explore Express Entry to Canada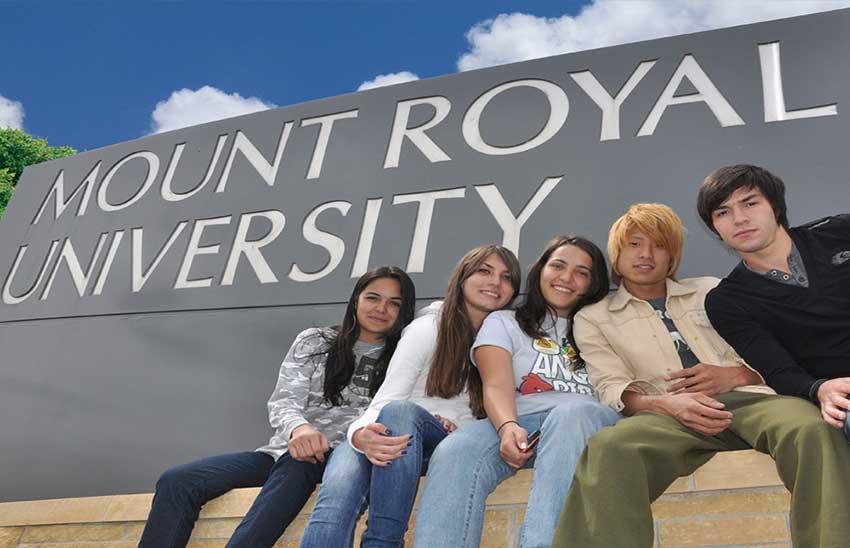 Three members of Mount Royal University are in China to recruit international students and explore educational opportunities abroad.
The Conservatory's director Brad Mahon and Tiona Corcoran, international marketing and recruitment specialist with the Faculty of Continuing Education and Extension, are with Karen Dodge, manager of MRU's Languages Institute for a tightly scheduled two-week tour. The overall goal is to promote Mount Royal programming in Continuing Education with the hope of attracting potential students to summer programs in English (with some tying in to The Conservatory) as well as to investigate corporate training prospects and English language teacher education.

"We realize that when we go overseas we represent Mount Royal, the institution," says Dodge, who once taught English in Shanghai's First Medical University.

As the manager of the Languages Institute Dodge has been collaborating with Alice MacKichan, director, Admissions and Recruitment and Dianne MacDonald, director of International Education, to make sure the group's intentions in China align well with MRU's internationalization goals. Continuing Education has the opportunity to explore partnerships with Chinese universities and conservatories in hopes of eventually establishing recognized partnerships.

"The universities we are meeting with have shown an interest in English language, music and performing arts. Any of the groundwork that we lay down is something the University can hopefully follow up on. It's an exploratory mission and we hope to open some doors," says Dodge.
What will make the trip a success?
"Short-term it would be to recruit to our summer programs in Continuing Education. Then, to follow up we would like to build sustainable relationships that can eventually become formalized," says Dodge.

Over fourteen days Dodge and her team will also be visiting with international high schools in Hong Kong that deliver the Alberta curriculum as well as a media company located in Beijing that has interest in Mount Royal's Broadcasting Program. In Beijing, they are also slated to meet with the Alberta Trade Office and the Canada China Business Council, an organization that works to promote success of Canadian businesses and companies in China and vice-versa.

While Dodge, Mahon and Corcoran are abroad, efforts to internationalize the Mount Royal campus will also be on-going from home base.

On March 21 an Express Entry Information Session will be held in T 143 from 2 to 2:50 p.m.

The event, which will be facilitated by Dean Jorgensen, employer liaison officer (Alberta and Northwest Territories), Immigration, Refugees and Citizenship Canada, aims to bring a better understanding to current international students hoping to remain in Canada after graduation.

This development is important to the University based on the Strategic Plan's targeted goal of international students in full time studies increasing from 2.5 per cent to 5 percent by 2025.


"International students need to be supported in many areas, and one of those is in immigration matters," says Kyla Sinclair, program coordinator for International Education from the Office of Teaching and Learning.

International students at MRU who graduate with a credential could potentially have an increased opportunity to immigrate to Canada. The session hopes to provide the details and processes, and most importantly the new changes to the Express Entry program for current and potential international Mount Royal students.

"Overall the more support and resources MRU is able to offer an international student, the easier it will be for international students to navigate the necessary pathways for them to achieve their goals of getting an education abroad, and have overall student success on campus," says Sinclair.
Combining efforts
Offering support locally and abroad is paramount to successfully increasing the internationalization of Mount Royal. Both of these endeavors have been carefully thought out with an immense amount of preparation.

"The important thing with this visit (to China) is we planned it very strategically. There has been a tremendous amount of planning and thought to make sure we aren't biting off more than we can chew," says Dodge.

"By working together and working in collaboration we can represent our university in a united way so no matter who goes next will know what has gone before and where the path is going. Without the support of the president from the top down this trip would not be happening."

Mount Royal's president, David Docherty will be visiting China with Dianne MacDonald this June.

March 20, 2017 ― Jonathan Anderson