September 2014 snowfall takes aim at Mount Royal grounds
Ground crew put repair and tree-saving plan to actionMount Royal's grounds were recently named one of the Most Beautiful University Campuses in Canada, by the Huffington Post. The MRU community is very proud of the gardens, green spaces, art installations, shady trees and numerous comfortable nooks and crannies across campus.

When heavy snowfall hit over several days of early September, it was particularly devastating to faculty, students and staff, most especially MRU's dedicated ground crew.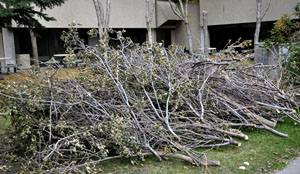 - Photo by, Michelle Bodnar
We watched - and listened - as numerous established trees both young and old snapped under the tremendous weight of the snow. The ground crew was forced to close off several areas for the sake of safety, and since then the sight of piles of downed branches and broken limbs has become the norm.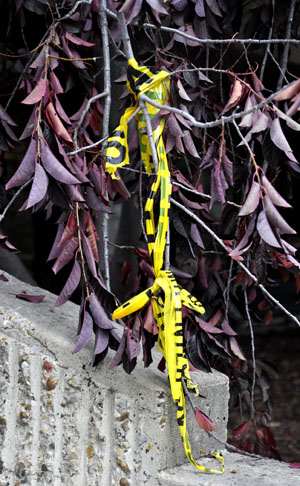 Associate Vice President of Facilities Management Grant Sommerfeld recently provided an update on the clean-up process and the impact the storm has had so far on MRU. The ground crew has been focused on marking off the unsafe areas, clearing pathways and removing as many destroyed trees as possible, as well as working to remove as many branches that are at risk of falling as they can safely reach, he says, and a fully equipped arborist is now on site to help fell destroyed trees and prune those that can be salvaged.

"This will help us move more quickly in our recovery efforts. Downed trees and branches will be mulched and used here at MRU," Sommerfeld says.

To date 54 trees have been removed, with the complete count becoming available in the near future.

"Our campus is going to look a lot different when this work is completed," Sommerfeld says, thanking everyone for their continued patience.

"The story about the trees and the efforts to address the situation is remarkable and emotional for the grounds crew and everyone who has enjoyed the grounds."

Another update from Facilities Management should be available in the upcoming weeks.
Sept. 25, 2014 - Michelle Bodnar