Making the most of majors and minors
Fact: As many as 65 per cent of students will change their major at least once during their academic career.

With such a rate of transition, Academic Advising Services is hoping to offer students guidance when it comes to picking their majors and reminding them of the importance and accessibility of minors.

On March 1, the Majors and Minors Fair will take over Main Street from 10 a.m. till 2 p.m. in an effort to help students explore potential pairings and opportunities related to majors and minors.

The Majors and Minors Fair will offer students the ability to gain more information - not only regarding expectations moving forward but how they might incorporate a secondary passion into their current studies.

"This event is important because many students don't know they can customize their degree and make it more personalized to their interests," says Shea Ellingham, manager of Academic Advising Services.

Academic Advising Services has put forth an event designed to highlight different minors that are available to complement the current majors. The event is a great way for students to explore options related to their current degree and even provide information on post-graduate opportunities.

"It's good to give them a little bit of focus," said Ellingham. "We also call it a majors fair because it's an opportunity for students to change or explore other majors.

"At the same time, highlighting different minors that are available is a great way for students to explore other options in their degree."

Nicole Edge, a faculty member from the Bissett School of Business, knows the importance of tacking on a minor to one's primary degree.

The accounting professor completed the first stage of her educational journey with a Bachelor of Commerce and quickly noticed that the majority of her electives were English courses, a passion of hers.

Edge ended up using those elective courses to forge a second major, this time in English, to go along with her initial degree and CPA designation. Today, she uses both majors in a somewhat surprising fashion.

Currently, Edge practices accounting by day, educating Mount Royal students on Managerial Accounting and Auditing. At night, she dwells on Shakespeare - as she eyes completion of her doctoral degree in English literature.

Edge sees great value in an exhibition like Majors and Minors Fair.

"It gives you an opportunity to think carefully about the major you've picked and if it really resonates with the things you enjoy."

Originally, she wanted a business degree because, as she says, she wanted a job at the end of the day. Still, it didn't fulfill all the challenges and ways of thinking that appeal to her.

Edge now uses both disciplines in teaching her accounting students.

"I use both in ways that my accounting students don't recognize," she said. "My audit class is based on theory. It requires attention to detail and analysis.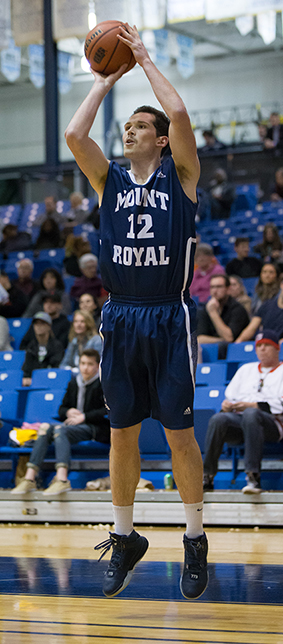 "Their job is to present conclusions and arguments, in affect they are presenting an essay. They just don't know it."

She is also keen to make an argument for a diverse education.

"Employers are not just looking for a 4.0 accounting student," suggests Edge. "That's great and you can line 4.0 students up. "What's differentiating 4.0 students is the ones with a minor, that's interesting. It tells employers about who you are as a person."

Noah Lewis is a Mount Royal student looking to catch the eye of potential employers as he works to complete both a major and a minor.

The Cougars' basketball recruit from Comox, B.C. is currently working on a biology minor to go with his physical literacy major.

Like many students, Lewis altered his major, beginning in the sciences program before switching to the Faculty of Health and Community Studies and a major in physical literacy. He is using his previous biology courses to purse an additional minor.

"They complement each other well. With physical literacy you learn about movement and the benefits of being physically active. Biology helps you to have a deep understanding of physiology and cellular processes that makes your body work," says the Cougars guard.

When he's done balling and balancing his academic requirements, the varsity athlete hopes to find post-graduation employment working with athletes. Lewis hopes to combine his biological background with his physical training experience.

Feb. 17, 2017 — Jonathan Anderson