College of Economics (CENU), Nihon University, Japan and Mount Royal University Annual Study Program
The Office of International Education at Mount Royal University is pleased to announce the establishment of a new partnership for Mount Royal University with the College of Economics, (CENU) of Nihon University in Japan.
Initiating the Partnership
Work on this partnership began almost two years ago through a meeting between the International Education staff at Mount Royal and international office representatives from Nihon University during a conference gathering of the European Association of International Education (EAIE) in Istanbul. At that time, Nihon representatives indicated that they were looking to set up their first program in Canada, as they had been offering successful programs in the United States to that point. Mount Royal invited and welcomed professors Nao Ijiri and Shuichi Ikemoto from Nihon University for a visit in November 2013, to initiate deeper partnership discussions. In December 2014, another set of officials, Makoto Yoshida and Kunio Seguchi visited Mount Royal, toured the facilities and Residence, (where the students will live on campus) and discussed the variety of courses available through the Department of Economics. Approval to go ahead with the partnership was given in January 2015, a partnership agreement signed and the first group of students of 23 students arrived in Calgary on April 1, 2015.
The Agreement
Under the formal agreement, CENU will send approximately 23 students to MRU, for a period of up to one year, to study as international exchange students participating in a customized educational program. The agreement also offers the possibility of reciprocal exchange opportunities for both students and faculty.
"We are very excited about this new partnership with Japan", says Lorna Smith, Director of the International Office. "The model for this exchange program, where students participate in 5 months of full-time English study in the Languages Institute and then complete one semester of credit courses, is a new one for us and has potential in many different non-English speaking parts of the world".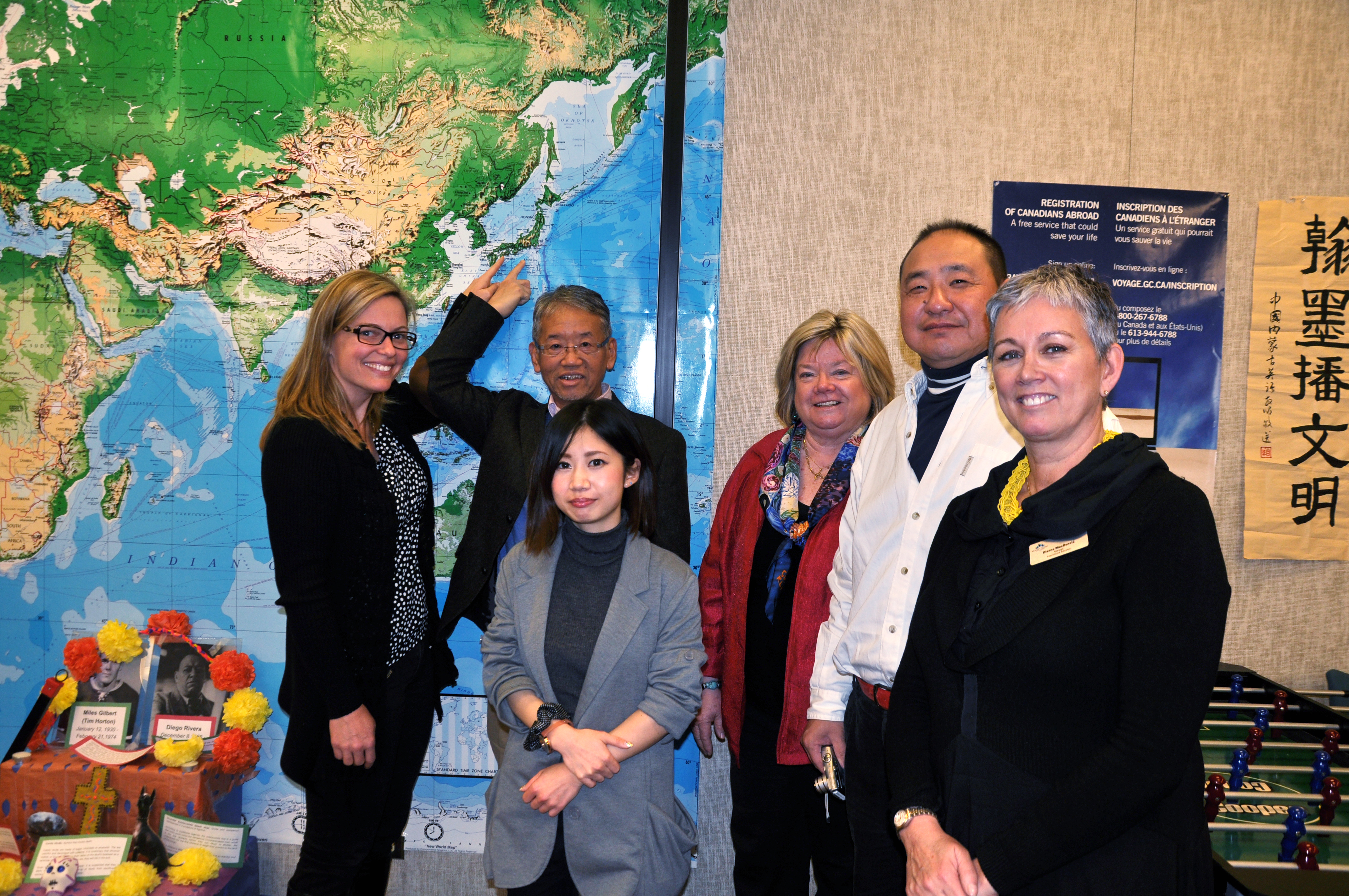 International Education staff members Kyla Sinclair, Lorna Smith and Dianne MacDonald along with Erina Baba, an exchange student from Mukogawa Women's University, Japan, welcome Makoto Yoshida and Kunio Seguchi visiting from Nihon University.
First Group's Arrival in April
This year's study program runs from April 1 to December 16, 2015. During this time, Nihon students will participate in the full-time spring English language program offered through the Languages Institute, the Summer English Language Immersion Program in July and August, followed by credit courses in the Department of Economics in the fall semester.
The group is comprised of six females and 17 males between the ages of 18 and 22, all with two years of economics courses completed at Nihon University.
Sakura Kojima is one of the 23 students chosen to study at Mount Royal under the partnership this year. She is a third-year Economics major who chose Canada over other countries as a good place to study abroad.
"I wanted to experience Canada's vast nature and meet people from different countries and of different opinions," explains Kojima.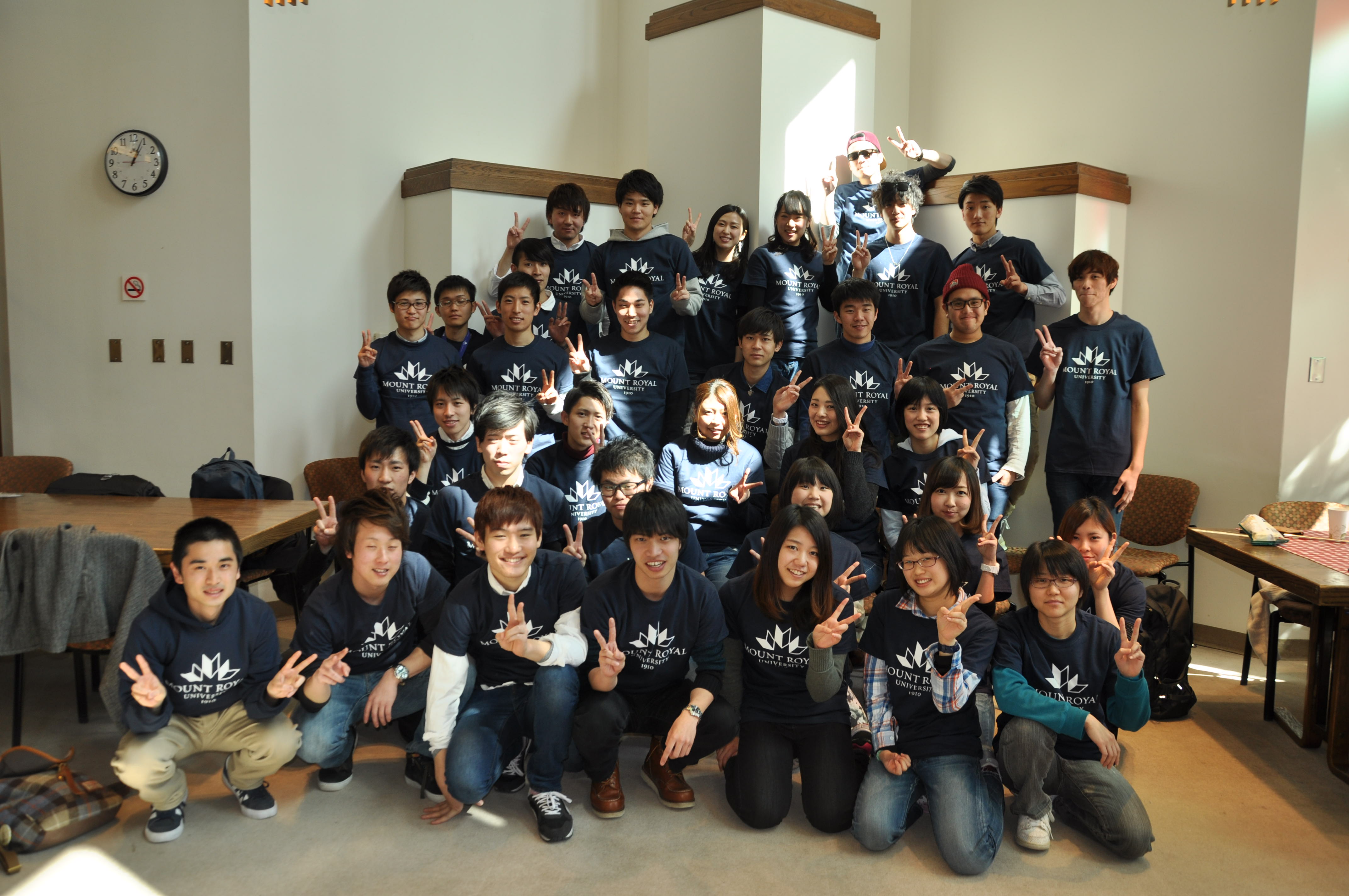 2015 Nihon University students
Although she admits that she knew little about Mount Royal prior to her arrival, she has been very impressed by the large campus, variety of facilities available to students and sense of community on campus.
Upon their arrival, Nihon students were greeted by the staff of the International Education Office with a welcome lunch that included students currently studying at Mount Royal from all of our Japanese partner institutions. Consul General Tamura of the Consulate-General of Japan greeted and addressed students, then met with Mount Royal's Kathryn Shailer, Provost and Vice-President, Academic.
In their first few days, the students were treated to a variety of orientation activities including how to set up a bank account, where to buy groceries, assistance in obtaining their campus cards and were taken on a campus tour. These activities were led by Mount Royal's SAIS (Student Ambassadors for International Students) volunteers.
The Cultural Mosaic Centre at Mount Royal has invited these students to participate in some of their organized activities, such as, a weekly English conversation club and a drum circle session. These opportunities have helped them settle in, adjust to life on campus and to become part of the Mount Royal community.
Students will have many opportunities throughout their stay at Mount Royal to participate in a variety of cultural enrichment activities to supplement their academic studies. Students will have the chance to attend a Rocky Mountain trip, attend Calgary Stampede festivities, enjoy a visit to Drumheller and even try their hand at horseback riding, to name just a few.
Marisa Norona - June 2015