Serving Up a New Sport to Mount Royal
On February 3, students arriving for lunch in Wyckham House were surprised to find University President David Docherty squared off in a game of table tennis against Margaret Jia, director of China National Petroleum Corporation (CNPC) Canada in celebration of CNPC Canada's recent donation of two ping-pong tables to Mount Royal University.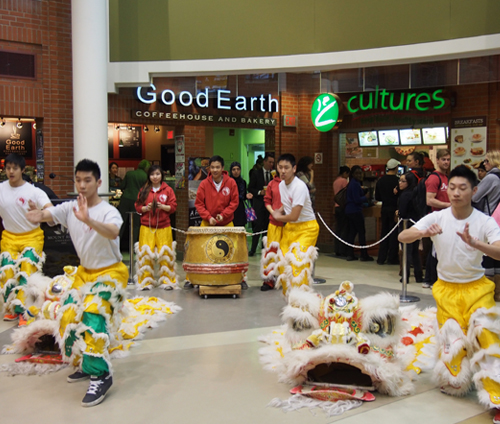 Ping-Pong donation event
"It is a great day when I get to announce gifts such as this," said Docherty, speaking during the celebration event. "Mount Royal is very fortunate to have found friends such as CNPC Canada, and I hope that this is just the beginning of a long relationship."
The celebrations kicked off with a traditional Lion Dance performed by students from the Calgary Tai Chi and Martial Arts College. Honouring CNPC Canada's rich Chinese heritage, this lively performance in the midst of the Chinese New Year proved the perfect opening to the festivities.
The president of the Students' Association of Mount Royal University (SAMRU), Sadiq Valliani, served as emcee for the event and invited Docherty and Jia to officially launch the use of the tables by playing the inaugural match. Students, faculty and staff cheered on the good-natured champions as they faced each other across the table.
For Jia, this donation is one way that CNPC Canada is giving back to the community. Having played since she was a little girl, Jia sees table tennis as an easy, accessible and affordable way for students to keep active.
In addition to being a convenient and fun way to stay healthy, Docherty hopes these tables will help serve as a bridge for welcoming international students on campus.
"Through sports, I think we overcome language barriers and communicate on a different level," says Docherty. "I foresee many ping-pong games being played by both our international and our Canadian students."
The tables are available for use by all students, faculty and staff and will help build community and foster relationships. One is located next to the customer service desk near Recreation, while the other is housed in the student association's restaurant and bar, The HUB.
Valliani has an extra reason to be grateful for CNPC Canada's donation: in September, he hopes to participate in a four-month international exchange with Hong Kong.
"I understand that in China ping-pong is much more popular than it is here," he says with a laugh. "So this will be a great opportunity for me to start practicing!"
-Adapted by Marisa Norona
(Collette Burjack - Feb. 13, 2014)