MRU's Centre for Psychological Innovation officially opens
Technology and psychology collide at the "Psych Lab"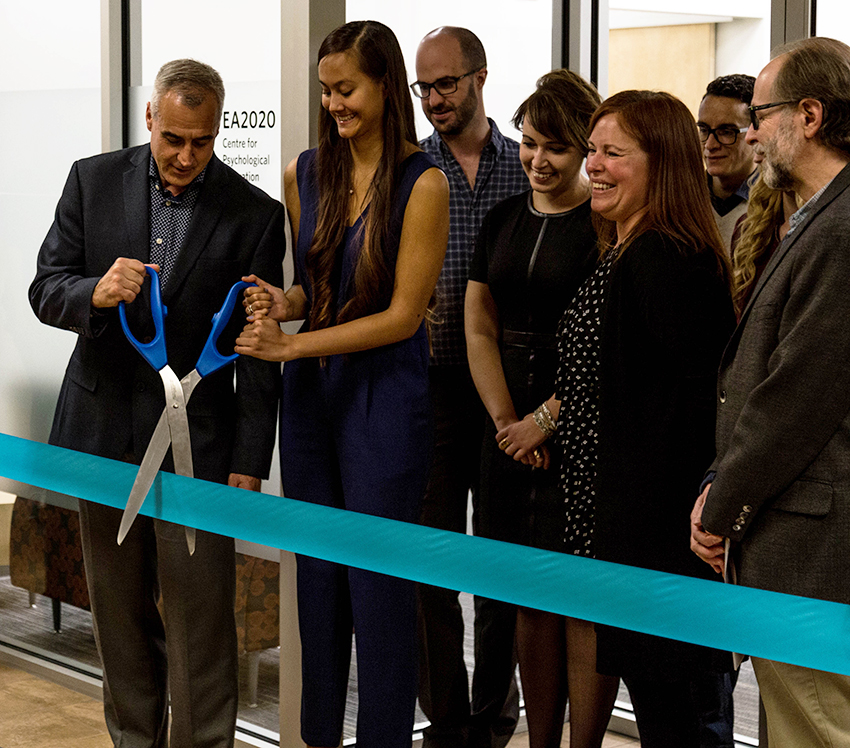 On April 5, the Centre for Psychological Innovation at Mount Royal officially opened its doors to become an epicentre for the discovery of the human condition.
"Psychology informs everything we do ― how we interact with one another, how we remember the past and plan for our futures," says Evelyn Field, PhD, professor and chair of Mount Royal's psychology department.
"It helps us to understand the biological underpinnings of who we are and what it means to be human. Psychology is an all-encompassing discipline that provides us with a scientifically informed perspective on how we as humans shape our rapidly advancing world."
Located in the Faculty of Arts building, the 437 square-metre centre has opened in phases since last fall, and was first envisioned in 2011. Members of the campus and public were invited to discover the "Psych Lab" (as it is affectionately called) as Mount Royal's annual Research and Scholarship Days was in full swing.
Given the amount of study that is already underway at the lab, the timing was ideal. At the opening, several students also presented their research findings.
Fourth-year honours student Sally Vos, who will be applying to graduate programs in the fall, looked into how hypocrisy induction can induce dissonance to motivate regular exercise. Vos says that the psych lab was pivotal in allowing her to carry out her investigation.
"Without the lab I wouldn't have been able to run participants, to have them come in and fill out questionnaires and take part in the intervention," she says.
Jessica Joseph, who is also graduating this year with an honours degree, delved into how Facebook can impact subjective well-being (the evaluation of overall satisfaction in life) for her thesis. She says she is amazed by how much Mount Royal has grown in her time at the institution.
"The lab has evolved to a point where I can come to conduct all of my analyses in it. I can sit in the boardroom and go through my research questions and results with my professors and classmates, which was really helpful."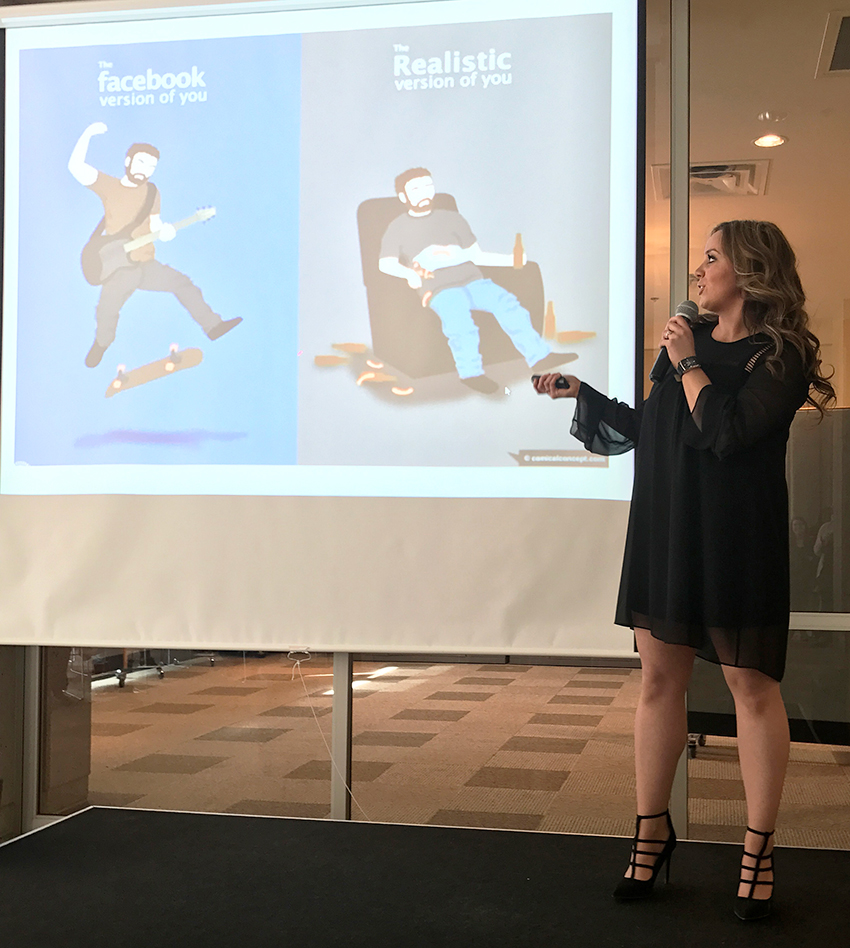 Professor of psychology Malinda Desjarlais, PhD, and Joseph's research supervisor, also studies the effects of social media, and says that psychology provides the basics of critical thinking.
"When you look at the news that's coming out and the research that's being conducted, what can you trust and what can't you? And how do you sift through that?" asked Desjarlais.
"Having this kind of degree where you get to practice research and critically analyze it can be very applicable to real life situations going on in society."
The centre was built in two phases for a cost of $1.4 million, with construction taking two years to complete. Included among a computer lab, video and audio editing suites and a focus group room are eye-tracker suites, one-way-glass observation rooms, a biological psychology "wet" lab and a virtual reality (VR) lab. As one Mount Royal's largest and most popular programs, the Department of Psychology offers between 4,000 and 4,500 hours of hands-on experiential learning to psychology majors and non-psychology students in introductory classes.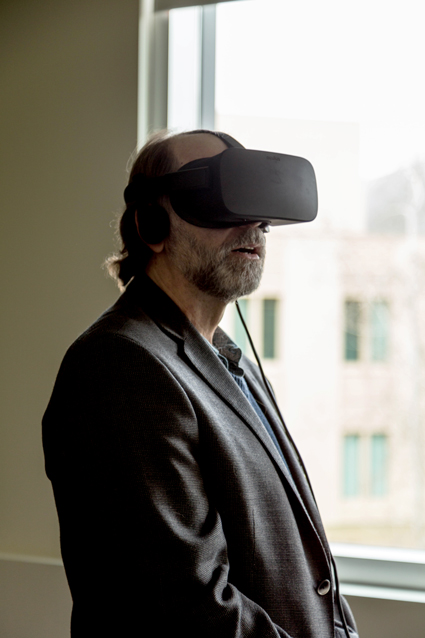 Tony Chaston, PhD, psychology professor and assistant chair of the department, says that students are getting the chance to dive into hands-on, experiential learning that they may not be able to at other universities. "To many students, research is something done somewhere else at larger university," he says. "These lab projects show students that interesting research is happening right here at MRU and they can be involved in it."
Chaston is investigating how being immersed in a VR experience might lower anxiety and pain, and thereby help patients through extended hospital stays. Honours student Josh Stewart is also conducting research using VR, and says that he feels lucky to have use of the centre and to participate in something of this magnitude.
"This experience will open up so many future opportunities," says Stewart.
Experiential learning is a big part of the Psych Lab. The space being used for work on psychological questions ranging from bilingualism, and spelling challenges to the effects of psychoactive substances, such as antidepressants on the development of the nervous system, says Field. As well, it has provided the opportunity to reach out beyond the confines of campus and allow for greater integration through community-based research on a variety of levels.
"The new Psychology Lab at Mount Royal University builds on the strong history of faculty and undergraduate research in this area," says Michael Quinn, PhD and associate vice-president of Research, Scholarship and Community Engagement. "The world-class research emanating from this facility solidifies MRU's reputation as an innovative leader in psychology research and scholarship.
"Our Strategic Plan outlines our ambitious goal that every student will participate in at least one high-impact or capstone learning experience, something that this centre helps us to achieve."
Psychology today is an interdisciplinary field combining research, science, sociology and technology. It's where we discover how we learn and develop, what the effects of experiences are and, basically, why we do what we do.
"(Psychology) leads to outcomes that make life better for people. It also inspires others to build on our work," says Chaston.
More on the Psych Lab to come…
The Spring/Summer edition of
Summit
magazine (due out in early May) will feature the Centre for Psychological Innovation. Stay tuned!
April 6, 2017 ― Michelle Bodnar